Waterville Native David Mizner Inspired Making of 'spotlight'
By Amy Calder
CentralMaine.com
March 7, 2016

https://www.centralmaine.com/2016/03/07/waterville-native-david-mizner-inspired-making-of-spotlight/

The Academy Award-winning film about the Boston Globe investigation into sexual abuse by priests, which won the Academy Award for Best Picture, was made after Mizner did a Columbia University case study on the Globe coverage.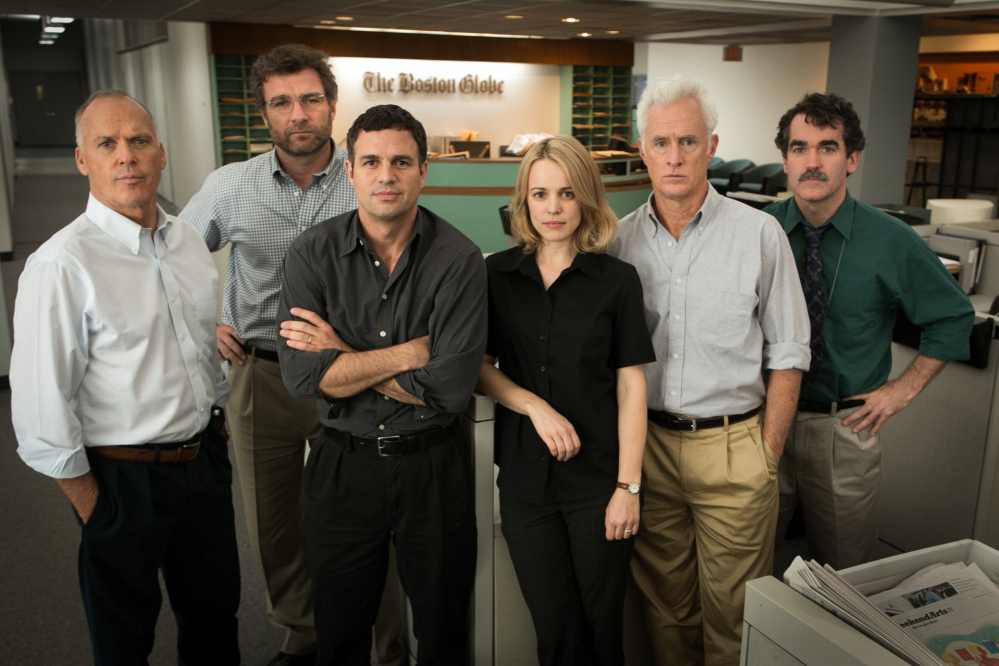 Michael Keaton, from left, as Walter Robinson, Liev Schreiber as Marty Baron, Mark Ruffalo as Michael Rezendes, Rachel McAdams, as Sacha Pfeiffer, John Slattery as Ben Bradlee Jr., and Brian d'Arcy James as Matt Carroll, in a scene from the film, "Spotlight." The film, which one the Best Picture Oscar, was made after Waterville native David Mizner pitched the idea after he did a case study on the Boston Globe investigation while at Columbia University. Associated Press photo courtesy Open Road Films



The Academy Award-winning movie "Spotlight" might not have been made if not for Waterville native David Mizner.

Mizner, an associate producer of the film, pitched the idea of turning the story about the Boston Globe's Pulitzer Prize-winning expose of the Catholic Church priest abuse scandal into a movie.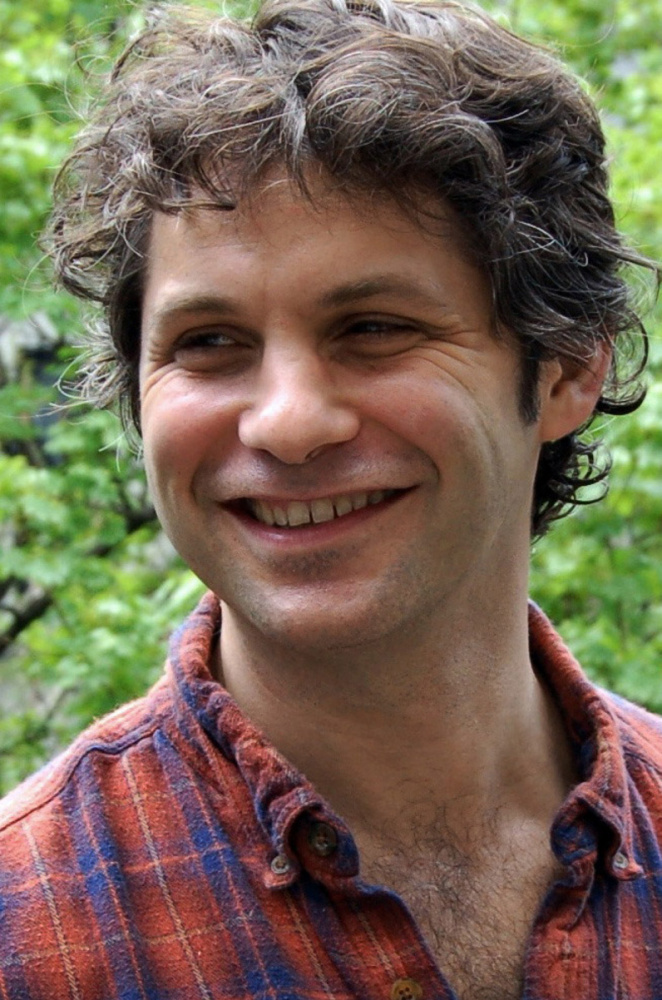 Waterville native David Mizner was the inspiration for bringing the Academy Award-winning film "Spotlight" to the screen. Mizner, an associate producer for the film, is a novelist and contributing writer to The Nation and other publications and wrote the description of a course on the Boston Globe's investigation of the Catholic Church abuse scandal for Columbia University journalism class. Contributed photo



Mizner, 47, now of New York City, downplays his influence on the film, named Best Picture last month by the Academy of Motion Picture Arts and Sciences.

"I had no real creative role in the film," said Mizner Monday. Producers, though, cited him Feb. 28 when they accepted the Oscar for Best Picture at the 88th annual Academy Awards ceremony at the Dolby Theatre in Hollywood.

A novelist and freelance writer, Mizner several years ago wrote a case study for the Knight Case Studies Initiative at the graduate school of journalism for Columbia University.

In doing so, he contacted producers Nicole Rocklin and Blye Faust, who were interested in creating a film about one of his novels, and told them he had a great idea for a different movie — about the priest abuse coverup.

"I sent them the case study I'd written and said, 'Here's the general idea,' and they were interested immediately, so then I talked to the Globe reporters," Mizner said Monday in a telephone interview from his home in New York City. "I was taken with them. I liked them a lot and it was an inspiring story and I thought their role was sort of overlooked. I asked them if they'd be interested in talking to the producers, and they said yes."

Mizner had spent an entire day with Globe reporters Mike Rezendes, Sacha Pfeiffer and editor Walter Robinson. He also spoke to Martin Baron, the editor who in 2001 assigned the reporters to the investigative team, which he called Spotlight, and Ben Bradlee Jr.

The reporters were very welcoming, according to Mizner, who said they spent hours talking with him and recalling their work on the story several years earlier. Afterward, Mizner made the connection between the movie producers and Globe reporters and stayed in touch with the producers through their pursuit to make the film.

"It was a long road, and low and behold, it got made," Mizner said.

The movie, directed by Tom McCarthy and written by McCarthy and Josh Singer, stars Liev Schreiber as Baron, Michael Keaton as Robinson, Mark Ruffalo as Mike Rezendes, Rachel McAdams as Pfeiffer and Brian d'Arcy as James Carroll. John Slattery plays Bradlee.

Movies about newspapers and journalists typically do not get a lot of attention, and Mizner recalled people telling him it was unlikely "Spotlight" would be made into a movie.

"It was a bit of a hard sell," he said. "But it got made and it was a good movie."

He explained that many things had to happen for the film to be made, and there were ups and downs in the process. Even after the film was done and Mizner knew it was good, he did not expect it to win any awards, so he went to bed and slept through the Academy Awards show, he said.

"I didn't think it was going to win best picture, and I didn't think they were going to mention my name at the Oscars," Mizner said. "I woke up to a flurry of phone calls and text messages. My wife's phone was clinking at midnight."

He was proud of the final product.

"I do have to hand it to them because they were really dogged and they were committed to the story — to tell the story," he said of the actors and film director and crew. "I think they were pretty faithful to the story and the journalists. I think the actors did a great job. I was especially impressed by Liev Schreiber's take on Marty Baron and with Michael Keaton. For me, those were the two standout performers."

Mizner works as a freelance writer and contributes to human rights organizations and other groups in addition to writing fiction.

As a result of his exposure from "Spotlight," he is talking with producers about writing a screenplay.

WATERVILLE ROOTS

Mizner grew up on West Court in Waterville in the same house where his mother, Alison, still lives. His father, John, who died in 1998, taught English at Colby College. His mother was a speech therapist in the public schools. He has one sibling, Sarah, a lawyer who lives in Swampscott, Massachusetts.

Mizner was born at Thayer Hospital on North Street, attended Pleasant Street School, which is now Albert S. Hall School, and Waterville Junior High School, and graduated from Waterville High in 1987.

He played basketball in high school, and his team won the state championship when he was a sophomore in 1985-86. About 10 years ago the team, which included Joe Jabar, son of Maine Supreme Court Justice Joseph Jabar, had a reunion on the Belgrade Lakes.

In high school, Mizner liked history and English and remembers English teacher Tom Freeling as a great teacher whose grammar instruction still stays with him 30 years later.

"It was very effective," he said.

Another teacher who stood out to Mizner was Roll Davis, who taught humanities. Davis died in 2014.

Mizner said Davis was an unconventional teacher who sported a ponytail and was partly the inspiration for a character in Mizner's second novel, "Hartsburg USA: A Novel," published in 2007. Mizner recalled that Davis ran into Mizner's mother in Maine once and told her he recognized himself in the character. He also remembered junior high teacher Mary Boyle, wife of novelist Gerry Boyle.

"She was a good teacher, too," he said.

After graduation, Mizner went to Tufts University, where he majored in history with a focus on the Middle East. He received a bachelor's degree in 1991 from Tufts and then a master's in journalism in 1992 from Columbia University.

He never became a journalist, although he has done a lot of writing about foreign policy and other topcis for various publications including The Nation and Jacobin, as well as for his blog, Rogue Nation.

"I'm interested in criminal justice and foreign policy and a lot of different social issues," he said.

After graduating from Columbia, he worked for nonprofit and political organizations and started writing fiction in 1998. He moved home to Waterville that year to help care for his father, who was ill and eventually died.

"He was my first and best writing teacher," Mizner said of his father.

'THAT'S MY SON!'

In trying to get his fiction writing off the ground, Mizner acknowledged he encountered struggles.

He moved from New York for a while and lived in Portland and then Peaks Island. It was there he finished his first novel about a political speech writer, "Political Animal," which Publishers Weekly called a "sharp, very funny novel." While still on the island, Mizner started writing "Hartsburg, USA: A Novel," about a born-again mother in a small Ohio town who vies for a seat on the school board. Mizner moved back to New York.

In 2006, he married Miri Navasky, a documentary writer for "Frontline," the Public Broadcasting Station documentary series. They have three boys, Milo, 9, Gideon, 7, and Izzy, 4.

Mizner said he feels a strong connection to Waterville and does not come back to visit often enough, but hopes to come north in the summer.

"It's my hometown and always will be," he said. "I'm Waterville born and bred."

His mother, Alison Mizner, said she knew he had proposed the idea about the Globe investigation for a movie but did not realize just how significant his role was until she saw "Spotlight" in New York City with her sister and saw his name in the credits — not among a list of producers, but all by itself.

"It sort of stood out right on the screen," she said. "I felt like saying, 'That's my son!' "

Like David, Alison also did not stay up to watch the Oscars, but taped it and watched it later. She got an email from a friend on Cape Cod the next day asking if it was her David mentioned on the Academy Awards show.

She said she is proud of her son and thrilled he is being recognized. Aside from his writing abilities, he is very dedicated to his family, she said.

"He's a wonderful father — a very active father," she said. "I don't know how he has the time to write."