'Torn' Andrew Bolt denies change of heart in Pell interview
By Michael Bodey
Australian
March 07, 2016

http://goo.gl/PqxwH3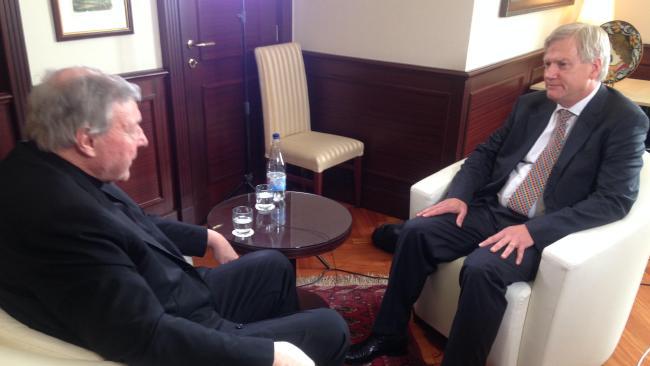 Cardinal George Pell is interviewed by NewsCorp columnist, Andrew Bolt, for Sky News in Rome.
Andrew Bolt has hit back strongly at the implication he changed his view of Cardinal George Pell's testimony to the Royal Commission into child abuse.
Within hours of confirmation the News Corp Australia columnist had secured an exclusive interview with Cardinal Pell in Rome last week, Bolt turned on the Cardinal, saying his testimony that a particular case "wasn't of much interest to me" was "disastrous" and "will be hung around his neck for the rest of his career". The following morning, Bolt tempered his criticism, noting he felt "embarrassed because I think I've joined the pack attacking Pell" and joked "for the first time in my life I'm trending positive on Twitter as a result".
He told The Australian he was offended by the implication he would be so "craven" as to change his opinion in order to curry favour with anyone.
"Even when I attacked Pell this week there was no suggestion that the interview would not proceed, or that some extra conditions would be imposed," he said.
"I note that (ABC 7.30 host) Leigh Sales thought there was now such a good chance of my interview being cancelled that she offered to take over instead."
Indeed, discussions between Bolt and Pell's communications adviser at the Catholic Archdiocese of Sydney, Katrina Lee, began before Christmas, in a chance encounter in Sydney. Bolt told Lee he believed Pell's public responses had been poor and the public, and parishioners, needed to hear ­directly from him to "see if he really got it".
Ms Lee made no promises but the Cardinal later agreed, with the only caveat being his health and that the interview take place after his testimony.
Cardinal Pell, the Vatican's third highest-ranking official, is understood not to have sought counsel or permission from the Vatican or imposed any conditions for the interview. Bolt's request that the interview be long enough to cover topics beyond the royal commission, and unedited, was amenable to the Cardinal. The only conditions placed on the interview, Bolt said, were his own: that he retain editorial control and that it run for an hour.
Bolt secured the interview without a broadcaster or producer, although he told the church he would be in Rome for the week covering the Cardinal's testimony.
Bolt asked Simon Nasht, the producer of a documentary about indigenous constitutional recognition he is filming for the ABC, I Can Change Your Mind About Recognition, to produce the interview.
The documentary outfit Nasht formed with philanthropist Dick Smith, Smith & Nasht, is also producing the political two-parter, Howard on Menzies, for the ABC.
Nasht is understood to have shopped the Pell interview to commercial networks, at least one of which turned it down due to the inability to execute, repackage or edit the material.
Sky News Australia — for whom Bolt worked as a "contributor" in Rome during Pell's testimony, ahead of what is expected to be a more substantial role this year (possibly making The Bolt Report a nightly program), could accommodate the one-hour, live broadcast, which aired on Friday night.
That format and broadcaster was also to Cardinal Pell's liking; his advisers chose the venue in Rome.
Bolt said any implication he was a friend of Pell's is incorrect. He, and sources at the church, say they've met less than a handful of times, and only once in private. Even so, the issues surrounding the Catholic Church's behaviour, and its coverage in the Australian media, have been some of Bolt's most wrenching topics.
Sources close to Bolt told Media they had not seen, in almost two decades' writing, the normally forthright opinion-maker for the Herald Sun as torn and contemplative about his feelings on the matter. Previously, Bolt had described the media coverage of Cardinal Pell as a "witch-hunt" and he was furious his home paper, the Herald Sun, led two weeks ago with the story that the Victoria Police was investigating the Cardinal on separate matters to the royal commission. Yet he has also been disappointed at Cardinal Pell's public attitude. Bolt's about face on Wednesday was typical of his conflict.
But that's off screen. "In the end, it is just another interview," Bolt told Media.
"I asked. He accepted."