Clergyman Admits He Gave Classified Vatican Documents to Journalists
By Stephanie Kirchgaessner
The Guardian
March 14, 2016

http://www.theguardian.com/world/2016/mar/14/monsignor-lucio-vallejo-balda-vatican-leak-trial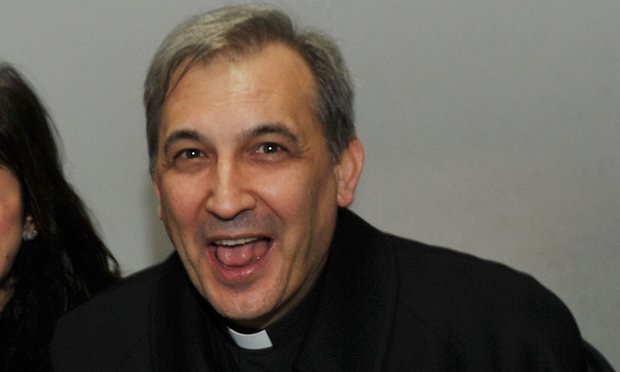 Monsignor Lucio Angel Vallejo Balda in 2014. Photograph: Umberto Pizzi/AFP/Getty Images



A Spanish monsignor who is on trial for disclosing classified church documents admitted on Monday that he passed information on to journalists but suggested he was coerced into it by a woman he had a relationship with.

"Yes, I passed documents," Lucio Vallejo Balda said in response to questions from a Vatican prosecutor. "I did it spontaneously, probably not fully lucid."

He added that he had handed "87 passwords" over to a journalist at a time when he was being treated for depression and stress.

"I was convinced I was in a situation without exit," he said.

It was a critical admission in a trial against the Spanish prelate and four others – including two journalists – who technically face up to eight years in jail following accusations that they disseminated classified information about mismanagement of Vatican funds.

It has also pitted Balda against a former colleague on a special papal commission in which both had been tasked with the job of investigating the church's murky finances: a laywoman and PR executive named Francesca Chaouqui.

Balda on Monday said he was certain that Chaouqui was driven by "illegitimate interests" and said he believed that she and her husband had worked for Italy's secret services.

In an interview with the Guardian last year, Chaouqui, who is married and pregnant, has vociferously denied that she and Balda had a sexual relationship and suggested his allegations were the stuff of "fantasy".

The testimony on Monday came shortly after it emerged that Balda was recently thrown back into a Vatican jail after he was discovered using a mobile phone while under house arrest. The other defendants are not in jail or under house arrest.

Conflicting reports suggested the phone was either smuggled to him in a hollowed-out religious book or delivered to him by a sympathetic friend who hid it inside a cake.

Balda was taken from an apartment inside the Vatican and put back in a cell, according to reports.

The residence where the clergyman had been staying under house arrest was allegedly the same one where the former Polish archbishop Jozef Wesolowski awaited trial on child sexual abuse charges last year. Wesolowski was found dead in the residence shortly before his trial was due to begin after reportedly suffering a heart attack.

A Vatican spokesman confirmed to Italian press this weekend that Balda had "violated a ban on communicating with the outside world", which was a condition of his house arrest.

According to the newspaper Il Tempo, Balda was given the phone in a cake and allegedly used it to communicate with a lawyer.

Another publication, Infovaticana, suggested Balda had received the phone in a hollowed-out book, said to be a copy of the constitution of the Franciscan order, and claimed to have a picture of the hiding spot. The paper said he used the phone only to prepare his defence.

Balda could not be reached for comment.

The classified documents at the heart of the "Vatileaks" case were allegedly used by the journalists who have been charged, Gianluigi Nuzzi and Emiliano Fittipaldi, to form the basis of two embarrassing exposes on alleged corruption and the mismanagement of tens of millions of euros of Vatican funds.

The trial, which has been heavily criticised by press freedom groups, resumed on Monday afternoon.

Although details of the exact allegations are still unknown, the Vatican has blamed Balda and Chaouqui. Both served as members of a special papal commission investigating church finances, where they would have had access to sensitive documents.

Pope Francis has suggested that hiring Chaouqui, a public relations expert, was a mistake, while Italian newspapers have suggested that she had a sexual relationship with the Spanish monsignor. She has admitted sharing WhatsApp messages with him in which she joked about sex and said they were close, but has flatly denied that she had a sexual relationship with Balda and insisted that she never betrayed the church.

Chaouqui, who appeared in court on Monday, has pointed to Balda as the sole culprit in the leak case, while the Spanish monsignor has suggested he gave the journalist Nuzzi a password to obtain the Vatican documents at Chaouqui's urging.