Pa Advocates Renew Push to Eliminate Statute of Limitations in Child Sex Abuse Cases
By Tony Romeo
CBS Philly
March 14, 2016

http://philadelphia.cbslocal.com/2016/03/14/pa-advocates-renew-push-to-eliminate-statute-of-limitations-in-child-sex-abuse-cases/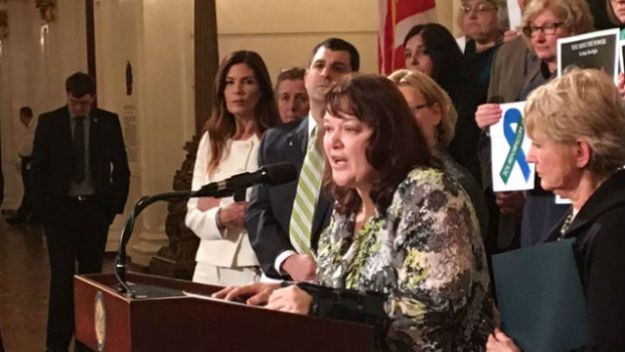 Brenda Dick speaks at Capitol event. (credit: Tony Romeo)



Advocates say they believe the grand jury report about abuse by priests in the Altoona-Johnstown Diocese is a tipping point in their effort to eliminate the statute of limitations in child sex abuse cases.

Advocates have been trying for more than a decade to enact legislation that would eliminate the statute of limitations for both criminal and civil cases of child sex abuse. At a state capitol event Monday, Attorney General Kathleen Kane was among those who argued for a change in the law.

"That those who prey on our children know that you'll never get a free pass," Kane said.

Brenda Dick, identified as a victim of the Altoona-Johnstown abuse, made a personal plea for action.

"It is a life sentence," Dick said. "I'm not asking, I'm begging."

Advocates pointed to broad media coverage of their Monday event as evidence that support for the statute of limitations change is surging. One state lawmaker threatened to bottle up legislation in the House Judiciary Committee until there is action on it.