Priest gets more time to pay back money he took to feed gambling habit
By Clifford Ward
Chicago Tribune
March 15, 2016

http://www.chicagotribune.com/suburbs/ct-roselle-priest-theft-met-20160315-story.html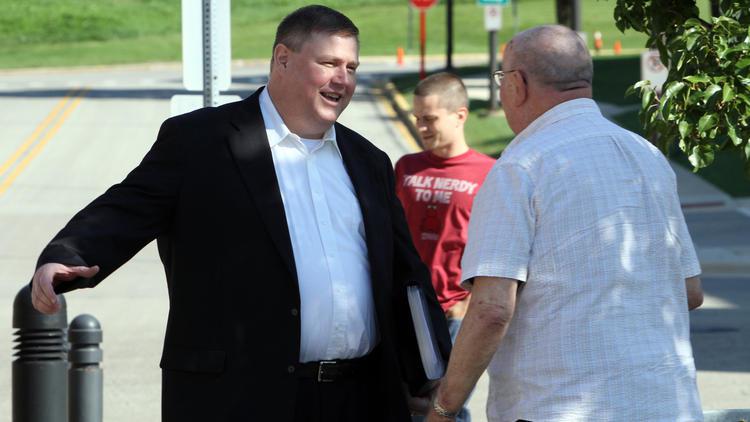 The Rev. John Regan, left, is greeted by a friend as Regan arrives for his Aug. 16, 2011, sentencing in Wheaton.
Photo by Chuck Berman
The Roman Catholic priest convicted of stealing his parish's money to support a gambling addiction no longer faces an April hearing to revoke his probation.
The Rev. John Regan had been scheduled for the probation revocation hearing in April because he has yet to repay the full amount — almost $300,000 — he stole from St. Walter Catholic Church in Roselle, where he served as the pastor until his arrest in 2009.
His attorney, Jack Donahue, told Judge John Kinsella at a Monday court hearing in DuPage County that he met with prosecutors last week and they agreed to cancel the hearing. In return, Regan will have a final reporting date in 2019, his attorney said.
Regan had been sentenced to a mix of probation, some jail time and work-release after pleading guilty to theft in 2011. The judge also had ordered Regan to work at a menial job to begin making restitution for the money he stole.
According to court records, he has been making regular monthly payments to the Joliet diocese, but still owes more than $270,000. Donahue said last month that Regan and the diocese had worked out a payment plan stretching over the next 15 years. Although Regan probably will not have repaid the diocese by 2019, the criminal file will likely be closed then.
Since Regan has been making regular payments, he was an unlikely candidate to see his probation revoked, Donahue said in February.
At his sentencing in 2011, Regan said he had struggled with a gambling addiction. He has returned to public ministry and is currently assigned at a parish in the Joliet area.