'Spotlight' producers: Jack Dunn dialogue was fiction
By Jack Encarnacao
BostHerald
March 15, 2016

http://www.bostonherald.com/news/local_coverage/herald_bulldog/2016/03/spotlight_producers_jack_dunn_dialogue_was_fiction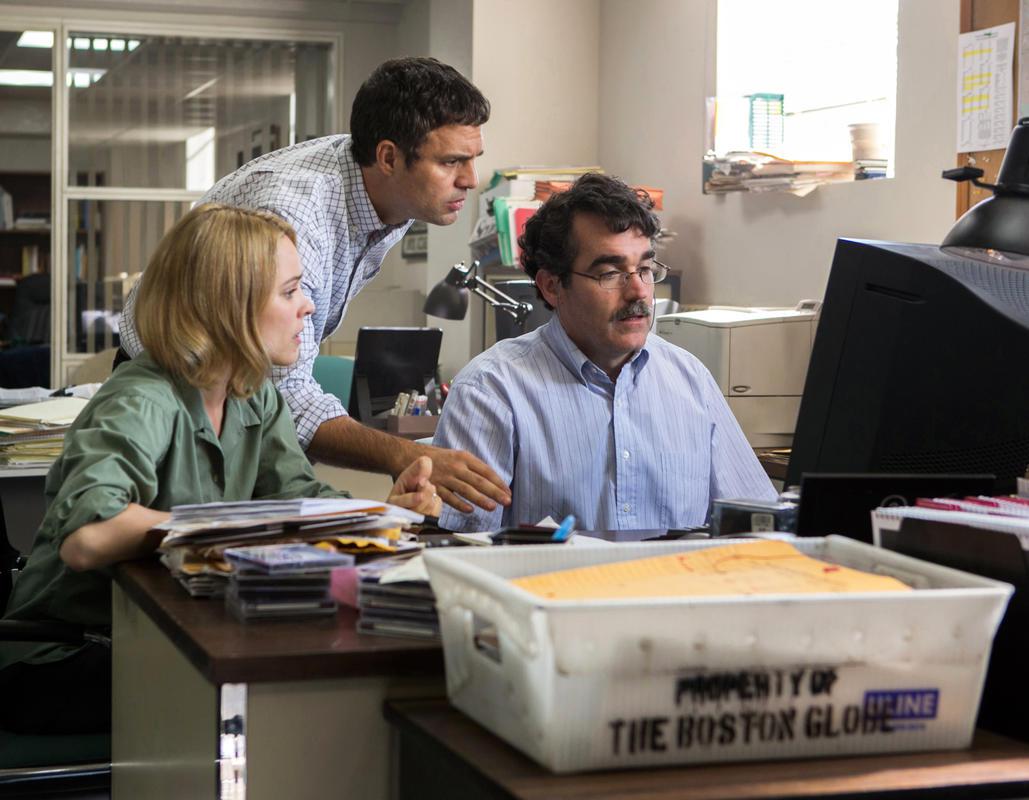 This photo provided by courtesy of Open Road Films shows, Rachel McAdams, from left, as Sacha Pfeiffer, Mark Ruffalo as Michael Rezendes and Brian d'Arcy James as Matt Carroll, in a scene from the film, "Spotlight." Oscar contenders "Spotlight" and "The Big Short" won the top awards for screenwriting from the Writers Guild of America at a ceremony Saturday, Feb. 13, 2016, that was held in Los Angeles and New York.
Photo by Kerry Hayes
The studio behind the Oscar winning film "Spotlight" acknowledged in a statement today that it fictionalized dialogue attributed to Boston College spokesman Jack Dunn as part of an agreement to fend off legal action.
"As is the case with most movies based on historical events, 'Spotlight' contains fictionalized dialogue that was attributed to Mr. Dunn for dramatic effect," read this afternoon's statement from Open Road Films. "We acknowledge that Mr. Dunn was not part of the Archdiocesan cover-up. It is clear from his efforts on behalf of the victims at BC High that he and the filmmakers share a deep, mutual concern for victims of abuse."
The film about The Boston Globe's investigation of clergy sex abuse featured a scene in which Dunn's character attempted to downplay the extent of abuse in a meeting with a Globe reporter Walter "Robbie" Robinson, played by Michael Keaton.
Dunn's character, who is portrayed in his capacity as a trustee at Boston College High School, tells Keaton "it's a big school" and adds "we're talking about seven alleged victims over, what, eight years?"
The statement comes after both the Globe's Walter Robinson and Sacha Pfeiffer said the scene in the movie captured Dunn's "spirited public relations defense of BC High" during their first Spotlight team interview with him in 2002 during the paper's probe of clergy sexual abuse.
Robinson and Pfeiffer did not respond to calls seeking comment tonight.
Dunn said he was sickened by the portrayal and that script writers had assigned his character the damning dialogue after it was originally to be said by a completely fictionalized character.
Dunn's lawyer, David Rich, told the Herald today the statement is "part of a broader resolution of Mr. Dunn's dispute with the makers of Spotlight."
"Jack Dunn had no desire to bring a lawsuit, and part of this resolution was to get the word out publicly about what really happened here," Rich said. "From the beginning, all Jack wanted was for there to be some recognition on the part of the movie company that the dialogue attributed to him in the film was fictionalized, and he was not in any way shape or form part of any cover up by the Archdiocese. Jack is really happy that this statement makes crystal clear to the consuming public that in fact what was attributed to him in in the movie was fictionalized."
Rich said the settlement includes Open Road agreeing to donate to charities like Resilient Kids and the Big Brothers Association of Boston.