3 Franciscan leaders charged in abuse at central Pennsylvania school
By Peter Smith
Pittsburgh Post-Gazette
March 15, 2016

http://www.post-gazette.com/news/state/2016/03/15/Attorney-general-Kane-criminal-charges-involving-Franciscan-religious-order-in-central-Pennsylvania/stories/201603150134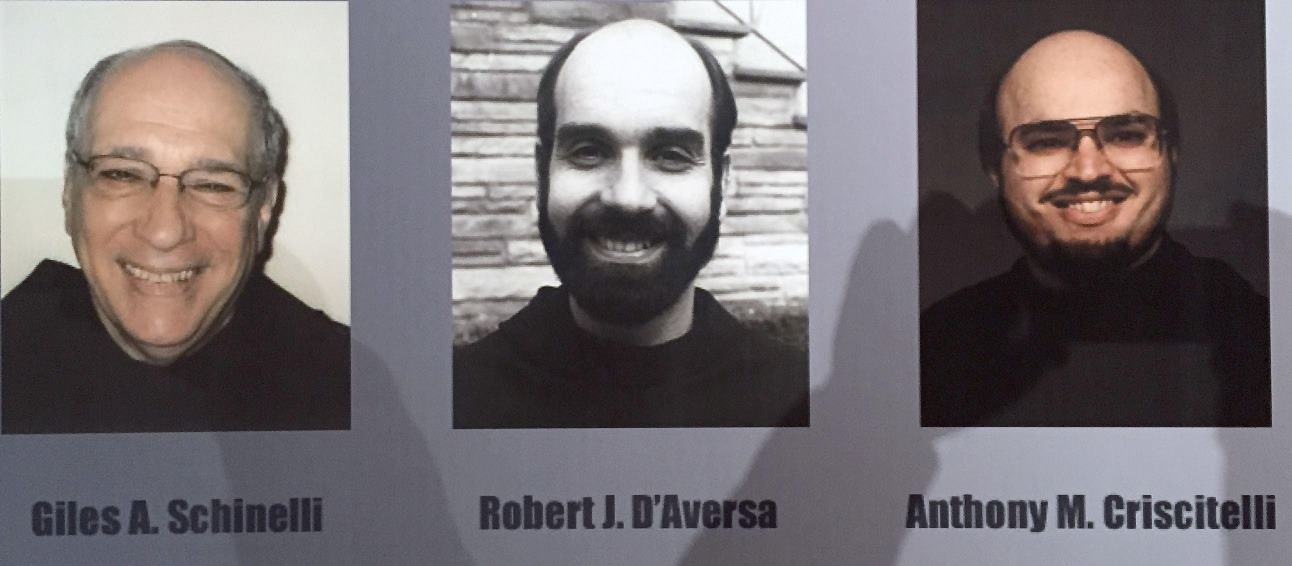 Charged were: Giles Schinelli, Robert D'Aversa, and Anthony Criscitelli.
Three former superiors of a Franciscan religious order face felony charges for allegedly conspiring to enable a serial predator to sexually assault more than 100 Catholic high school students in Johnstown and elsewhere as part of an even wider trail of devastation across multiple states and decades.
The state charges announced today represent one of the broadest-ever drives to hold the Roman Catholic hierarchy to account in any American criminal court for the sexual abuse of minors by those under their supervision.
Filed by the state attorney general's office, the charges were recommended by the same statewide grand jury that released a report two weeks ago blasting the Diocese of Altoona-Johnstown for decades of covering up sexual abuse by more than 50 priests and other church leaders.
But the Altoona-Johnstown report resulted in no criminal charges due to what prosecutors said were the time constraints of the statute of limitations. In this case, however, the grand jury did find cause to allege a years-long conspiracy on the part of leaders of the Blair County-based Province of the Immaculate Conception of the Franciscan Friar, Third Order Regular.
The trio are each charged with one count of endangering the welfare of children and criminal conspiracy, which are third-degree felonies.
The charges center on assaults at Bishop McCort High School in Johnstown and elsewhere by the late Brother Stephen Baker between 1992 and 2010.
Baker committed suicide in January 2013 amid growing revelations of his multi-state trail of ravaged young lives. His body was found with wounds from two knives and surrounded by suicide notes, the report said.
Charged are:
■ The Very Rev. Giles A. Schinelli, 73, who was minister provincial from 1986 to 1994 and allegedly assigned Baker to Bishop McCort High School despite a warning he should not have one-on-one contact with students;
■ The Very Rev. Robert J. D'Aversa, 69, who was minister provincial from 1994 to 2001 and allegedly removed Baker from Bishop McCort due to a credible allegation of sexual abuse but reassigned him to another ministry with access to youths.
■ The Very Rev. Anthony M. Criscitelli, 61, who has been minister provincial from 2002 to 2010 and allegedly continued to allow Baker unsupervised access to children.
None of the three, according to the charges, ever called law-enforcement authorities about Baker's predations.
The three live out of state and are expected to be arraigned in the coming days.
Prosecutors are basing their case on testimony and documents they seized after executing a search warrant last year at St. Bernardine Monastery, the Franciscan province's home base in Blair County. That raid was in addition to one seizing the Altoona-Johnstown's records relating to abusive priests.
"These men knew there was a child predator in their organization," Attorney General Kathleen Kane said in a statement. "Their silence resulted in immeasurable pain and suffering for so many victims. These men turned a blind eye to the innocent children they were trusted to protect."
The grand jury report said there was no indication Bishop McCort administrators knew of Baker's offenses.
The Franciscans regularly provided priests and brothers to work in the eight-county Altoona-Johnstown diocese as well as in other states.
The grand jury found that in addition to Baker, the province knew of at least seven other friars who had sexually assaulted minors going back to the 1960s. On multiple occasions, their superiors would remove them from one assignment after a complaint arose and reassign them elsewhere, often in a different state, with continued access to children.
Baker, according to the grand jury report and civil lawsuits, was assigned as an athletic trainer at Bishop McCort despite lacking any professional qualifications.
Eighty-eight plaintiffs reached an $8 million settlement with the Franciscan province, the diocese and the high school in 2014 over Baker's assault.
Under the guise of offering massages or other treatment, often pulling them out of study halls for special attention, Baker handled boys' bare genitals with his hands and digitally penetrated their anuses, among other offenses.
Even after leaving the high school, Baker continued to have access and to abuse boys there, at Mount Aloysius College nearby in Cambria County and elsewhere. He routinely led retreats with youths, and while his superiors said he was supposed to be under supervision in later years, in fact that was largely a farce, with Baker's minder taking a sabbatical while his superior lived several states away — and Baker even rooming with another predator at the monastery.
The grand jury report also raises questions about bishops' responses to Baker. A former Bishop McCort principal, Kenneth Salem, testified that current Altoona-Johnstown Bishop Mark Bartchak called him in 2011 to ask about an accusation he had received about Baker and that Bishop Bartchak said he would call police. The report does not indicate if he did.
Also, the Diocese of Youngstown, Ohio, said in a 2013 news report that it knew about allegations against Baker as far back as 2009.
Yet neither the dioceses nor the Franciscans publicly announced any of what they knew until news broke in early 2013 that 11 people, most of them former students of a Catholic High School in Warren, Ohio, had settled with the province over abuse by Baker.
In addition to Baker, the other Franciscans identified as sexual abusers by the report include the Rev. Kenneth LaPan, 93, currently residing at St. Bernardine; and six who are deceased: the Rev. Cletus Adams, the Rev. Reginald Krakovsky, the Rev. Raymond Waldruff, the Rev. Martin Brady; Brother Christian Neetz; and the Rev. Adalbert Wolski.
Contact: petersmith@post-gazette.com