Fr Lombardi Briefs Journalists on Tuesday
Vatican Radio
March 15, 2016

http://en.radiovaticana.va/news/2016/03/16/fr_lombardi_briefs_journalists_on_tuesday/1215672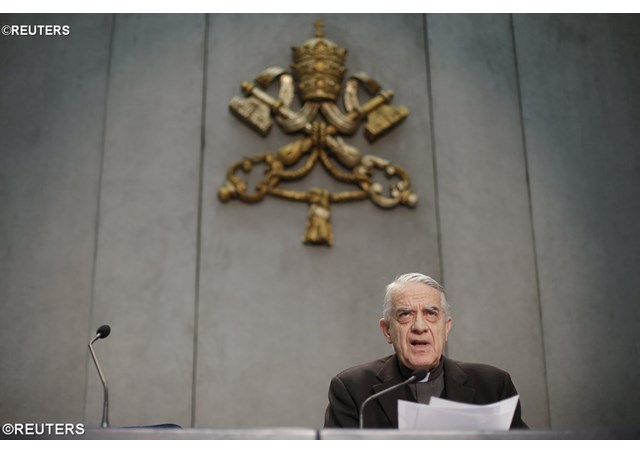 Vatican spokesman Father Federico Lombardi talks during a news conference at the Vatican February 5, 2016. - REUTERS



Director of the Holy See press office, Fr Federico Lombardi, issued two statements to journalists Tuesday, one the regarding Vatileaks, and the other on the unrelated case of Cardinal Philippe Barbarin.

Fr. Lombardi issued an update to journalists on the March 15 sessions of the Vatileaks trial at the Vatican City State tribunal.

Those present were the judges, along with four of the defendants charged for their involvement in the leaking of the documents. The fifth defendant, Gianluigi Nuzzi was absent and was represented by his defense attorney.

Defendants Msgr. Vallejo Balda and Emiliano Fittipaldi were questioned over the course of the day's hearings, which concluded at 4:30 in the afternoon.

Fr Lombardi said further hearings are scheduled for later this and next week, with more tentatively scheduled for after Easter.

In a separate statement Fr. Lombardi addressed a letter published by the French association "La Parole liberee" regarding a case of pedophilia which took place in France years ago.

French Cardinal Philippe Barbarin is accused of covering up sex abuse by failing to remove a priest known to have abused minors decades earlier.

French authorities have recently opened investigations into the matter.

Fr Lombardi stressed the Church's development of awareness and increasing responsibility "which must be continually renewed."

The letter in question requests a private audience with Pope Francis, although Fr Lombardi said such requests made through a publication do not typically result in a meeting with the Pope.

He said the Pope's meetings with abuse victims have thus far "occurred in contexts where the necessary climate of listening and spiritual dialogue has been carefully secured" in order that they might bear the most fruits.