Churchman Gave Chinese Agents False Documents about Pope's Health, Trial Told
By Paddy Agnew
Irish Times
March 18, 2016

http://www.irishtimes.com/news/social-affairs/religion-and-beliefs/churchman-gave-chinese-agents-false-documents-about-pope-s-health-trial-told-1.2578935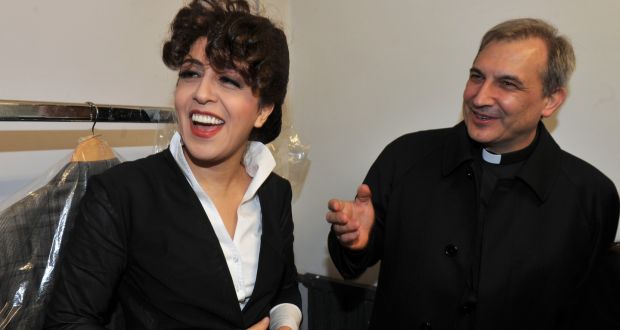 Msgr Lucio Angel Vallejo Balda with Francesca Chaouqui in this file photograph taken in 2014.The Vatican has arrested Msgr Vallejo and Ms Chaouqui for allegedly stealing and leaking classified documents. Photograph: Umberto Pizziumberto/Getty Images



The Vatileaks 2 trial in a Vatican City court took a bizarre turn yesterday when Italian media reported one of the chief defendants, Spanish Msgr Lucio Angel Vallejo Balda, had given false medical documents about Pope Francis to the Chinese secret service in Dubai in 2014.

During a raid on Msgr Vallejo's apartment last autumn, Vatican police discovered emails and other documents which showed the monsignor had travelled to Dubai and allegedly gave a confidential medical report on the pope to Chinese agents

However, the document handed over to the Chinese instead contained detailed information on the health of Msgr Vallejo's 82-year-old mother. Msgr Vallejo allegedly removed his mother's name from the medical files, replacing it with that of the pope.

Retired policeman and former Italian secret service operative, Giuseppe Di Donno has confirmed he accompanied Msgr Vallejo during his visit to Dubai. Mr Di Donno , who now works for a private "security and intelligence" company called "G-Risk", was, however, unable to confirm that the senior Vatican official met with Chinese agents.

Five people – Msgr Vallejo, his Italian lay assistant Nicola Maio, lay consultant Francesca Chaouqui and journalists Gianluigi Nuzzi and Emiliano Fittipaldi - are on trial at Vatileaks 2. All five are accused of "illegally procuring and successively revealing" confidential Holy See documents which ended up in two best selling books, "Avarice" by Fittipaldi and "Merchants In The Temple" by Nuzzi, published last November.

Ironically, both books outline not only the mismanagement of the Holy See's finances but also the resistance of elements in the Roman Curia to the ongoing "reform" process instigated by the pope.

Msgr Vallejo has admitted having leaked documents which originally came from the Cosea Commission, a Vatican body established in 2013 by Pope Francis to rationalise the "economic-administrative" structure of the Holy See. Msgr Vallejo (54) and 33-year-old Francesca Chaouqui were among those appointed by Pope Francis to Cosea.

Msgr Vallejo told the court he acted under pressure from co-defendant Ms Chaouqui, who he claimed had allegedly also tried to seduce him. He said Ms Chaouqui told him she was an Italian secret service agent.

The Vatileaks 2 trial has been adjourned until April 6th because Ms Chaouqui, who is pregnant, has been told by her doctor to take "a period of absolute rest".