Father, Daughter Sue LA Archdiocese for $10m over Sex Abuse by Suicide Coach
By Ken Stone
My News
March 18, 2016

http://mynewsla.com/education/2016/03/18/father-daughter-sue-la-archdiocese-for-10m-over-sex-abuse-by-suicide-coach/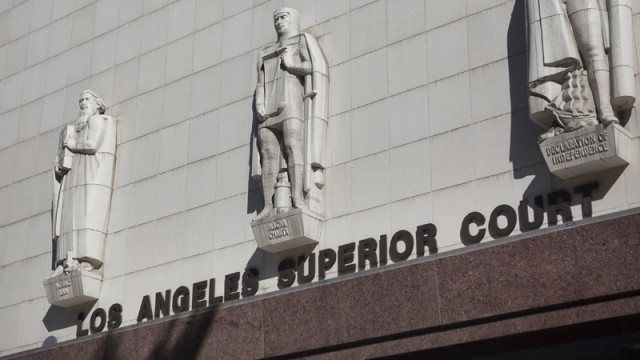 Los Angeles County Superior Court. Photo by John Schreiber.



This is an updated article that includes a statement from the archdiocese saying the lawsuit wrongly identified a school with a similar name to the one with which the late coach was affiliated. In addition, the archdiocese said the coach was a volunteer, not a school employee. An attorney for the plaintiffs, in a phone interview, declined to discuss the discrepancy.)

The Archdiocese of Los Angeles and a school were sued Friday by a teenage girl and her father, who allege those entities bear responsibility for her sexual abuse at the hands of a coach who killed himself after being confronted by her dad.

The plaintiffs are identified in the Los Angeles Superior Court lawsuit as John and Jane Doe, who are seeking damages of $10 million and $5 million, respectively.

The suit erroneously named St. Lucy's Priory High School in Glendora as a defendant instead of St. Lucy Catholic School in Long Beach, according to the archdiocese, which released the following statement:

"The lawsuit appears to incorrectly name St. Lucy's Priory High School and the Benedictine Sisters as defendants," the statement read. "It appears that the lawsuit refers to St. Lucy's School in Long Beach since it also names the late Scott Landerville, a former volunteer (coach). The complaint contains a number of claims, including an allegation of misconduct involving a former student, which the complaint states to have occurred, after the student was at our school. We will be investigating the matter and have not been served in the litigation."

Also named are former St. Lucy principal Diane Pedroni, who according to the school's Facebook page retired last June, and Patrice Landerville, the ex- wife and special administrator of the estate of the late coach.

The allegations include child sexual abuse, assault, battery, negligence, false imprisonment and both intentional and negligent infliction of emotional distress.

The girl was 17 years old when she was abused by Landerville in 2015, according to the suit, which says she first met him years earlier while her father and Landerville were coaching two different levels of girls' basketball teams at St. Lucy's. Landerville later coached Jane Doe in basketball and volleyball at the school, the suit says.

Her father and Landerville became good friends, and Landerville helped stage a 13th birthday party for her at his home, according to the complaint.

Landerville, who had a reputation at St. Lucy's as a "stand-up guy" and regularly attended church and bible study, later began taking an interest in the girl by buying her roses on Valentine's Day and driving her home from practice, according to the lawsuit.

John Doe wrote an email to Landerville stating that people were expressing concern about his conduct with young girls. He also wrote that was going to advise Pedroni about what he had heard, the suit states.

But Landerville went to Pedroni before John Doe could do so and told the principal he was resigning, the suit says. Pedroni was critical of John Doe for writing the email to Landerville and said it looked like the plaintiff was jealous of a fellow coach and wanted his job, according to the complaint.

Pedroni fired John Doe, but did nothing to investigate the rumors surrounding Landerville, according to the suit, which says Landerville was reinstated to coach at St. Lucy's a year after he resigned.

John Doe agreed to reconcile with Landerville, believing at the time that St. Lucy's had looked into the issues regarding his friend and young girls and found they were unsubstantiated, according to the lawsuit.

John Doe was injured in a car accident in February 2014 and moved to another state to live with relatives who could care for him. His daughter wanted to stay and finish high school in California, but wasn't getting along with her mother and wanted to move out, the suit states.

"(Landerville) offered to take Jane Doe in for the remainder of her senior year in high school," the suit states. "Jane Doe was very excited because she could stay in California, continue to play volleyball, be with her friends and finish her senior year."

In September 2014, the teen moved into the home that Landerville shared with his daughter, his ex-wife and her husband and their three children, the suit states.

Within the next four months, Landerville began making remarks about the teenager's body and denigrating her boyfriend and her father's parenting, according to the complaint, which alleges he began sexually abusing her in February 2015. Meanwhile, her relationship with her father deteriorated, according to their complaint.

Jane Doe ultimately told her father about her sexual relationship with Landerville and moved in with her aunt until he could return to California and collect her belongings, the suit alleges.

Two days after being confronted by the girl's father, Landerville, who was 56, shot himself in his back yard, the suit says.

The teen has since "had thoughts of suicide and severe guilt over Scott killing himself," according to the suit, which alleges Pedroni knew or should have known of Landerville's "dangerous and exploitive propensities" with young girls.

Peroni, the archdiocese and the school should not have allowed him to continue at the school or allowed him to come into contact with children without supervision, according to the lawsuit.