Pittsburgh Native to Lead Troubled Minnesota Archdiocese
The Tribune-Review
March 24, 2016

http://triblive.com/news/adminpage/10201554-74/archdiocese-archbishop-paul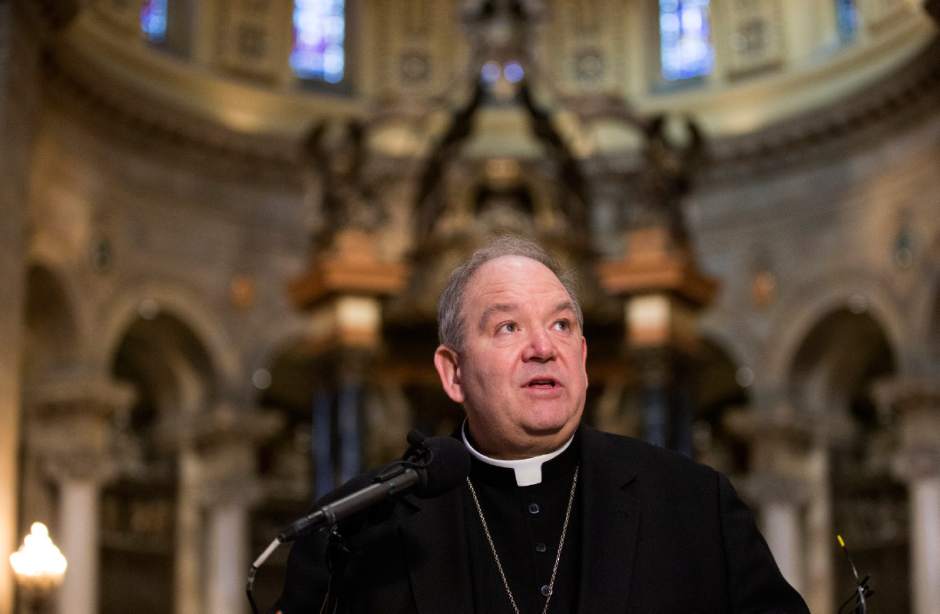 Archbishop Bernard Hebda speaks during a news conference at St. Paul Cathedral after being appointed as Archbishop of the archdiocese of St. Paul and Minneapolis on Thursday, March 24, 2016 in St. Paul, Minn.



Pope Francis named a Pittsburgh native, who once worked as an attorney for a Downtown law firm, to lead the Archdiocese of St. Paul and Minneapolis, the Vatican announced Thursday.

Archbishop Bernard A. Hebda, 56, has been overseeing the embattled archdiocese on an interim basis since Archbishop John Nienstedt stepped down last year.

Nienstedt resigned after prosecutors filed criminal charges against the archdiocese for failing to protect children from a priest later convicted of molesting two boys. Nienstedt denied wrongdoing in that case and was not charged.

Hebda's installation Mass is scheduled for May 13.

"He will lead the Church of St. Paul-Minneapolis with great pastoral zeal and with a huge loving heart," Diocese of Pittsburgh Bishop David Zubik said in a statement.

Zubik described Hebda, a 1977 graduate of South Hills Catholic High School in Mt. Lebanon, as an "outstanding leader" who "is much loved and admired by the faithful, the religious, the deacons and the priests" of Pittsburgh.

Through the mid-1990s, Hebda's ministerial roles included parochial vicar at Purification of the Blessed Virgin Mary Parish in Ellwood City; team ministry at Prince of Peace Parish in the South Side; and director of campus ministry at Slippery Rock University's Newman Center.

He received a bachelor's degree in political science from Harvard University and in 1983 graduated from Columbia University School of Law. That September, he started a job as a lawyer with the Downtown firm of Reed Smith.

He entered St. Paul Seminary in 1984 and was ordained a priest in 1989 at St. Paul Cathedral in Oakland.

"He's got a brilliant mind, an excellent education and a wide range of experience," said the Rev. Louis Vallone, a longtime friend of Hebda's and pastor of St. John of God in McKees Rocks and St. Catherine of Siena in Crescent. "At the same time, he is an extremely spiritual and pastoral man, so he'll put everything into the perspective of building the Kingdom of God."

Thursday's announcement means Hebda will not become head of the Archdiocese of Newark, where he had been serving as coadjutor archbishop and was scheduled to replace Archbishop John J. Myers when he is expected to retire in July.

Vallone credited Hebda with bringing "a great deal of healing and direction" to Minnesota parishioners during nine months as interim leader.

The Archdiocese of St. Paul and Minneapolis has been under fire since 2013, when a former church official went public with concerns about its handling of abuse cases. That same year, a state law opened a three-year window for victims of past sex abuse to file lawsuits. The archdiocese has declared bankruptcy, and more than 400 victims have come forward.

In a letter to congregants, Hebda said that "there is much work yet to be done to overcome the significant challenges we continue to face, but I am firm in my conviction that the Lord is truly present here, even in our struggles."

He continued, "The exceptional staff and leadership team at the Archdiocese, along with our strong priests, committed religious and dynamic lay leaders are all reasons for great hope."

The Associated Press contributed. Natasha Lindstrom is a Tribune-Review staff writer.