Church Accused of Deceitfulness As Priest Who Had Affair Secretly Resumes Role
By Deborah McAleese
Belfast Telegraph
March 26, 2016

http://www.belfasttelegraph.co.uk/news/northern-ireland/church-accused-of-deceitfulness-as-priest-who-had-affair-secretly-resumes-role-34573514.html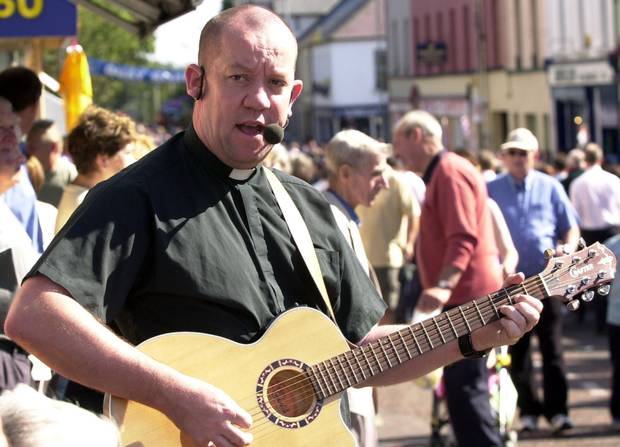 Fr Dallat's return took parishioners by surprise



Fr Ciaran Dallat, who stepped aside last year following an affair with a woman who allegedly became pregnant, has resumed his duties after "spiritual guidance and counselling".

SHARE

Parishioners were unaware of the decision to bring Fr Dallat back, until they spotted the west Belfast priest taking part in the Chrism Mass on Holy Thursday at St Peter's Cathedral.

A statement from the Diocese of Down and Connor said yesterday that after he voluntarily stepped aside in March last year, Fr Dallat had undertaken "a time of reparation, spiritual guidance and counselling" in the hope that he would be able to "resume the exercise of priestly ministry".

Fr Dallat was an assistant priest at St Peter's Cathedral when it emerged last year that he had engaged in a sexual relationship with a woman who claimed that she had miscarried his child in July 2013 after a five-week pregnancy.

The 50-year-old businesswoman, known only as 'Linda', said she had showered him with ?20,000 worth of gifts throughout their relationship, which allegedly began in September 2012 and lasted until April 2014.

She said that she believed he would leave the priesthood to continue their relationship, but it never happened.

When details of the affair became public last year, Fr Dallat stepped aside. Bishop Noel Treanor was criticised by some clergy members over his handling of the affair at the time.

However, on Thursday Fr Dallat returned to St Peter's Cathedral, where the scandal erupted 12 months ago.

The Diocese of Down and Connor said that "following the renewal of his commitments of priestly ministry" at the Chrism Mass on Thursday, Fr Dallat "resumed his priestly ministry within the diocese".

The Church said he will take up a new appointment after Easter, but refused to say where.

The Church added that Fr Dallat wanted to "sincerely apologise to everyone for the hurt and distress that his actions have caused" and that he has reaffirmed his commitment "to serving God and the people of the Diocese of Down and Connor."

However, there was anger among parishioners that they had not been notified about the priest's return.

One parishioner said: "The first we knew of it was when he brazenly walked up the aisle on Thursday with the other bishops and priests.

"I have my own views about whether he should be allowed back in the priesthood, but I don't think they are relevant.

"What is relevant, is how this has been handled by the Catholic Church."

The parishioner added: "Haven't they learned about keeping secrets?

"I am convinced they were trying to keep this very quiet. They thought they could just quietly bring him back in, without anyone really noticing."

Another parishioner added: "I think the parishioners have been treated with contempt. And what about the woman he had the affair with? I am sure this is very upsetting for her. Where is the Catholic Church's duty of care there?

"And are we now to think it is okay for Catholic priests to break their vow of celibacy?"

At the time news of the affair broke, several parishioners rallied around to defend Fr Dallat. A rally of support was organised outside the cathedral.

And Passionist priest Fr Brian D'Arcy, one of Ireland's best known clerics, also spoke out in his defence, saying he was disappointed the relationship had become a "source of scandal."