Lash Honored
Observer-Tribune
March 28, 2016

http://www.newjerseyhills.com/observer-tribune/news/former-mendham-pastor-to-be-honored/article_02a92644-ad2c-56c4-acb5-0a3d8d440776.html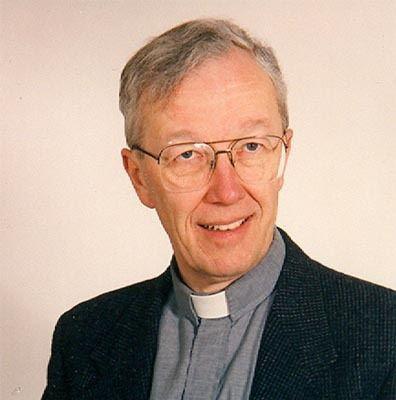 KENNETH LASCH
MENDHAM - Assumption College for Sisters of Denville, formerly based in Mendham, will sponsor the Fifteenth Annual Caring Basket Gala on Thursday, April 14, at the Hanover Marriott, Whippany.
Assumption College for Sisters will bestow awards to individuals who foster the greater good of the community through their personal and professional endeavors, a statement said.
The Assumption College for Sisters moved in November 2014 to the previously unoccupied convent at Morris Catholic Regional High School in Denville. Occupants of the Sisters of Christian Charity campus in Danville, Pa., including a retirement home for the order, moved to Mendham after the college left.
The Rev. Monsignor Kenneth Lash, a priest of the Diocese of Paterson, will accept the "Servant Leader Award."
Ordained in 1962, Lasch retired as pastor from St. Joseph Church, Mendham in 2004 after 21 years of pastoral care. He also was pastor of St. Therese Parish, Paterson, from 1976-1978.
Lasch first met the Sisters of Christian Charity, sponsors of Assumption College for Sisters, while a student at Bayley –Ellard Regional High School in Madison. Lasch went on to complete degrees from Seton Hall University and Immaculate Conception Seminary, South Orange, , as well as earning a Doctorate in Canon Law from St. John University, Rome, Italy.
Enjoying an active retirement, Lasch serves as the weekend associate priest at St. Luke Parish, Long Valley. He is the co-founder of Road to Recovery, founded in 2008 as an advocacy initiative for victims for clergy sexual abuse. He is also a member of Catholic Whistleblowers, a support organization for those who experienced abuse, since 2013. Additionally, Lasch volunteers as a pastoral counselor to HIV-positive clients at Hope House, Dover.
Lasch has served on the ethics committee of Morris View Nursing Home, the board of directors of Morris County Board of Social Services and many other religious, educational and social service organizations. He is co-author of "Day by Day," published by Catholic Book Publishing.
The Family Life Award will be given to Fred and Mary Alice Lawless of Morristown. As parents of five adult children, the Lawlesses see faith and love in action as integral aspects of family life.
"We don't have a precise formula, but our philosophy is to respect those whose shoulders we stand on, love those in our care, see the good and go about doing good for God's kingdom," Mrs. Lawless said.
Mr. Lawless studied commercial art and design at Pratt School of Design in New York and attended San Diego State University. He is is a retired entrepreneur and graphic artist. He continues his artistic expression through fine art by painting portraits of family and friends.
Mrs. Lawless is a graduate of Montclair State University, attended the University of South Carolina, Graduate School of Journalism and has completed executive education programs at the University of Notre Dame. She is managing partner at Everything Health, LLC and is chairwoman of the Foundation for Health Smart Consumers, a not-for-profit organization which seeks to foster better health among individuals and communities.
The Lawlesses and their children, Ted, Sarah, Brigitte, Grace and Cary have been active members of Assumption Parish, Morristown. They participated in the Youth Ministry Program, Right to Life Ministry, Alter Server Team and many parish and school events and fundraisers. They are also supporters of St. Paul Inside the Walls, the Catholic Center for Evangelization for the Diocese of Paterson, where Mrs. Lawless is a member of the advisory board.
Recognizing outstanding service to the community, the "Spirit of the Heart Award" will be granted to Kathleen Ginty Hyland of Morris Township.
She is a former Mayor of Morris Township, an office also once held by her late husband, Patric Hyland, and her father, John. She also has served on the Morris Township Committee and for 30 years on The Board of Education, Morris County Vocational School District, serving 13 years as president.
Hyland is the co-founder and chairman of TeenPride Inc., Morristown, an organization which provides young people with activities and free individual, group and family counseling.
Hyland also serves on the Board of Directors of Arc/Morris County Chapter, a provider of services for people with intellectual and related developmental disabilities and their families. She is also an active parishioner of Assumption Parish, Morristown.
Sister Joseph Spring, Sisters of Christian Charity, president of Assumption College for Sisters said the honorees "are passionate about service and about sharing their gifts and talents with others."
Assumption College for Sisters provides scholarships for 20 sisters from the developing countries of Burundi, Kenya, Tanzania, Uganda, and Vietnam.