Former Ballarat bishop Fr Ronald Mulkearns dead at 86
By Shannon Deery
Herald Sun
April 03, 2016

http://www.heraldsun.com.au/news/victoria/former-ballarat-bishop-fr-ronald-mulkearns-dead-at-86/news-story/feb134ff58a6fb52a92ceaf7e94cbed7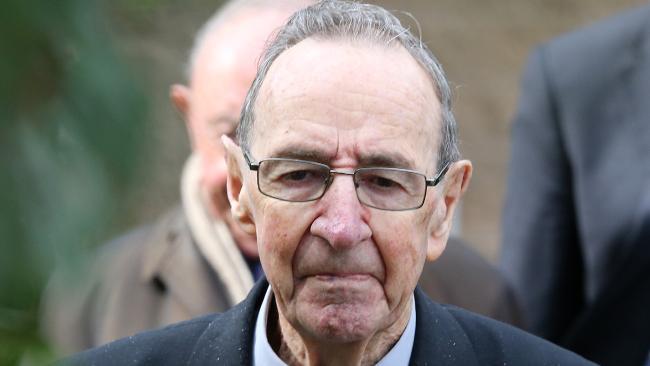 Retired Bishop Ronald Mulkearns.
Photo by Mike Dugdale
THE Ballarat bishop who failed to stop the abuse of hundreds of children over three decades has died.
Fr Ronald Mulkearns who was battling cancer died overnight aged 86.
It comes just two weeks after he gave secret pre-recorded evidence ahead of an upcoming criminal trial.
Under his watch, between 1971 and 1997, hundreds of children were molested by notorious paedophiles including Gerald Ridsdale and Robert Best.
At the Royal Commission into Institutional Responses to Child Sexual Abuse in February Fr Mulkearns admitted he had failed as a bishop.
"I'm terribly sorry that I didn't do things differently," he said.
"I didn't really know what to do or how to do it".
Fr Mulkearns repeatedly apologised for his handling of sexual the abuse crisis but stopped short of admitting he actively covered up abuse.
"I certainly regret that I didn't do it differently with ... paedophilia," he said.
"We had no idea, or I had no idea of the effects of the indecent (assaults) that took place.
"I certainly wanted to protect the reputation of the church."
Fr Mulkearns said he tried his best to try and stop abuse.
But he admitted shuffling offending priests around parishes despite knowing of their evil crimes.
Fr Mulkearns was excused from giving evidence at an earlier Victorian parliamentary inquiry into abuse because of ill health.
He had given just 90 minutes of evidence to the Royal Commission and was expected to continue his evidence in coming weeks.
Contact: shannon.deery@news.com.au