Ronald Mulkearns takes his secrets – and his guilt – to the grave
By Konrad Marshall
Age
April 4, 2016

http://www.theage.com.au/victoria/ronald-austin-mulkearns-the-catholic-bishop-who-knew-is-dead-at-85-20160404-gnxqsv.html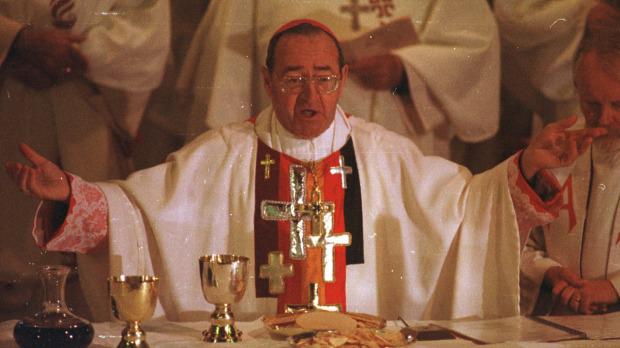 Bishop Ronald Mulkearns before his retirement, in 2002.
He was born Ronald Austin Mulkearns, in Caulfield. He died on Monday one of the most reviled Catholic leaders in the country.
He came into the world in 1930, and was ordained as a priest in 1956 – a full six decades ago. He is now dead but the damage he did is long done. Indeed the suffering caused is continuing.
He was the sixth Bishop of Ballarat, a man Most Reverend, a Knight Commander of the Most Excellent Order of the British Empire, and the singular soul in charge of the largest Catholic diocese in Victoria, throughout its most shameful and destructive era, from 1971 to 1997.
Only this year he faced questions about that period, and his own catastrophic negligence in failing to halt the egregious behaviour of the black-collar criminals under his watch.
He was sorry, he said.
"I didn't do enough," he was quoted as admitting.
And yet not doing enough is not even close to the reason the world hates former bishop Ronald Mulkearns. The depth of feeling against the man comes from the belief that he actually did … nothing.
That he aided and abetted the offending.
That he covered it up, destroyed documents, then concealed and spread the problem in parish after parish.
That he actually did plenty – all of it wrong and all of it sacrificing the innocence of children for the reputation of the church.
Mulkearns died on Monday morning, aged 85. He had moved recently from his home in Fairhaven on the Great Ocean Road and passed away in a nursing home in Ballarat. The building where he died is called Nazareth House, and was formerly an orphanage where the notorious Gerald Ridsdale once roamed the halls as its charismatic and cruel chaplain.
Mulkearns knew Ridsdale well. He knew many of them well. Edward Dowlan. Robert Best. Stephen Farrell. Paul Ryan. Gerald Fitzgerald. John Day.
They all spent time in his diocese. Mulkearns himself did not touch children as they did, but consider the full name of the inquiry into their offending. It is the Royal Commission into Institutional Responses to Child Sex Abuse, and is designed to call attention not to the exact crimes of evil perverts – but the way the acts were handled and hidden by the institution. In this regard no one is more responsible than the late Mulkearns.
He has been named "the pivotal person", "the keeper of secrets", the "linchpin", the "paedophile protector" and the "high priest in criminality".
He resisted requests to give evidence at earlier inquiries, citing his failing memory as a result of a stroke. And yet at the time he was still able to conduct Mass.
When he attempted to escape questioning again this year, due to his place in palliative care, the scepticism of the community of abuse survivors seemed justified. (Their suspicion was only heightened when the far more robust Cardinal George Pell claimed he could not travel to Australia to face the royal commission in person, also owing to poor health.)
And yet Mulkearns has died. His ill health was quite real. His final years were plagued by the stroke, colon cancer, kidney disease and a tumour in his pelvis. He would have suffered physically, and some who know him have suggested he struggled spiritually as well, long awake at night pondering the consequence of his actions.
On his final day, then, we should perhaps pause to consider his apology, offered only weeks ago. It is incomplete but is not nothing: "I'd like to say, if I may, that I'm terribly sorry that I didn't do things differently in that time, but I didn't really know what to do or how to do it," he said. "I certainly regret that I didn't do it differently with ... paedophilia. We had no idea, or I had no idea."
The digital universe, of course, offered no forgiveness, and predicted the furnace of hell for a person only hours dead. "Pack light", typed one commenter, "it's hot where you're going."
Others were more concise in their reaction, stating simply: "Good."
But this news is not good, for us or for him, because the truth can only emerge from the lips of those who know it, and absolution can be granted to only those who ask for it.
The passing of Mulkearns is an opportunity missed. The man now takes his secrets – and his guilt – to the grave.
Contact: konrad.marshall@fairfaxmedia.com.au