Paedophile priest protector Ronald Mulkearns dies
The Standard
April 4, 2016

http://www.standard.net.au/story/3828286/paedophile-priest-protector-ronald-mulkearns-dies/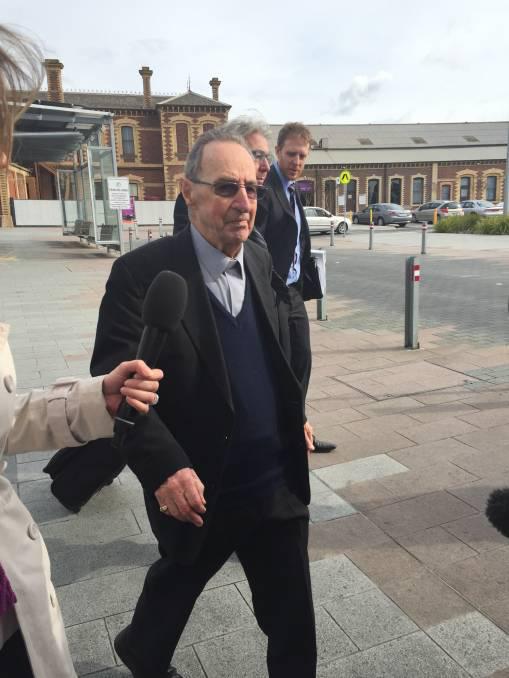 Former Ballarat Bishop Ronald Mulkearns, pictured outside court in Geelong, last year, has died.
Photo by ALICIA THOMAS
THE former Ballarat bishop who protected paedophile priest Gerald Ridsdale has died.
Ronald Mulkearns, who had colon cancer, died on Monday morning, the Catholic Diocese of Ballarat said.
The child abuse royal commission has heard the 1971-1997 Ballarat bishop knew paedophile priest Gerald Francis Ridsdale and others were sexually abusing children and moved them between parishes.
The commission also heard Bishop Mulkearns destroyed documents in Ridsdale's file.
Bishop Mulkearns was living in an aged care facility recently and was reported to be suffering from a range of illnesses.
He made his much-anticipated appearance at the child sexual abuse inquiry in February via videolink from his nursing home, telling the royal commission he was "terribly sorry" he did not take the mounting sexual abuse allegations about offending clergy seriously and admitted he did not know how to handle the situation.
The hearing was adjourned after about 90 minutes due to Bishop Mulkearns' ill health and he did not reappear.
Clergy abuse survivor Phil Nagle said Bishop Mulkearns would now be taking his secrets to the grave after failing to fully answer questions around the abuse.
"His passing means a lot of secrets and sins will go to the grave with him," he said.
"When you look at how this has been going on in history (...) it has been stalled as such, this just makes it a bit easier for the (Catholic Church).
However, Mr Nagle said Cardinal George Pell was very significant in confirming that it was Bishop Mulkearns who covered up the abuse and hid it from many others within the church.
More to come.