Group wants list of Catholic sex abusers published
By Rebecca Lindstrom And Julie Wolfe
11 Alive
April 5, 2016

http://www.11alive.com/news/local/holding-powerful-accountable/group-wants-list-of-catholic-sex-abusers-in-ga-published/119583495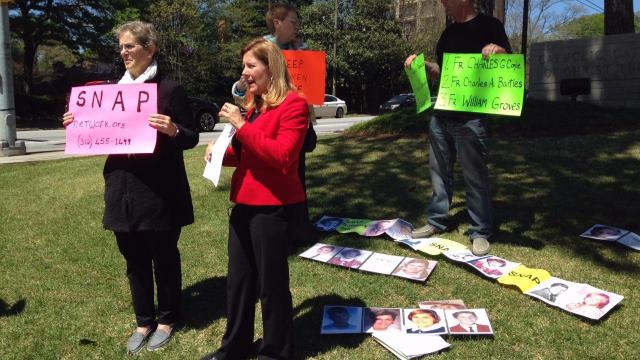 Members of SNAP rally at the state capitol in efforts to get the Catholic Church to publish the names of clergy involved in the child sexual abuse scandal.


[with video]



ATLANTA - A group of survivors is pushing Catholic bishops in Georgia to publish the names of every cleric involved in sexual abuse.

The demand comes from SNAP (Survivors Network of those Abused by Priests). The group rallied Monday afternoon near the Atlanta Catholic Cathedral of Christ the King, holding signs asking the church to "protect children" and "keep kids safe." They also displayed photos of children from across the country at the age they say they first started to experience abuse. Most are now adults.

SNAP says too many of the bishops and deacons accused of hurting them have been quietly disciplined by the church, or not at all. That means there's no criminal history to warn other groups about the dangers posed in letting them around children.

That's why Barbara Blaine, who says she was raped for nearly four years starting in 8th grade, wants bishops to publish names, photos, and work histories of every cleric with a substantiated claim of sexual abuse filed against them. Today, they directed that request to the Archdiocese of Atlanta.

"The church officials admit to about 6400 priests in the United States have molested children, but the identities of almost half of them have never been made public. We think that creates a public safety problem," said Blaine.

"Are they mentors in schools, are they working in the boy scouts, are they coaching a baseball team, babysitting?" questioned Barbara Dorris, the Outreach Director for SNAP and fellow abuse survivor.

Atlanta's Archbishop Wilton Gregory helped lead the Catholic church in creating the "Charter for the Protection of Children and Young People" in 2002. Part of its mission is to "restore bonds of trust." Blaine says she asked Gregory to create a national list of predators then. She's asking for at least a local list now.

"They promised there would be no more secrecy," said Blaine.

11Alive's Rebecca Lindstrom reached out to the Archdiocese of Atlanta for a response. "We regret any instance of abuse and take every allegation seriously," a spokesperson said in a statement. "Our Archdiocese has one of the most stringent safe environment policies in the country, including zero tolerance for abuse."

But the Archdiocese refused to comment on why it had not published the names of those in the past who had hurt children or if it ever would. More than two dozen bishops, in cities like Cincinnati, Chicago and Minneapolis have honored the request.

The church offered a toll-free number and website to report an allegation of abuse.