Report: Ex-Midland Beach pastor defrocked over computer porn
By Ryan Lavis
Staten Island Advance
April 5, 2016

http://www.silive.com/news/index.ssf/2016/04/former_midland_beach_pastor_de.html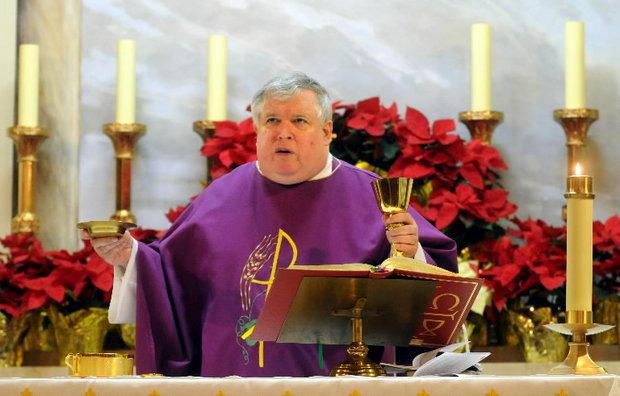 Father Keith Fennessy, seen here in this 2008 photo during mass at St. Margaret Mary's Church, Midland Beach, has been barred from the priesthood over porn allegations, according to a report.
STATEN ISLAND, N.Y. -- A priest who once served as pastor of St. Margaret Mary R.C. Church in Midland Beach has been defrocked after pornographic material was allegedly discovered on his computer, according to a report in Catholic New York.
The material, the report said, was in violation of the Charter for the Protection of Children and Young People, which is a set of procedures that were established in 2002 by the United States Conference of Catholic Bishops for addressing allegations of sexual abuse of minors by Catholic clergy.
The Rev. Keith Fennessy was removed from the ministry in June 2015 after the pornographic material was discovered, according to the report.
Father Fennessy had served as pastor of St. Margaret Mary Church from 2006 to June 2010, when he left the parish amid a controversy over the sale of a portion of the church's property to the Muslim American Society, according to previous Advance reports.
He also served as parochial vicar at St. Peter's Church, New Brighton, from 2004-2005, and later as an administrator of Our Lady of Mount Carmel-St. Benedicta, West Brighton, according to Catholic New York. Most recently, Father Fennessy had served as pastor of St. Columba's parish in Manhattan.
The porn allegations were turned over to the Manhattan and Staten Island district attorney's offices, an archdiocesan spokesman reportedly said.
Earlier this month, Cardinal Timothy Dolan accepted the archdiocesan review board's recommendation that Father Fennessy no longer be permitted to serve as a priest, according to the report.
It was not immediately known if any criminal charges have been filed against Father Fennessy.
Contact: lavis@siadvance.com