PA House Committee Advances Child Sex Abuse Statute Of Limitations Bill
By Tony Romeo
CBS Philly
April 5, 2016

http://philadelphia.cbslocal.com/2016/04/05/pa-house-committee-advances-child-sex-abuse-statute-of-limitations-bill/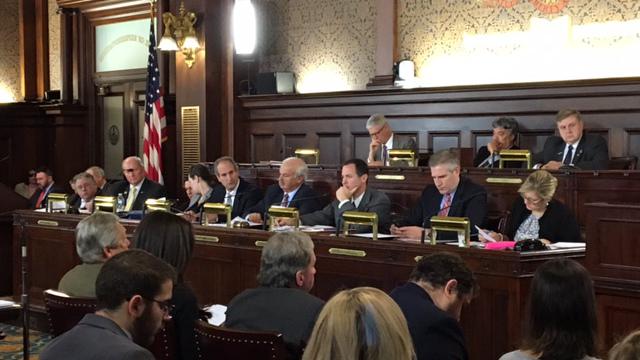 House Judiciary Committee at its Tuesday meeting
Photo by Tony Romeo
HARRISBURG, Pa. (CBS) — The state House Judiciary Committee has advanced legislation long sought by advocates that would eliminate the statute of limitations for criminal prosecution of child sexual abuse.
In addition to eliminating the statute of limitations for criminal prosecutions, the bill passed by the House Judiciary Committee would give victims of child sex abuse until the age of 50 to bring civil cases.
Republican Ron Marsico, the chairman, says the committee's action is not merely a response to recent charges brought against priests in the Altoona-Johnstown Diocese.
"It's not just that case… obviously, it's been the Philadelphia incidents. We knew we had to – at least the committee decided that we had to go ahead and move forward with legislation."
The bill does not include a provision coveted by advocates that would allow past victims for whom the current statute of limitations has expired a window of opportunity to bring civil cases.
The committee chairman says he expects that will be addressed in amendments to be offered when the bill goes before the full House for consideration.