Cardinals Baldisseri, Schonborn to Present Papal Exhortation
Vatican Radio
April 6, 2016

http://en.radiovaticana.va/news/2016/04/06/cardinals_baldisseri,_sch%C3%B6nborn_to_present_papal_exhortation/1220549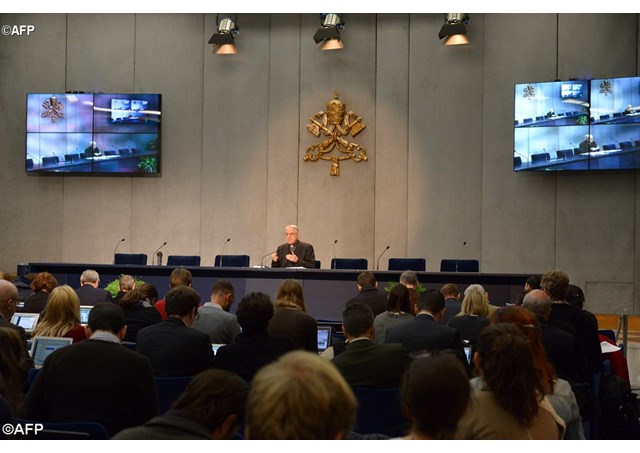 Director of the Holy See press Office, Federico Lombardi, gives a press conference on February 5, 2016 at the Vatican - AFP



The Press Office of the Holy See has called a conference and briefing for journalists in connection with the publication of Pope Francis' highly anticipated post-Synodal Exhortation, Amoris Laetitia, on "The Joy of Love", for 11:30 AM Rome Time on Friday, April 8th, in the John Paul II Hall of the sala stampa facility.

Presenting the document will be the General Secretary of the Synod of Bishops, Cardinal Lorenzo Baldisseri, and the Archbishop of Vienna, Cardinal Christoph Schonborn OP, along with a couple of married academics, Professor Francesco Miano and Professor Giuseppina De Simone, of the University of Tor Vergata (Rome) and the Theological Faculty of Southern Italy, respectively.

Below, please find the official announcement in English

*************************************

Accredited journalists are informed that on Friday 8 April 2016at 11.30 a.m., in the Aula Giovanni Paolo II of the Holy See Press Office, a Press Conference will be held for the presentation of the post-synodal Apostolic Exhortation of the Holy Father Francis, Amoris laetitia, on love in the family.

The panel will be composed of:

Cardinal Lorenzo Baldisseri, general secretary of the Synod of Bishops;

Cardinal Christoph Schonborn, O.P., archbishop of Vienna;

The married couple Professor Francesco Miano, lecturer in moral philosophy at the University of Rome at Tor Vergata, and Professor Giuseppina De Simone in Miano, lecturer in philosophy at the Theological Faculty of Southern Italy in Naples.

A simultaneous translation service will be available in Italian, English and Spanish.

The Press Conference can be seen via live streaming (audio-video) on the site:

[]

(Vatican Player, Vatican Radio) where it will subsequently remain available on demand.

The Apostolic Exhortation Amoris laetitia is to be considered under embargo until 12.00

p.m. on Friday, 8 April 2016. Accredited journalists may find the text of the Apostolic Exhortation in pdf format in the Reserved Area of the Holy See Press Office Bulletin web page from 18.00, Thursday 7 April, in Italian, French, English, German, Spanish and Portuguese. In addition – in the same languages – a summary of the same Apostolic Exhortation can be consulted, again in the reserved area. The paper version of the Exhortation (in the available languages) will be available to accredited journalists from 8.00 on Friday 8 April 2016.