Kincora Abuse Inquiry Bid "Premature and Misconceived"
Belfast Telegraph
April 8, 2016

http://www.belfasttelegraph.co.uk/news/northern-ireland/kincora-abuse-inquiry-bid-premature-and-misconceived-34611119.html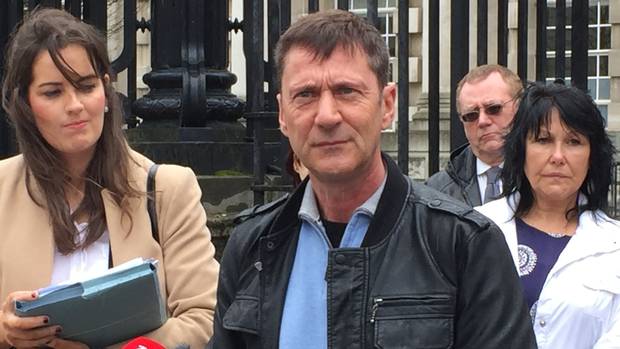 Kincora abuse victim Richard Kerr speaks to the media outside Belfast High Court



Mr Justice Treacy told Belfast High Court the timing of the judicial review was wrong

He said: "The court considers that the application is premature and misconceived. Therefore the application for judicial review must be dismissed."

There have been allegations of a paedophile ring linked to British intelligence services at Kincora.

The legal action was taken by Gary Hoy, a former resident abused by two men who were subsequently convicted.

He was challenging the decision not to bring Kincora under the remit of an independent inquiry established by Home Secretary Theresa May and chaired by Justice Lowell Goddard, which covers England and Wales and has the power to compel witnesses.

The UK government has insisted that child protection is a devolved matter and that Kincora should be investigated by the ongoing Historic Institutional Abuse (HIA) inquiry examining allegations of systemic failings at state-run institutions in Northern Ireland between 1922 and 1995.

Delivering his ruling to a packed courtroom, which included a number of high-profile campaigners, Justice Treacy said the HIA had pledged to examine whether security and intelligence personnel were responsible for alleged failings at Kincora.

He added: " The HIA inquiry is one of a composite set of state processes which include investigations, inquiries, prosecutions and civil claims. The present inquiry is but one component of the state's mechanism for investigating these matters."

The judge also said it was the HIA's intention to collate and make public as much information about what had occurred at Kincora.

He said: "I agree that when it does so the authorities including the court will be in the best position to determine whether the UK Government bears any further obligation that needs to be met in some form."

Afterwards Mr Hoy declined to speak but his solicitor Claire McKeegan from KRW Law said he was "very disappointed".

Ms McKeegan said: "It is a matter of deep concern for us that victims may have to go through this again. Many victims have waited decades to get here and many are no longer with us."

The solicitor said the ruling would be "carefully considered" before any decision about a potential appeal is made.

At least 29 boys were abused at Kincora between the late 1950s and early 1980s.

Richard Kerr, another former resident who flew in from the United States for the case, said he was bitterly disappointed but vowed to continue his quest for the truth to be told.

He said: "There are a lot of secrets to come out. They are just trying to put a lid on it so they don't come out but I am open minded to this Harte (HIA) inquiry."

Meanwhile, Patrick Corrigan from Amnesty International who was also in court, said: "The fight for the truth about Kincora goes on. The claims that MI5 turned a blind eye to child abuse, actively blocked a police investigation, and instead used the paedophile ring for intelligence-gathering purposes, merits a thorough investigation, notwithstanding the court's decision today.

"The Kincora affair may be one of the most disturbing episodes of the Troubles.

"Nothing less than a full public inquiry - with all the powers of compulsion which that brings - can finally reveal what happened and the role that the security services may have played in the abuse of these vulnerable boys."