Dojo Pizza's Loren Copp Appears in Court in Child Porn Case As Support Fades
By Doyle Murphy
Riverfront Times
April 8, 2016

http://www.riverfronttimes.com/newsblog/2016/04/08/dojo-pizzas-loren-copp-appears-in-court-in-child-porn-case-as-support-fades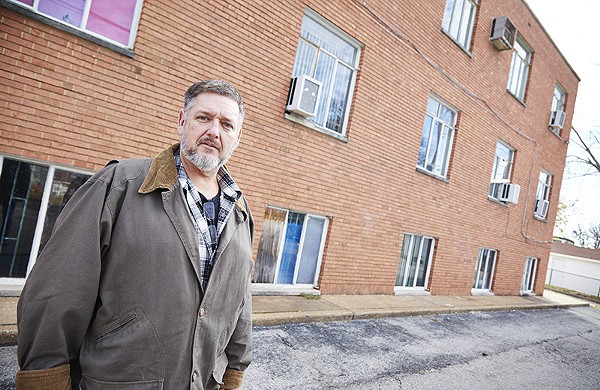 Loren Copp appeared Friday in federal court on a child pornography charge.



Dojo Pizza owner Loren Copp arrived handcuffed and shackled at the ankles on Friday in federal court for his first appearance since his arrest on child pornography charges.

His attorney had dropped him overnight. Some of his strongest supporters have backed away now that the FBI says it has photographic proof he sexually abused a girl over the course of several years, starting with a stomach-churning snapshot of the two of them in a sex act when she was just twelve years old.

Copp, 47, faces a maximum of 30 years in prison and a $250,000 fine if he's convicted.

Until a series of law enforcement raids in October and November, he'd lived with four teenage girls in a converted church at 4601 Morgan Ford Road in Bevo Mill where he taught karate, established a school and operated a pizzeria.

Federal authorities claim they found the pornographic photos on a computer hard drive seized during one of the raids. Investigators showed the pictures to the girl on Wednesday, and she identified herself and Copp, according to the criminal complaint released on Thursday following his arrest.

Tauna Cowin, whose two oldest daughters lived with Copp most of their lives, says she cried all night after reading the newly revealed allegations.

"If he did do this, I hope he rots in jail," she told the Riverfront Times. "I'm sorry, but I hope he rots in jail."

Cowin knew Copp, a former pastor, through her kids' school and church. When she was losing her home about a decade ago, she sent a son and the two girls to live with him and his wife at the time. The boy eventually moved on, but the girls stayed and began calling Copp "Dad" even though he wasn't their biological father.

Cowin says the girls previously told her Copp never abused them, but she hadn't talked to them since his arrest. They have been in foster care since the Dojo Pizza raids last fall.

"I just don't know how to freakin' take this," Cowin said through tears. "It's hitting me hard. I thought I knew this man, he was my pastor."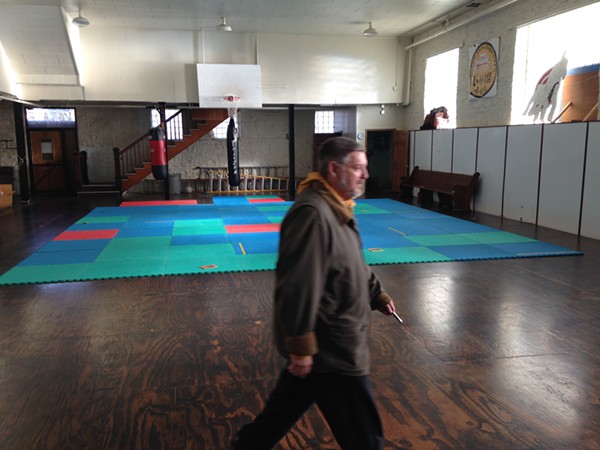 Loren Copp taught karate, established a school and operated a pizzeria in an old south St. Louis church he called Dojo Pizza.



Copp was the subject of an RFT feature story in December and has claimed he was just helping kids whose parents couldn't take care of them.

Attorney Justin Meehan, a longtime martial artist, had advised Copp for free in the months after the raids. Law enforcement affidavits had described Copp as the target of a "Labor Trafficking and Sexual Abuse" investigation, allegations that the lawyer thought lacked much in the way of support.

He has a policy of not taking on clients who are accused of hurting kids, but a fellow martial artist vouched for Copp, and Meehan eventually agreed to get involved — with the caveat that he'd walk if there was more to it than a weak trafficking case.

Meehan felt "blindsided" Thursday when he learned prosecutors were now pursuing a charge of producing child pornography, he said. True to his word, he has decided to cut ties with Copp.

"I'm not going to represent him," he told the RFT.

Assistant U.S. Attorney Jennifer Winfield told Judge Mensah on Friday prosecutors plan to present the case to a grand jury next week, and she hopes to have an indictment before a preliminary hearing scheduled for April 15.

Copp is being held without bail, at least until a bond hearing on Wednesday. He asked the judge to appoint a federal public defender to represent him.