Fugitive Israeli Rabbi Arrested in Johannesburg
By Mandy Wiener
Eyewitness News
April 8, 2016

http://ewn.co.za/2016/04/08/Fugitive-Isreali-rabbi-arrested-in-Johannesburg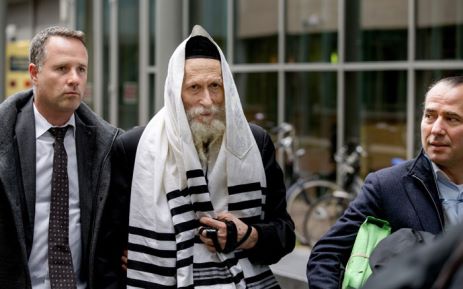 Israeli Rabbi Eliezer Berland (C), who is suspected of sexual abuse in Israel, arrives at court in Haarlem, on 17 November 2014, with his lawyer Louis de Leon (R). Picture: AFP/ANP/Sander Koning.



A fugitive rabbi, who has repeatedly evaded arrest in South Africa, has finally been taken into custody in Johannesburg.

Rabbi Eliezer Berland has been on the run from Israeli authorities for four years.

He is wanted for sex offences.

Eyewitness News understands that the 80-year-old rabbi was finally arrested by police yesterday after being hospitalised.

He has twice evaded arrest in South Africa, once last year when police raided his hideout at a hotel in Midrand and also during a high-speed car chase.

He has been spotted in several countries, including Zimbabwe, Switzerland and the Netherlands, always accompanied by a group of extremely devout followers.

Berland was arrested in Amsterdam last year, but managed to escape and re-enter South Africa a few weeks ago.

Itís understood Israel wants the rabbi to be extradited to face charges for sex crimes.