Jeremy Reichberg, Brooklyn Bigwig in FBI Corruption Probe, Allegedly Used Nypd Connections to Help Nephew Escape Assault Charges
By Kerry Burke
New York Daily News
April 10, 2016

http://www.nydailynews.com/new-york/nyc-crime/jeremy-reichberg-connects-squash-raps-victims-article-1.2594724


Micah Kaplan, a businessman and alleged victim of gang attack, at his Brooklyn home Wednesday.



A Borough Park businessman at the heart of a police bribery probe leaned on his police buddies to squash two assault raps involving his nephew, according to the victims of a pair of attacks.

Borough Park business honcho Jeremy Reichberg is being investigated by the feds for allegedly plying NYPD brass and at least one officer in the 66th Precinct with gifts in return for favors, according to multiple sources.

His nephew, Shlomo Reichberg, was part of a gang of disassociated Hasidic teens called Grouplech, which means forks in Yiddish, community sources said. The Hasidic hooligans were involved in two reported violent attacks in 2012, according to the victims.

In one scary encounter, Micha Kaplan, 45, says a group of Hasidic teens put him in the hospital for several days after a severe beating. The alleged beatdown started after the teens cut him off as he was driving in Borough Park.

At a red light, Kaplan rolled down his window and complained to the driver of the Chevy Impala.

That didn't go over well.

Kaplan says the teens tailgated him for 20 blocks. The confrontation came to a head when one of the teens got out the car and tried to open Kaplan's passenger side door. When Kaplan got out to close the door two of the teens started to punch and kick him, police records show.

During the attack they allegedly yelled "Litvak!" the Yiddish term for Lithuanian Jews, who are not Hasidic.

Kaplan, who works in real estate, went to Maimonides Medical Center in Brooklyn. He spent four days there with internal bleeding.

After his release, he did some research in the community, and identified several of the teens he believes attacked him. They included Reichberg's nephew, who was with the group at the time, but did not hit Kaplan.

But police from the 66th Precinct didn't care, Kaplan says.

"They were squashing it 100%," Kaplan said. "They told me I was unable to identify the guy and that my witnesses were no good. They never tried to make an arrest."

Kaplan filed a complaint with the NYPD's Internal Affairs Bureau.

Afterwards, the officers issued a wanted poster for one of the alleged attackers, Yossi Follman. But cops made no effort to find him and warned Kaplan to stay away, the victim contends.

"They told me not to hang out in front of (Follman's) house and suggested I call 911 when I see him on the street so they could send a patrol car to arrest him," Kaplan said. "It was a joke."

No arrest has ever been made.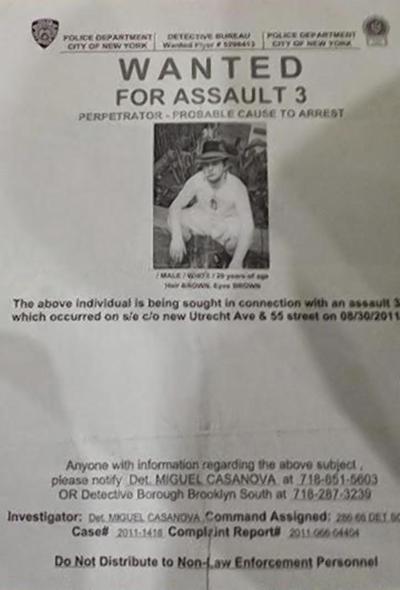 The NYPD sent out this wanted poster for Yossi Follman after Kaplan's complaint, but Kaplan says cops failed to follow up on the allegations.



When the NYPD was asked for an update on the case and Kaplan's old IAB complaint a department representative referred The News to Police Commissioner Bill Bratton's statement issued on Tuesday.

"On these investigations we're not able to comment on them and that's an agreement with the bureau," he told reporters Tuesday, referring to an ongoing FBI probe.

On Wednesday, Follman's mother downplayed the incident.

"How is this something new?" she asked a reporter outside her Borough Park home.

"Are you sure Mr. Kaplan isn't exaggerating things," she asked.

Asked about the gang, she said, "They are just a group of friends. Never into anything violent."

That's not how Benjamin Blau (no relation to this reporter) sees it.

Blau says he was attacked by members of the gang as he was delivering religious court notifications in Borough Park in October 2012.

According to Blau, several of the teens inside four cars jumped out and yelled in Yiddish "Kill him!"

"Between eight to 10 guys approached our car," Blau recalled several weeks after the assault. One kicked the driver's side door and flashed a knife.

In a panic, Blau accidentally unlocked the door. The gang members then yanked him from the car and one began hitting him in the head with a metal bar, Blau says.

"At this point I started losing consciousness," he recalled.

Police arrested three of the assailants but the case was later dropped, records show. It is unclear why the charges were never pursued.

Blau claims he was pressured by officers in the 66th Precinct to drop the complaint against Reichberg's nephew, who was one of the busted teens.

Neither Reichberg nor his nephew could be reached for comment.

With Graham Rayman