Adelaide's retiring Anglican Archbishop Jeffrey Driver calls for greater 'connection'
By Nigel Hunt And Michael Mcguire
Advertiser
April 10, 2016

http://goo.gl/piy4uE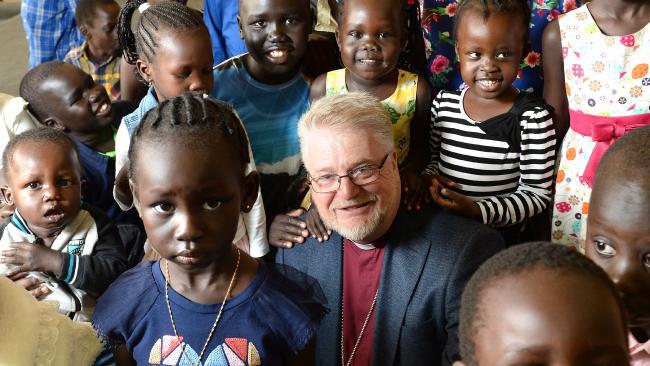 Retiring Archbishop Jeffrey Driver at the Holy Cross church at Elizabeth with children from the Sudanese community.
Photo by Campbell Brodie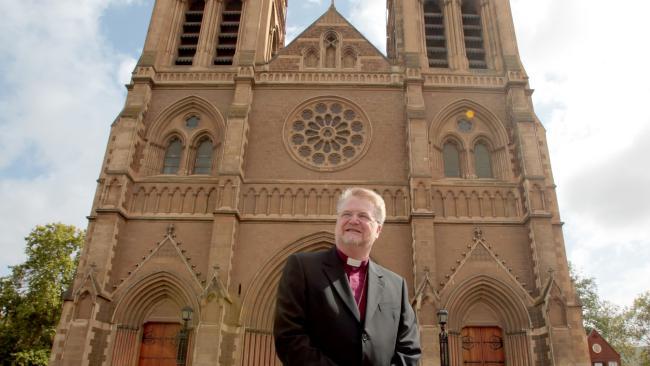 Archbishop Jeffrey Driver outside St Peter's Cathedral.
Archbishop Jeffrey Driver at an Easter church service in 2015.
Photo by Stephen Laffer
GRIEF and satisfaction were the overriding emotions for departing Anglican Archbishop Jeffrey Driver on Sunday when he told his flock the time had come for him to retire.
The satisfaction came from a job well done over an 11-year tenure, the grief from the fact that so much of that time was spent dealing with the problem of child sexual abuse perpetrated by members of the Anglican Church.
Archbishop Driver was elected in 2005 at a time when the church was deeply demoralised following the damaging Brandenburg child abuse scandal that cost former Archbishop Ian George his job.
"I saw that was something that needed to be done, not just because it was a problem, but because God calls on us to act well in those sort of circumstances,'' Archbishop Driver said yesterday.
"We had huge issues relating to abuse, child sexual abuse. That's doesn't just affect the immediate survivors but whole communities are affected as well, and related to that there is a loss of morale and confidence in the church.''
Archbishop Driver's first major task was to grapple with a multimillion-dollar class action launched by more than 70 abuse victims and the subsequent financial impact it had on the diocese.
He is credited with the rapid out-of-court resolution of the claims that ultimately resulted in payouts of about $4 million in compensation to around 40 victims of paedophile Robert Brandenburg.
Archbishop Driver, 65, advised parishioners at yesterday morning's services of his unexpected decision to step down as spiritual leader of SA's Anglican community in August.
In a letter read to parishioners, he referred to the "grief and satisfaction''.
"There is more than a little grief in that much of my episcopate here has been immersed in dealing with a sad historic legacy, continuing through to the recent hearings into CEBS by the Royal Commission into Institutional Responses to Child Sexual Abuse,'' the letter read.
The formal notification sets in motion the lengthy process to elect a new archbishop. The standing Bishop's Nomination Committee compiles a shortlist of up to four nominees to present to a special Synod for the election process later this year.
Under Archbishop Driver's leadership the diocese has been transformed and revitalised, and now leads the world in practices and protocols aimed at both preventing and detecting child abuse, as well as dealing with survivors.
The Archbishop, who is expected to spend more time with overseas churches, said that the next stage for the diocese will require another "five to 10 years of focused and energetic leadership''.
"While I am very aware that there is still much I could do, my sense is that this is an appropriate time for me to step aside and make way for that next phase with a different leader,'' he said.
Part of that next phase, he believes, will require the church to do more to "connect to the world around us''.
While numbers attending church are increasing, he believes the Church needs to articulate a version of faith that combats the easy solutions of religious fundamentalists.
"It's trying to propagate that ethos of committed generosity, as opposed to the view of fundamentalists who say they so hold the truth that they can impose it,'' he said.
But Archbishop Driver does not believe that attempt to better connect with the modern world will see the Church drop its opposition to gay marriage.
"I don't think that position is likely to change in the near future in Australia,'' he said. "But we need to ... contribute in a generous way to that debate.