Bishop Ronald Mulkearns takes secrets about Catholic child sex abuse scandal to his grave
By Shannon Deery
Herald Sun
April 11, 2016

http://goo.gl/Fk9SQq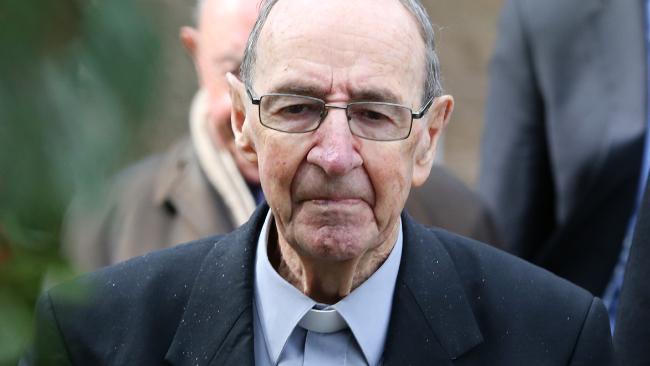 Retired Bishop Ronald Mulkearns.
Photo by Mike Dugdale
Ronald Mulkearns' body is brought to Nazareth house.
Photo by Eugene Hyland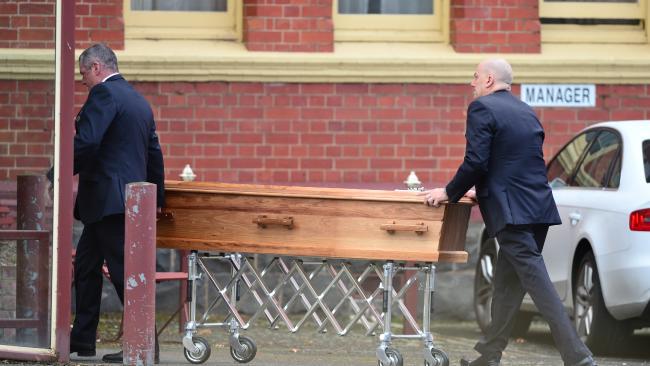 The coffin of Bishop Ronald Mulkearns arrives at Nazareth house in Ballarat.
Photo by Eugene Hyland
CATHOLIC bishop Ronald Mulkearns has been buried, taking dozens of secrets and unanswered questions about his handling of child sexual abuse to his grave.
As bishop of Ballarat between 1971 and 1997 Bishop Mulkearns facilitated the abuse of hundreds of kids by shuffling paedophile priests around large diocese.
Under his watch some of Australia's worst Catholic paedophiles, including Fr Gerald Ridsdale and Br Robert Best, abused scores of innocent children.
Bishop Mulkearns admitted, just weeks before his death, that he had failed the children, and failed as a bishop.
The admission, in what turned out to be his deathbed confession, followed years of silence about his handling of abuse and allegations of a widespread coverup.
He was only part way through completing his evidence before the child abuse royal commission.
The former bishop, who had been battling cancer, died expecting a grand funeral at Ballarat's cathedral, attended by priests and bishops from around the country.
Instead his funeral was held at a small chapel inside Nazareth House, the nursing home where he spent his final months.
About 30 people attended the funeral, including his only sibling, a brother, and scores of nephews and nieces who he was very close to.
The 90 minute service is understood to have been celebrated by the current parish priest of St Alipius Parish, Fr Adrian McInerney.
Breaking with Catholic tradition, Bishop Mulkearns was then buried at Ballarat General Cemetery, not in the crypt at Ballarat Cathedral.
The Catholic Church said it had decided on a simple, low key funeral, because of the controversy around Bishop Mulkearns's time as Ballarat bishop.
Despite the decision, current Ballarat bishop Paul Bird was one of the first to arrive at today's funeral mass.
It is unclear if he concelebrated the mass.
Bishop Mulkearns died aged 85 last week following a battle with cancer.
At the Royal Commission into Institutional Responses to Child Sexual
Abuse in February Fr Mulkearns admitted he had failed as a bishop.
"I'm terribly sorry that I didn't do things differently," he said."I didn't really know what to do or how to do it".
Fr Mulkearns repeatedly apologised for his handling of sexual the abuse crisis but stopped short of admitting he actively covered up abuse.
"I certainly regret that I didn't do it differently with ... paedophilia," he said.
"We had no idea, or I had no idea of the effects of the indecent (assaults) that took place.
"I certainly wanted to protect the reputation of the church."
Fr Mulkearns said he tried his best to try and stop abuse.
But he admitted shuffling offending priests around parishes despite knowing of their evil crimes.
Contact: shannon.deery@news.com.au