Lawyers: Civil Lawsuits to be Filed Against St. John's Abbey, Priest
By Jennie Lissarrague
KSTP
April 12, 2016

http://kstp.com/news/st-johns-abbey-priest-abuse-lawsuits-jeff-anderson-tom-andert/4102871/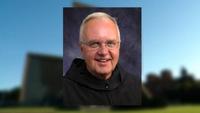 The Rev. Tom Andert
A man who says he was sexually abused by a St. John's Abbey priest when he was a teenager spoke publicly for the first time Tuesday.
The alleged victim, identified as Todd Belrose, says he was abused by Rev. Father Andert in the early 1970s when he was 14 years old.
Attorneys from Jeff Anderson and Associates on Tuesday announced two civil lawsuits against St. John's Abbey and Andert. The attorneys say Andert was returned to ministry in February after an internal investigation at St. John's.
"I can't believe that Father Tom is back in a position where other people, kids, can be hurt," Belrose said at a news conference.
Attorneys also say Andert was in charge of monks on restriction at the abbey who were accused of sexual abuse.
Back in January, we reported that seven monks accused of abusing children still live on the St. John's campus and are under close watch. The news came after the abbey released files of 18 monks accused of abuse; nine of the monks are dead, and the other two no longer work in the region.
The abbey said in a statement it knows of no incident of sexual abuse of a minor by a monk at St. John's in more than two decades.