Concerns over NT Aboriginal school Yirara College policy ignored, ex-staffer says
By Sally Brooks
ABC News
April 12, 2016

http://www.abc.net.au/news/2016-04-12/nt-aboriginal-school-yirara-college-child-sex-abuse-inquiry/7318052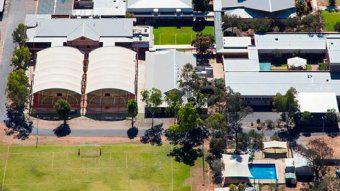 Yirara College is the subject of an information request from the child abuse royal commission.
The child sex abuse royal commission's probe into an Aboriginal school in Alice Springs has raised questions about who is ultimately responsible for student and staff welfare at non-government schools, a former staff member said.
On Monday, the ABC reported the Royal Commission into Institutional Responses to Child Sexual Abuse requested more than two decades of information from the Lutheran Schools Association about Yirara College in Central Australia.
There is no information to suggest that the inquiry is investigating any specific allegations of child sexual abuse at the school.
Karl Bajzik worked as boarding house parent at Yirara College for about 18 months, from late 2010, and met with royal commission staff about the school in Alice Springs in January.
He said his concerns included a lack of regulation of working with children checks and a lack of government response.
"I was not required or requested to provide a criminal history check, so I actually gained access to students without any background check," he said.
Mr Bajzik said he and others had raised their concerns over the issue, to no avail.
"Considering myself and a number of other staff contacted federal and state ministers, and the absolute lack of response from those ministers, I think essentially the focus needs to be on government," he said.
Lutheran Schools Association stressed all its employees completed child safe training and the school undertook the appropriate checks.
In addition to the information requests from the royal commission to the Northern Territory Education Department and the Lutheran Schools Association for South Australia, the Northern Territory and Western Australia, Northern Territory Police on Monday confirmed they had also been asked to produce documents.
"The requests fall within the date range of 1993 and 2015," said a police spokesman in a statement.
All school staff trained, checked, says church
Education Minister Peter Chandler and Children and Families Minister John Elferink declined to respond to questions from the ABC about the royal commission's probe of Yirara.
In a statement, Lutheran Schools Association executive director John Proeve reiterated the association and the church's support for the work of the royal commission.
"We will continue to assist the royal commission in every way we can," he said.
"Consistent with the royal commission policy not to confirm the details of any ongoing investigations into individuals or institutions, the Lutheran Schools Association will similarly not confirm, reject or discuss details of the information supplied to the commission.
"The Lutheran Church of Australia has demonstrated that it is serious about the protection of children by insisting that all people who work with children in the church, its departments, agencies and institutions, including schools, complete child safe training and as appropriate have a police check or Working with Children check, or in Queensland hold a Blue or an Ochre Card in the Northern Territory."