Catholic Priest Causes Outrage by Comparing Adulterous Women to Paedophile Priests
By Martha Azzi
Daily Mail
April 14, 2016

http://www.dailymail.co.uk/news/article-3540133/Catholic-priest-causes-outrage-comparing-adulterous-women-paedophile-priests.html

A Catholic priest has caused outrage after he compared paedophile priests to adulterous women in a primary school's newsletter.

Father Bill Edebohls, a parish priest for St Mary's Primary School in Malvern East, Melbourne, had his homily printed 'word for word' in the school's March newsletter for parents.

The controversial priest also said he was concerned the Royal Commission into child sex abuse will not allow victims to heal, reported The Age.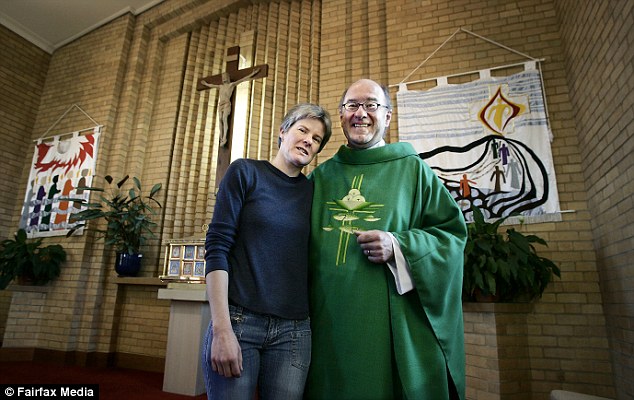 Father Bill Edebohls (pictured with his wife Roby) has shocked parents after comparing adulterers to paedophile priests.



The priest began his homily recounting a gospel passage of Jesus showing mercy towards an adulterer by halting a mob ready to cast stones after telling them 'he that is without sin among you, let him first cast a stone at her'.

'Remember this [adultery] was a sin, a crime that carried the death penalty – by stoning,' Father Edebohls said.

'Maybe to get the real drama and effect of the story we ought to replace the adulterous woman with a paedophile priest.

'Then we might begin to understand the mob eager to stone and the outrageous and profligate mercy and compassion of God ever ready to forgive.'

Father Edebohls then continued by addressing the issues surrounding the Royal Commission.

'Part of my concern with the current Royal Commission on institutional sexual abuse of minors is that we may in the end gain justice for the victims but they will be denied healing,' he said.

'Why? Because both the media and the lawyers, like the baying crowd of men in the gospel ready to throw stones, don't understand the need for a justice that is drenched in mercy.'

One parent said it was abhorrent to compare a crime like paedophilia with a moral issue like adultery.

'To have that sort of attitude is shocking,' they said.

Catholic Archdiocese of Melbourne spokesman Shane Healy said Father Edebohls was attempting to create a comparison between a grave sinner in the old times to a grave sinner in this century.

'He tried to pick a contemporary example of what might have been a woman adulterer of 2000 years ago, who would have been looked on entirely differently.'