Fugitive Rabbi's Lawyer: Hawks Using Dirty Tactics
By Mia Lindeque
Eyewitness News
April 14, 2016

http://ewn.co.za/2016/04/14/Hawks-using-dirty-tactics-says-fugitive-rabbis-lawyer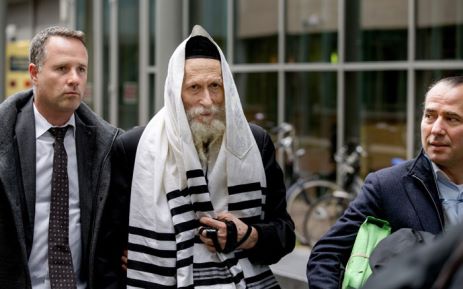 FILE: Israeli Rabbi Eliezer Berland (C), who is suspected of sexual abuse in Israel, arrives at court in Haarlem, on 17 November 2014, with his lawyer Louis de Leon (R). Picture: AFP.



The lawyer representing a fugitive rabbi wanted for alleged sexual crimes in Israel has accused the Hawks of using "dirty tactics" to arrest him.

The 80-year-old rabbi has repeatedly evaded arrest in South Africa until he was nabbed in a Johannesburg hospital by Interpol.

The rabbi claims he is in South Africa legally.

He is due to appear in the Randburg Magistrates Court today.

Rabbi Eliezer Berland says he had to go to hospital urgently due to a heart condition and members of Interpol arrested the 80-year-old man there last week.

His lawyer Themba Langa claims the Hawks are not acting in the interest of justice and have ulterior motives.

"Rabbi Berland is 80 years old and he is not a threat to anyone. He is just a spiritual man who probably differs in his teaching in the country of Israel."

Langa claims the rabbi is being persecuted for trying to reconcile Jewish people and Palestinians in Israel.