Man Sexually Abused by Vicar in Southgate Sacked after Telling Bosses about Ordeal
By Matthew Smith
Enfield Independent
April 18, 2016

http://www.enfieldindependent.co.uk/news/localnews/14434931.Man_sexually_abused_by_vicar_in_Southgate_sacked_after_telling_bosses_about_ordeal/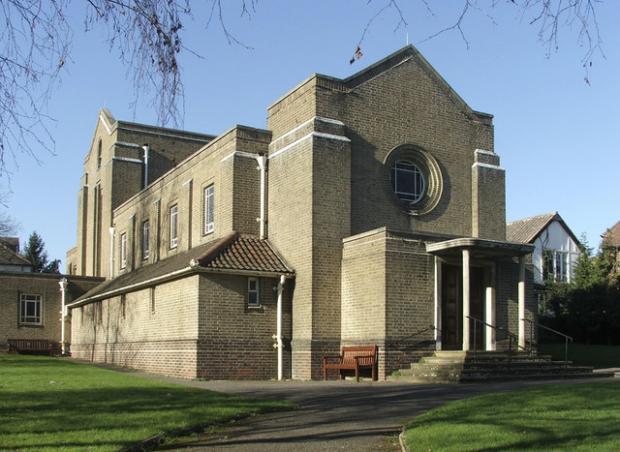 St Peter's Church in Grange Park, Enfield, where the abuse took place



A man who a priest sexually abused in his teens was sacked because he did not tell his employers.

The victim, who cannot be named due to legal reasons, was targeted by Leonard Skinner at St Peter's Church in Grange Park, Enfield, from January 1971 to June 1975.

Skinner, 79, of North Tyneside, was jailed for eight years on March 15.

The man only told his wife about the abuse on September 12 before telling the head of the Sixth Form college, which also cannot be named for legal reasons, where he worked part-time.

He said as the abuse took place 40 years ago and as he no longer considered Skinner a threat, he was not planning on pressing charges.

However, this was against the college's rules on child protection and started a series of events which prompted his sacking.

He said: "Her immediate reaction was not to show concern for me, nor to show any sympathy for what happened to me, but to ask how I knew if other children had not been abused and why I had not reported the abuse at the time.

"She showed absolutely no understanding of the situation at all.

"I left that meeting with renewed victim guilt at not reporting the abuse at the time.

"Shortly after that meeting, I had a meeting with the child protection officer, where I said that if the abuse had happened to me today, I would not feel comfortable reporting it under their current policy, mainly because there was not enough emphasis put on providing immediate support for the victim.

"On October 19, I was due to have a one-to-one meeting with the principal.

"However unbeknownst to me the head of human resources had been asked to sit in on the meeting, which took the form of a disciplinary hearing."

He said during the meeting, he went into psychological trauma, had flashbacks to the abuse, and went into shock.

The police were called and he had to explain what had happened to him in the Southgate church to the authorities for the first time.

Shortly after this, he suffered a mental breakdown and was signed off work.

He said: "While I was on sick leave and unable to engage with the process, my college email account was suspended, I was suspended from work and informed I was facing a full disciplinary hearing under the college's policy – a copy of which I was sent, but which the college did not follow.

"The principal then referred me to the local authority as a person who posed a potential risk to children and then summarily dismissed me with a letter full of factual errors."

The letter to him said: "What is of grave concern to the college is that you have shown a significant lack of understanding to the college's child protection policies designed to shield young people from sexual abuse."

He said nearly every day he got something in the post or in email from the college, increasing the pressure.

He said: "I am very, very angry. Most people I have dealt with, including social services, have been horrified, but there is nothing we can do.

"There has been so much coverage of historic abuse, which has dragged up so many memories, that it is difficult for us to get on with our lives.

"I did not want to report it, I contacted Skinner to try and get him to say sorry – by doing that, the college said I had put their children in danger."

Bosses at the college have been contacted for comment.