Get out of my sight, you disgust me': Court hears how priest dismissed schoolboy after alleged rape
By Adam Cooper
Age
April 19, 2016

http://goo.gl/dVH68q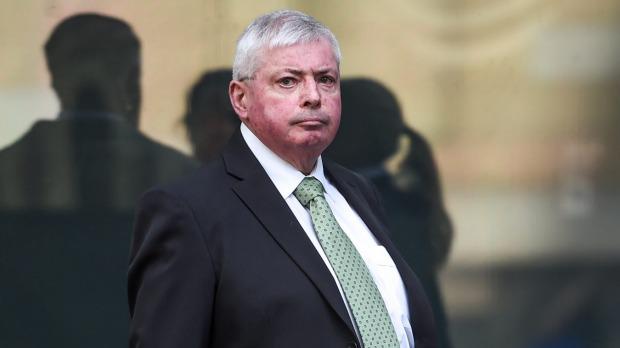 Michael Aulsebrook is is alleged to have raped an 11-year-old boy at a boarding school in Sunbury in 1988.
Photo by Justin McManus
A Catholic priest sedated and then raped a boarding student before telling the boy to get out of his office because he was disgusted by the child, a trial has heard.
Michael Aulsebrook​ was the boarding co-ordinator at Salesian College Rupertswood in Sunbury in 1988, when he is alleged to have raped an 11-year-old boy who he had invited to his office one night to play computer games.
Mr Aulsebrook, 60, has pleaded not guilty to one charge of rape.
In his opening address to a County Court jury on Tuesday, prosecutor Andrew Grant said the alleged victim remembered being given a soft drink as he played computer games, while the priest sat next to him.
The student believed he was drugged, as he woke to find himself lying on the floor with his pants around his ankles and Mr Aulsebrook raping him, Mr Grant said.
Afterwards, the jury was told, the man told the boy: "Get out of my sight, you disgust me."
Mr Grant said the student left the office, walked around the school and sat on the roof of a building for three hours before he went to bed, scared and sore.
The boy was a Year 7 boarder at the school in the first half of 1988, when the rape is alleged to have happened.
The student told his grandfather what happened and left the school that year.
In 2012, the jury heard, Mr Aulsebrook told police he never let students use his computer and that the allegations were "absolute rubbish" and definitely did not happen.
Defence counsel Megan Tittensor​ said her client "emphatically denies" the allegations, and that one of the issues in doubt was "whether the rape of [the student] occurred as he will say it did and if it did, whether Mr Aulsebrook was the person who did it".
Ms Tittensor told the jurors they would likely have "grave doubts" over the evidence the alleged victim would give.
The two lawyers and Judge Geoffrey Chettle urged jurors to put aside any feelings they had towards the Catholic church and any revelations they had heard or read come from the Royal Commission into Institutional Responses to Child Sexual Abuse.
"It's important that you completely ignore that publicity completely," Judge Chettle said.
The trial continues.