Is Francis Making It Harder for Liberals to Stay on the Payroll?
By John L. Allen
The Crux
April 19, 2016

http://www.cruxnow.com/church/2016/04/19/is-pope-francis-making-it-harder-for-liberals-to-stay-on-the-payroll/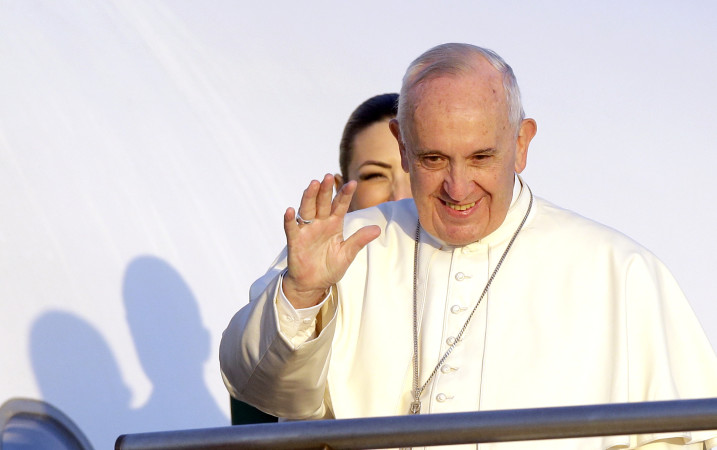 Pope Francis waves to journalists as he boards an airplane at Rome's Fiumicino airport, Saturday, April 16, 2016, on his way to the Greek island of Lesbos. The recent departure of an editor at the U.S. bishops' news agency raises the question of the impact of Pope Francis on the Church's approach to personnel. (AP Photo/Gregorio Borgia)



Some Catholics cheered last week, while others were either depressed or outraged, when news broke that Tony Spence, editor of the Catholic News Service (CNS) since 2004, had resigned unexpectedly. The move followed a controversy over three Tweets he posted about religious freedom bills, which critics saw as promoting a pro-LGBT agenda.

CNS is the official news agency of the United States Conference of Catholic Bishops, and Spence told media outlets he was informed on Wednesday, April 13, by general secretary Monsignor J. Brian Bransfield that he had "lost the confidence" of the conference.

The ouster came after several Catholic blogs and news outlets seen as sharply conservative took Spence to task. Spence, 63, had served in the bishops' conference for twenty-five years in a variety of roles, and now says he's returning to his native Tennessee to ponder other options.

Those inclined to a political reading of things may see Spence's situtation in tandem with other notable departures at the bishops' conference, including the resignation of the late Sister Mary Ann Walsh as the bishops' spokesperson in summer 2014, and the more recent exit of Helen Osman as the conference's Secretary for Communications.

All three had reputations as moderates, perhaps leaning a bit to the left. Some will style these transitions as a long-overdue opportunity for clarity at the conference, while critics will see them as an ideological putsch, but in any event a change in direction seems fairly evident.

Of course, there are conclusions to be drawn here about how careful journalists have to be about social media. Plenty of people have dispatched tweets they later regret, but journalists tend to have bad luck living those lapses down. (Someone I worked with at CNN, Jim Clancy, had to resign in 2015 after a series of tweets about the Charlie Hebdo attacks seen as hostile to Israel, marking the end of a more than 30-year career at the network.)

One might also question the wisdom, whether on the part of the bishops or anyone else, of seeming to reward personal criticism in the blogosphere, no matter how substantive the underlying issues are. It's always more difficult to persuade people to be charitable when appearances, anyway, suggest that finger-pointing works.

However, I have a more specifically Catholic take-away to float about the changes at the conference – without presuming to comment on the details of anyone's specific situation, which I don't know and have no right to know.

To begin, an observation: Despite impressions that the laid-back ethos of the Pope Francis era means anything now goes – or, perhaps, precisely because of those impressions – there's a strong element in the Church determined not to let that happen.

Before styling that instinct as being "out of touch" with Francis, let's be clear that there's a time-honored tradition in Catholicism of local bishops, encouraged by forces at the grassroots, playing up a given pope's strengths while trying to plug perceived holes or blind spots. Most bishops would see that as a service to the Holy Father, not an act of defiance.

During the 1980s and early 1990s, for instance, there was a perception in some quarters that Pope John Paul II had a problem with women, rooted in the American Catholic imagination by his famously chilly reaction to Mercy Sister Theresa Kane when she challenged him on including women in "all ministries of the Church" during a 1979 visit to the United States.

Partly in response, the U.S. bishops began working on a pastoral letter on women, the groundwork for which included extensive listening sessions with women across the country.

That project eventually came to naught, in part because of the Vatican's role in the drafting process, but it reflected the desire of some U.S. bishops to try to project a spirit of inclusion and pastoral concern for women which, at the time, they didn't believe always emanated from Rome.

In a similar vein, the diagnosis of some Catholic leaders today may be that Francis does not want to upend Church teaching or tradition, since he's said so repeatedly, but that some of his words and deeds may inadvertently seed confusion. They may feel an extra responsibility to make sure the Church doesn't toss the doctrinal baby out with the pastoral bathwater.

What this thought suggests is a potentially grand irony: At least in some circumstances, it may actually become harder for liberals – even of the moderate, color-within-the-lines variety – to survive on the Church's payroll in the Pope Francis era.

Under Pope Benedict XVI, there was relatively little burning concern within officialdom about "reform" getting out of control. Today those fears may seem more real, potentially inducing greater vigilance.

That spirit of "vigilance," by the way, is less pronounced among the bishops themselves than in the broader Catholic universe.

Among some of the blogs and media platforms that went after Spence, there's a heightened "hermeneutic of suspicion" today for anything that might smack of dissent. It seems unlikely they'll desist patrolling for heterodoxy out of a sense that they can rely on this pope to do the job for them.

All of which illustrates an important truth about the Catholic Church: When a pope cuts in one direction, some elements of his flock inevitably will sprint toward the other. That's hardly a novelty under Francis, because it's always been thus.

Over time, and at the big-picture level, what this dynamic tends to produce in the Church is balance – though, admittedly, that may be slim consolation for the people caught up in it right now.