Retired St. Louis Catholic priest faces new allegations of abuse
St. Louis Post-Dispatch
April 20, 2016

http://www.stltoday.com/lifestyles/faith-and-values/retired-st-louis-catholic-priest-faces-new-allegations-of-abuse/article_33b10029-60df-503c-8004-047f2ab9c2bf.html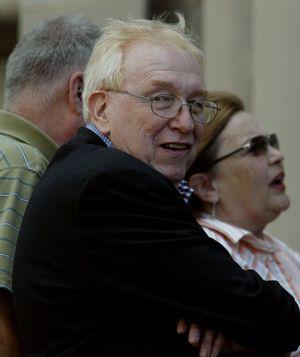 In 2005, the Rev. Thomas Graham, 71 at the time, was found guilty of sodomy charges by a St. Louis jury. The Missouri Supreme Court later overturned the conviction. Photo by Dawn Majors of the Post-Dispatch
ST. LOUIS • A retired Roman Catholic priest who has previously been accused of sexual abuse is facing new allegations.
The Archdiocese of St. Louis is informing the region's Catholic community that a new allegation was recently reported against the Rev. Thomas J. Graham. The alleged abuse occurred in the 1980s at St. Alban Roe Catholic Church in Wildwood.
According to a statement from the archdiocese, Graham is already on permanent administrative leave which prohibits him from engaging in ministry.
In 2005 Graham was convicted for allegedly engaging in oral sex with a teenager at the Old Cathedral downtown in the 1970s. He was sentenced to 20 years.
But in 2006, the Missouri Supreme Court overturned that conviction on the grounds that it was based an ambiguous state statute. Prosecutors had hoped that statute could be used to pursue other cases in which abuse had been alleged to have taken place decades prior.
The archdiocese says an announcement about the new allegation against Graham will be made in the archdiocesan newspaper, The St. Louis Review, and in the parish bulletins where Graham served.
The archdiocese asks those with reports of abuse of a minor involving a member of the clergy or other church personnel to contact Deacon Phil Hengen, director of child and youth protection, at 314-792-7704, the Missouri Child Abuse and Neglect Hotline at 800-392-3738.