St William's sex abuse: Demonstration held at St John of Beverley church
By Tareq Haddad
By Hull Daily Mail
April 24, 2016

http://www.hulldailymail.co.uk/St-William-s-sex-abuse-Demonstration-held-St-John/story-29167228-detail/story.html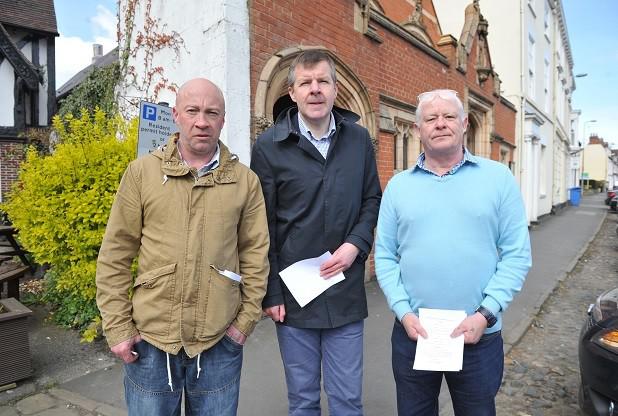 PROTEST: Sex abuse victims Darren Furness (left) and Nigel Feeley (right) with solicitor David Greenwood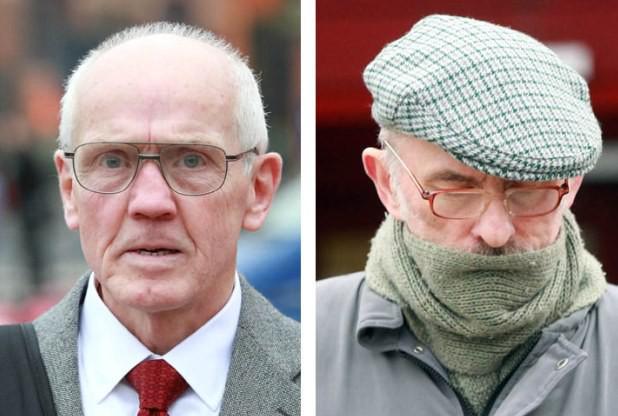 SENTENCED: James Carragher (left) and Anthony McCallen.
VICTIMS of historic sex abuse have held a demonstration at a Beverley church today.
Joined by their lawyer, they handed out leaflets to residents as they visited the Roman Catholic Church of St John of Beverley, in North Bar Without.
It follows numerous convictions following sexual abuse cases at St William's approved school in Market Weighton, where the victims are yet to receive an apology or compensation.
Both establishments are part of the Diocese of Middlesbrough hence the location of the demonstration.
The leaflets read: "St William's was opened in about 1960 by the Diocese of Middlesbrough as a community home for young boys aged between 13 to 16 years.
"They were sent there by many local authorities that had trust in them to care for children but that was never the case.
"As this happened: 30 years of physical and sexual abuse on young boys, 19 deaths and suicides, four police investigations, three trials and £20m spent on legal costs so far.
"And still to this day, the trauma is still going on for the survivors, but yet, not one apology. Why?
"Please do not trust this organisation with your children to keep them safe."
The latest offenders to be jailed for sexual abuse at St William's were James Carragher and Anthony McCallen.
McCallen, 69, a former Roman Catholic priest at St William's, was jailed for a total of 15 years in January after being convicted by a jury of a serious sexual assault, now known as male rape, and ten indecent assaults. He was cleared of eight other charges.
Carragher, ex-principal at the school, was jailed for a total of nine years after being convicted of three serious sexual offences and 21 indecent assaults during the same trial in December. He was cleared of a further 30 charges.
Darren Furness was one of the victims at the St William's, when he attended between 1985 to 1986, and was present at the protest.
He said: "What happened to me at the school destroyed my life.
"For many years, I woke up crying in the middle of the night.
"Despite everything that's happened, we've never received the slightest apology so we are here to raise awareness and make sure nothing like this can ever happen again."
The Diocese of Middlesbrough was not available for comment but has previously issued a statement saying: "We condemn any behaviour which harms young people. We now have robust safeguarding in place to ensure that similar situations do not arise in the future.
"This is the third prosecution relating to St William's. We hope now that justice has been done that those affected by the abuse can move on with their lives.
"The civil litigation has been ongoing for some time and whilst it is ongoing, we are unable to comment further.
"However, now that the criminal case is concluded, we hope the civil claims will be resolved expeditiously."