NBC Fires Matt Lauer for "Inappropriate Sexual Behavior"
By Dylan Stableford
Yahoo News
November 29, 2017

https://www.yahoo.com/news/nbc-fires-matt-lauer-inappropriate-sexual-behavior-122224535.html

Matt Lauer, a veteran journalist and co-host of the "Today" show, was terminated by NBC on Wednesday for what the network called "inappropriate sexual behavior in the workplace."

Savannah Guthrie, Lauer's "Today" show co-host, made the announcement to viewers on the air at the top of Wednesday's show.

"This is a sad morning here at 'Today' and at NBC News," Guthrie said before reading a memo that had been sent by NBC chairman Andy Lack to staffers before the show went on the air.

"Dear colleagues, on Monday night we received a detailed complaint from a colleague about inappropriate sexual behavior in the workplace by Matt Lauer," Lack wrote. "It represented, after serious review, a clear violation of our company's standards. As a result, we've decided to terminate his employment."

Lauer, 59, had been with the "Today" show since 1994. He became the co-anchor in 1998.

"While it is the first complaint about his behavior in the over twenty years he's been at NBC News," Lack continued, "we were also presented with reason to believe this may not have been an isolated incident. Our highest priority is to create a workplace environment where everyone feels safe and protected, and to ensure that any actions that run counter to our core values are met with consequences. No matter who the offender, we are deeply saddened by this turn of events but we will face it together as a news organization — and do it in as transparent a manner as we can."

According to CNN, the woman said the harassment occurred in 2014 while Lauer was in Russia covering the Winter Olympics.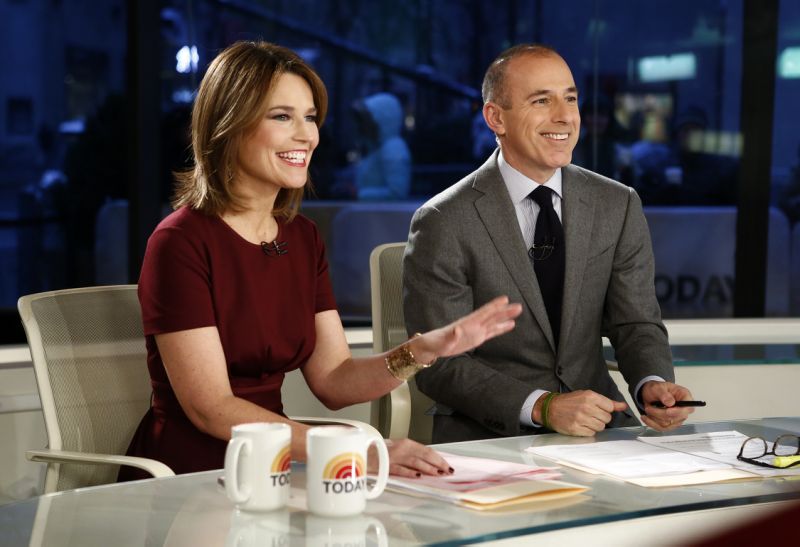 Guthrie and Lauer during a February 2013 broadcast of the "Today" show. (Photo: Peter Kramer/NBC via AP)



"We just learned this moments ago, just this morning," Guthrie said, holding back tears. "As I'm sure you can imagine, we are devastated. We are still processing all of this. And I will tell you, right now we do not know more than what I just shared with you. But we will be covering this story as reporters, as journalists. I'm sure we will be learning more details in the hours and days to come. And we promise we will share that with you."

Guthrie was seated next to Hoda Kotb, who replaced Lauer on Wednesday's show.

"We are heartbroken," Guthrie said. "I am heartbroken for Matt. He is my dear, dear friend. He is my partner. And he is beloved by many, many people here. And I'm heartbroken for the brave colleague who came forward to tell her story and any other women who have their own stories to tell."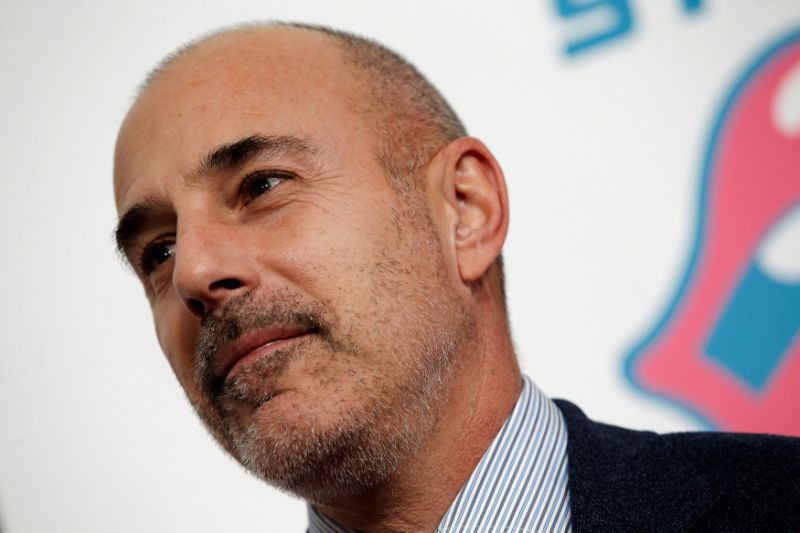 Lauer at the opening of a Rolling Stones exhibition in New York earlier in November 2017. (Photo: Mike Segar/Reuters)



Lauer's firing comes little more than a week after CBS fired Charlie Rose following a report in the Washington Post detailing allegations of sexual misconduct by eight women against the veteran news anchor. PBS, following suit, canceled Rose's eponymous show.

President Trump was quick to react to the news of Lauer's firing.

Shortly after NBC's announcement, Variety reporter Elizabeth Wagmeister wrote on Twitter that the publication had been working on a story about Lauer "for months" and that "NBC was aware."

"There are multiple women we've spoken to with far-ranging accusations against Lauer," Wagmeister tweeted.

"We are grappling with a dilemma that so many people have faced these past few weeks," Guthrie said. "How do you reconcile your love for someone with the revelation that they have behaved badly? And I don't know the answer to that."

NBC's Megyn Kelly addressed Lauer's firing at the top of her 9 a.m. show.

"This one does hit close to home," Kelly said. "I too have known Matt for a long time. And he has been a friend, and kind and supportive to me in my transition to NBC News. And I see the anguish on my colleagues' faces. But when this happens what we don't see is the pain on the faces of those who have found the courage to come forward. And it is a terrifying thing to do. We don't see the career opportunities women lose because of sexual harassment or the intense stress it causes a woman dealing with it when she comes to work each day. I am thinking of those women this morning."

Kathie Lee Gifford, host the fourth hour of the "Today" show, told viewers that she was still "grappling" with Lauer's termination.

Gifford compared her reaction to Lauer's alleged behavior to the shock she felt in 1997 when she discovered her husband, Frank Gifford, cheated on her.

"When I found out my husband had betrayed me, you question your own judgment. 'Was everything a lie?' I think we have to fight against that," Gifford said. "I don't feel that Matt has betrayed us."

Gifford also said that she reached out to Lauer shortly after hearing the news.

"I texted him this morning and I said, 'I adore you,'" she said. "No one is perfect in this world. We need now is forgiveness and mercy for one another."

The New York Times also said on Wednesday that its reporters were working on a story about Lauer. The paper said they had met with Lauer's accuser on Monday afternoon but "she said she was not ready to come forward and tell her story publicly."

Ari Wilkenfeld, a civil rights lawyer representing the woman, said in a statement that he and his client met with NBC executives on Monday night "for an interview that lasted several hours."

"Our impression at this point is that NBC acted quickly, as all companies should, when confronted with credible allegations of sexual misconduct in the workplace," Wilkenfeld said in a statement. "While I am encouraged by NBC's response to date, I am in awe of the courage my client showed to be the first to raise a complaint and to do so without making any demands other than the company do the right thing."