Falsely Accused Priests Return to Ministry

By Stephen Wynne
ChurchMilitant.com
November 30, 2017

https://www.churchmilitant.com/news/article/spanish-priest-reinstated-after-false-accusations-exposed




Court orders one accuser to pay court costs after false account dismissed

GRANADA, Spain (ChurchMilitant.com) - After a long battle over false accusations of sexual abuse, three Spanish priests are returning to ministry.

The archdiocese of Granada has announced the Vatican is lifting its precautionary suspension of Fr. Roman Martinez and two other priests associated with the case.

In a communique released Wednesday, the archdiocese proclaimed:

The archdiocese of Granada, today, November 29, 2017, makes public the decision of the Holy See to have the precautionary canonical measures lifted from Mr. Roman Martinez Velazquez de Castro, Mr. Francisco Jose Martinez Campos and D. Manuel Morales Morales, who had imposed them since October 15, 2014. Consequently, from today they return to exercise their priestly ministry, and on this same day they have received the communication of a new pastoral assignment.

The reinstatement comes after Fr. Martinez, the lone defendant in the case, was acquited of all charges in a Spanish court and complainant David Ramirez Castillo was ordered to pay all legal costs.

"The Romanones case," as it is known, began in 2014, when Ramirez Castillo sent a grievance letter to Pope Francis, alleging that as teenagers, he and other young men had been molested by Fr. Martinez and others in a priest sex-abuse ring.

Francis reacted by phoning Ramirez Castillo himself to apologize on behalf of the Church and encouraged Ramirez Castillo "to denounce."

The pontiff called for an archdiocesan inquiry into the complaint, and 10 Granada priests were suspended as the investigation got underway.

But earlier this year, details of the complaint were proven false.

Deeming Ramirez Castillo's allegations "contradictory, hesitant and uncorroborated," a secular Spanish court declared his account "absolutely implausible."

Having earlier pressed for Fr. Martinez to serve nine years in prison and pay ˆ50,000 in compensation, prosecutor Francisco Hernandez withdrew his accusation against the falsely accused priest.

"You cannot condemn a person if there is no evidence," he conceded.

"The defendant's acquittal is based not only on the lack of evidence against him but, as a consequence of that, on the lack of conviction that the testimony of [accuser] DR causes us," the prosecutor explained.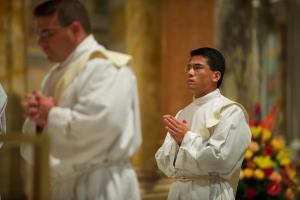 Fr. Joseph Jiang



The clearing of Fr. Martinez's name comes just days after a priest in the archdiocese of St. Louis was similarly vindicated.

On November 21, the years-long case against Fr. Joseph Jiang was dismissed by a Missouri court.

The presiding judge found that Fr. Jiang was falsely accused and arrested after a bungled police investigation.

Father Jiang settled a federal lawsuit against the parents of the accuser and the Survivors Network of those Abused by Priests (SNAP), an advocacy group for victims of clerical abuse.

On Monday, SNAP issued an apology to Fr. Jiang and the archdiocese of St. Louis, saying "The SNAP defendants never want to see anyone falsely accused of a crime. Admittedly, false reports of clergy sexual abuse do occur."

Journalist Dave Pierre, who operates TheMediaReport.com, a website documenting anti-Catholic bias in the media, has commented on the phenomenon of dubious accusations of abuse:

[In] many instances these accusations later turn out to be false. Yet the damage to the accused cleric's reputation has already been done. His name remains plastered on the internet as a "credibly accused molester," and enemies of the Church have no fear in using these bogus accusations to attack the Church.

"Under no circumstances can we defend any wrongdoing by bishops and priests," Pierre affirmed. "Criminal priests wreaked awful damage upon innocent minors, and bishops failed to stop the harm. We must continue to demand justice and compassion to victims of clergy abuse. This is not optional."

But, he added, "the demand for honesty, fairness and perspective in the reporting of the Catholic Church abuse narrative is a separate matter. Catholics have every right to defend the Church against wild, untrue and unfair attacks against priests and bishops."