Photo Gallery: Day 2 of John Feit trial
CBS 4 News
December 01, 2017

http://valleycentral.com/news/local/photo-gallery-day-2-of-john-feit-trial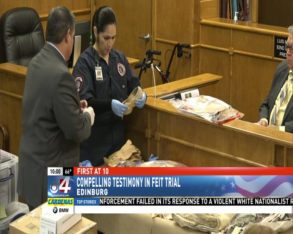 Testimonies continued Friday, Dec. 1, at the Hidalgo County Courthouse for John Feit's murder trial.
Day two of testimony wrapped up in the murder trial of John Feit, former priest accused of killing McAllen beauty queen Irene Garza nearly 60 years ago.
Seven witnesses took the stand Friday, including an evidence technician, friend of Garza, and employee of the church.
Forensic document examiner Kenneth Crawford took the stand and was asked to examine documents from the case, including a letter Feit allegedly wrote admitting that the viewfinder found at the bottom of the canal where Garza's body was found, was in fact his. Crawford testified that after examining other documents, the letter was signed by Feit.
Texas Department of Public Safety assistant lab director Steve Robertson also took the stand and examined the plaster casts of Garza's petticoat and shoe, which he found to have the same mesh and weave pattern.
Last on stand was Jose Garcia, who says he noticed scratches, "which looked like fingernails," on Feit's right hand when they sat next to each other at Pan American College.
If found guilty, Feit faces 99 years in prison.
Trial resumes Monday at 9 a.m.