How Ireland Moved to the Left: 'the Demise of the Church'
By Liam Stack
New York Times
December 2, 2017

https://www.nytimes.com/2017/12/02/world/europe/ireland-abortion-abuse-church.html?_r=0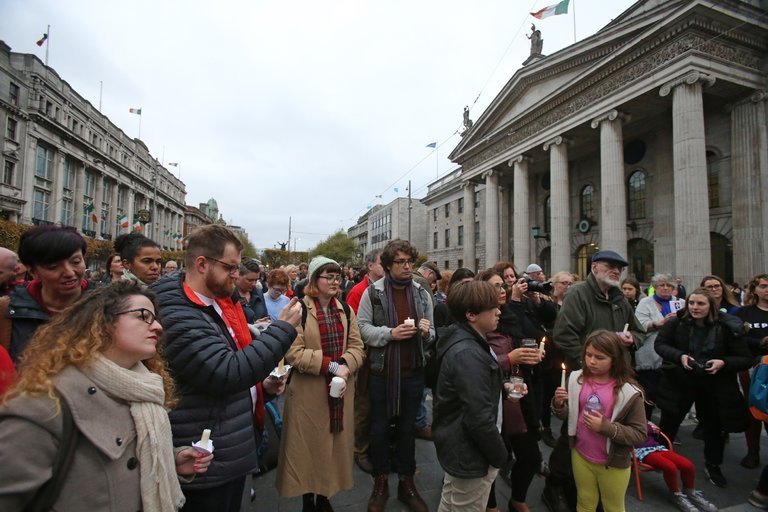 A vigil in Dublin in October commemorating the fifth anniversary of the death of Savita Halappanavar, who died after she was denied a medically recommended abortion following a miscarriage.



When Ailbhe Smyth was 37, voters in Ireland approved a constitutional amendment that banned abortion in nearly all cases and committed the nation to the principle that a pregnant woman and her fetus have an "equal right to life."

Next year, when Ms. Smyth, a former professor and chairwoman of the Coalition to Repeal the Eighth Amendment, will be 72, Irish voters are expected to remove or alter that amendment in a new referendum that could give Ireland's Parliament the freedom to legislate on the issue and write more flexible abortion laws.

What are the driving forces behind this significant shift in voter attitudes toward abortion and other social issues?

Ireland was long a bastion of Catholic conservatism, a place where pedestrians might tip their hats and hop off the footpath when a priest walked past. But economic and technological changes helped propel a shift in attitudes that accelerated with the unfolding of far-reaching abuse scandals in the Roman Catholic Church in the 1990s.

Over a generation, Ireland transformed from a country where 67 percent of voters approved the constitutional abortion ban to one where, in 2015, 62 percent voted to legalize same-sex marriage.

Ireland moved to the left on other social issues, too. It decriminalized homosexuality in 1992, removed restrictions on the sale of contraception in 1993 and legalized divorce in 1996. The Irish voted twice, in 1992 and 2002, to permit abortion if the mother were deemed a suicide risk. In 2015, the country passed a gender identity law favored by transgender rights groups.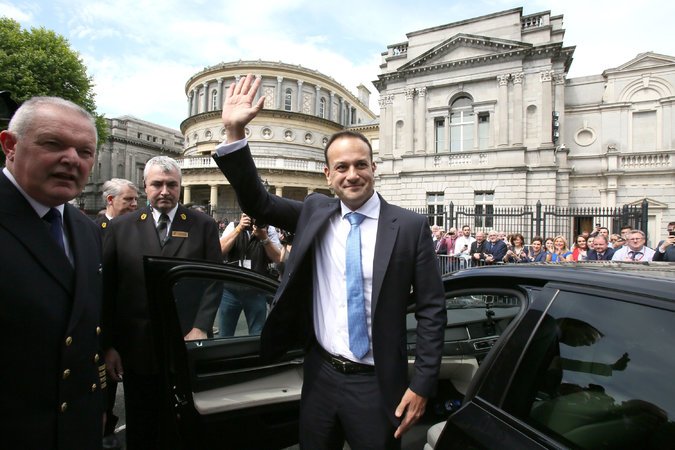 Prime Minister Leo Varadkar of Ireland said that the abuse scandal had led to "the demise" of the Catholic Church.



'A Disastrous Effect'

Priests once enjoyed great social and political power in Ireland, but the abuse scandal led to "the demise of the church," the center-right prime minister, Leo Varadkar, who is 38, biracial and gay, said in an interview in September.

That would have been a politically unspeakable phrase for an Irish leader in the not-too-distant past.

"In the '40s and '50s, people replaced the colonialism of the Brits with a kind of colonialism of the church," said Aodhan O Riordain, a senator from the Labor Party. That fostered an intermingling of Catholicism and Irish identity that was "a toxic mix," he added.

For decades, legislation opposed by the church was doomed to fail. Eamon de Valera, an ardent Catholic who served as president or prime minister several times between 1921 and 1973, enjoyed a close relationship with the archbishop of Dublin, John Charles McQuaid, who helped steer Ireland's religious life for three decades and made assertive policy suggestions.

"The Catholic Church's hold on the state, the ways in which it sought to influence the state, remained strong for a very long time," said Ms. Smyth. "For much longer than you might have thought possible."

Even in its diminished state, the church continues to play a role. It controls almost all state-funded primary schools — nearly 97 percent — and the law allows them to consider religion as a factor in admissions. Many hospitals, too, are either owned by the church or located on church property.

But Diarmuid Martin, the current archbishop of Dublin, said the church "certainly" enjoyed less influence now than in the past. He blamed the one-two punch of broad social trends and the abuse scandal for the church's declining fortunes.

"The scandals emerged at a moment which was either just the wrong time or the right time, depending on which side you are, for them to emerge," the archbishop said. "The two things, the change in the attitude to the church and the abuse, came together and had a disastrous effect."

'My God, I Can't Get an Abortion Here'

Those changing attitudes were driven by epochal economic and technological shifts felt in all countries, like the expansion of free trade and the birth of the internet. But in Ireland, the old order had largely managed to adapt.

"If you were a cardinal in Ireland in 1989, you would have felt pretty good," said Fintan O'Toole, a columnist. "You would have said: 'You know what? We weathered a lot of social and economic change and we're still the power in the land.' "

Cracks had begun to emerge, though.

Economic liberalization, which began in 1960s, drew women into the work force, shrinking the size of Ireland's traditionally large families and creating pressure for the legalization of contraception, which was anathema to the church.

It also began to stem the century-long tide of emigration. Some emigrants returned to Ireland, and newcomers from Eastern Europe and elsewhere arrived, making Polish the country's second most widely spoken language.

"Young people go away, work, then come back a few years later and say, 'My god, I can't get an abortion here,' " said Rory O'Neill, who became a national figure as the drag queen and activist Panti Bliss.

"My parents' generation, they went to London and never came back."

In recent years, the internet has provided a platform for organizing that linked Irish people to liberal movements around the world.

"I suppose we are a little, quiet backwater, but young people are very well educated," Ms. Smyth said. "It's a very connected place, Ireland."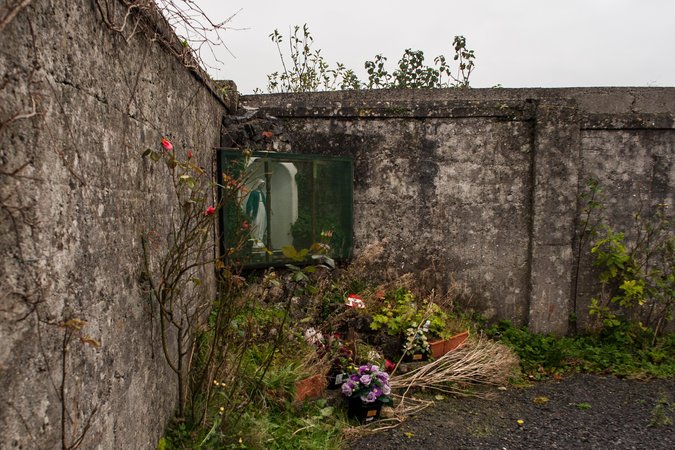 A shrine built to honor the children who were interred at St. Mary's Mother and Baby Home between 1925 and 1961, in Tuam, Ireland.



'Washing the Dirty Laundry'

Ireland's break from the past has been so sharp that Garry O'Sullivan, a newspaper and book publisher whose company will soon release a book by a priest titled "Why the Irish Church Deserves to Die," described it as akin to "intolerance toward views that represent anything of the old guard or traditional Ireland."

That old guard was discredited by the yearslong drumbeat of child abuse allegations that began to emerge in the early 1990s as well as a cover-up by church officials who spent years denying the problem and moving abusive priests from parish to parish.

For decades, Irish priests zealously protected their communities from what they saw as the moral dangers posed by sexual promiscuity, unwed mothers and impoverished children, sometimes orphaned or neglected.

They used an unwritten, extralegal power — often at the urging of scandalized family or neighbors — to send such women and children to Dickensian facilities like industrial schools, Magdalene Laundries (workhouses run by Catholic orders) and homes for the pregnant and unwed.

While much of the abuse happened at the hands of parish priests, a great deal of it happened in these institutions. A 2009 report said tens of thousands of children were abused in industrial schools alone, a shocking figure in a country of 4.5 million.

A mix of shame, destitution and state complicity turned these facilities into prisons, and residents were put to work for the church. In the laundries, some of which did not close until the 1990s, so-called fallen women washed the dirty linens of clients that included the Irish military.

"The symbolism would be too crude if you put it into a novel, washing the dirty laundry," Mr. O'Toole said.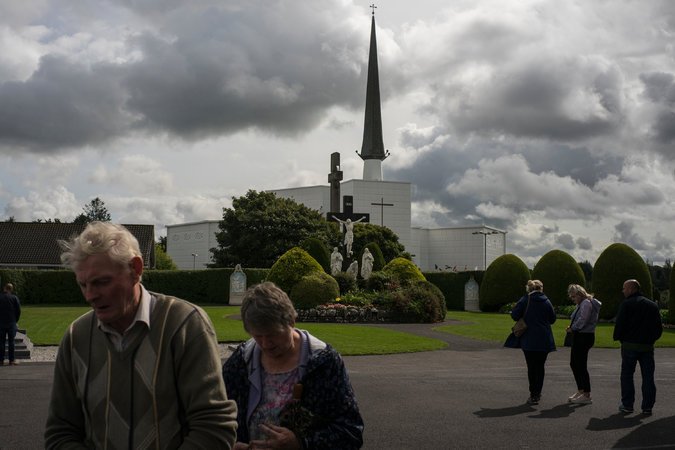 Visitors at Knock Shrine in Knock, Ireland. The 2011 census identified 78 percent of the population as Catholic, but according to the current archbishop of Dublin, the figure of true believers is closer to 20 percent.



'The Last Hurrah'

Archbishop Martin, whose handling of the abuse crisis has won praise, said popular distrust of the church ran deep.

"It was a crisis of trust in the church, a crisis of betrayal by the church — and you can't regain trust just by saying to them, 'I'm sorry,' " he said.

The 2011 census identified 78 percent of the Irish population as Catholic, but the archbishop said he believed the figure for true believers was closer to 20 percent.

"I could spend all my time being concerned about the people who come to church, but they're — you know I don't want to be nasty — but they're a dying breed," he said. "The situation is changing, but Irish Catholicism hasn't changed with it."

Archbishop Martin praised the Eighth Amendment for protecting the rights of the unborn. He said that the coming abortion debate might provide an opportunity for the church to reconnect with people, even if the amendment were repealed.

"The one way the church could lose on the abortion debate is to compromise its position," he said.

But not everyone is so sure.

"I think this referendum on abortion is the last stand for church versus state in Ireland," Mr. O'Sullivan, the publisher, said. "The last hurrah for having influence."