Gerald Ridsdale victims battle for compo
By Tessa Akerman
Australian
December 14, 2017

http://www.theaustralian.com.au/news/nation/gerald-ridsdale-victims-battle-for-compo/news-story/f28b83710aa230d8a29b328ee453437f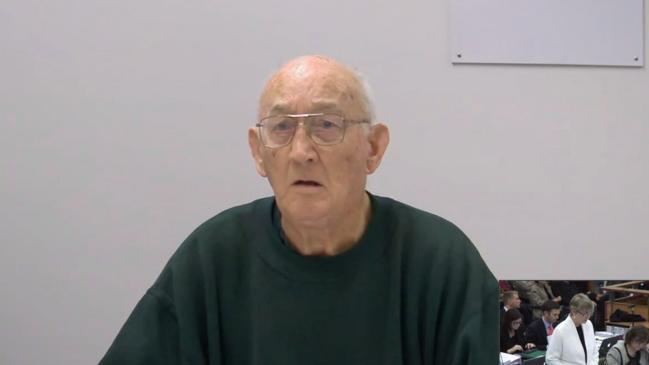 Gerald Ridsdale giving evidence during the 2015 royal commission.
Victims of Australia's worst pedophile priest, Gerald Ridsdale, are still locked in highly contested court battles with the Catholic Church despite Truth Justice Healing Council guidelines which urge compassion and decry making victims prove facts the church knows are true.
Lawyers for the diocese of Ballarat and its Bishop Paul Bird are contesting a Supreme Court compensation claim brought by a woman whom Ridsdale has ­already pleaded guilty to abusing.
The abuse occurred in Edenhope in regional Victoria in late 1979 or early 1980, when the woman, then a minor, was on holiday in the area and Ridsdale was parish priest. Ridsdale pleaded guilty in 2014 to the abuse charge in the County Court.
Documents filed in the ­Supreme Court compensation case in May on behalf of the ­diocese deny the then bishop ­Ronald Mulkearns failed to take any reasonable steps to ensure Ridsdale did not abuse children.
The child sex abuse royal ­commission last week found Mulkearns knew of Ridsdale's ­offending by late 1975 and moved him between parishes when complaints arose.
The commission found Ridsdale was appointed temporary parish priest of Edenhope in 1976 after his removal from Inglewood parish, following complaints and without Mulkearns ­receiving any assurance from Ridsdale's psychiatrist that it was suitable for Ridsdale to be put back into ministry.
"Bishop Mulkearns did not place any restrictions or conditions on how Ridsdale should ­operate in Edenhope," the commission said.
Court documents from the woman's civil claim show that lawyers for the church denied Ridsdale was a servant, agent, representative or otherwise acting under the control and auspices of Mulkearns when the abuse occurred.
The church's defence, filed two years after the royal commission hearings into Ballarat ­diocese began, also denies Ridsdale held a special authority and influence within the community by reason of his position and ­status as a priest.
The royal commission heard Ridsdale had been convicted of child sexual abuse in parishes including Ballarat East, Swan Hill, Warrnambool, Apollo Bay, Inglewood, Edenhope and Mortlake.
Ridsdale was first convicted in 1993 but didn't receive a prison sentence. Since he was first jailed in 1994, Ridsdale has been ­sentenced to 33 years' jail with a minimum of 28 years.
The documents show that lawyers for the church admit Mulkearns owed a duty to exercise "reasonable care" for the safety of persons dealing with Ridsdale as Edenhope "administrator and parish priest" but deny the bishop owed a duty to protect the plaintiff from sexual abuse by Ridsdale.
The woman's lawyer, Vivian Waller, told The Australian the defence documents were filed more than a year after the Truth Justice Healing Council guidelines came into effect, which ­advise church authorities to act honestly, fairly and compassionately when ­dealing with civil claims. Dr Waller represents 46 ­people who are seeking compensation from the church in relation to Ridsdale. The Ballarat diocese declined to comment.