New Bishop of London Urges More Women and Minority Priests for 'relevant' Church
Dunfermline Press
December 18, 2017

http://www.dunfermlinepress.com/news/national/15779006.New_Bishop_of_London_urges_more_women_and_minority_priests_for____relevant____Church/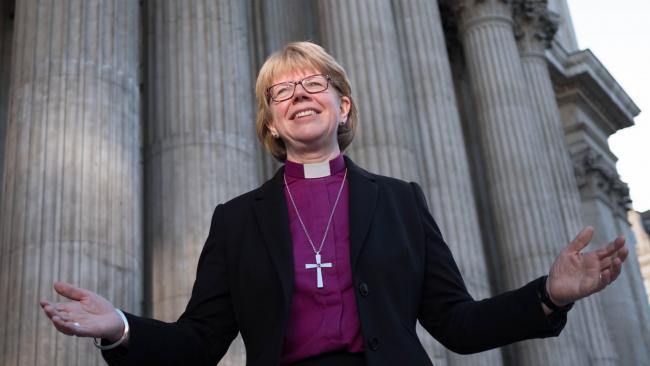 The new Bishop of London, the Right Reverend Sarah Elisabeth Mullally (Stefan Rousseau/PA)



More churches should be led by female priests and those "who come from black, Asian and minority ethnic groups", the new Bishop of London has said.

The Right Reverend Sarah Mullally said the Church of England was undergoing a "period of reflection", with the theme of diversity featuring heavily in her inaugural speech.

Ms Mullally, who is the first woman to hold the third most important role in the Church of England, suggested that the institution should be at the heart of communities if it is to stay current.

"If our churches are going to be more relevant to our communities, that means increasing churches that are led by priests that are women, who come from black, Asian and minority ethnic groups," she said.

The former nurse acknowledged the division in the diocese of London over the ordination of female priests, and said she is "very respectful of those who cannot accept my role as a priest or bishop".

The current Bishop of Crediton said that now is "a time to reflect on tradition and scripture" to offer a message of the "inclusive love of Christ".

She told journalists and members of the diocese at St Paul's Cathedral that, while she respects the "clear" teaching of the Church on same-sex marriage, "all of us come under the love of God in Christ Jesus".

"London is a very diverse city and I would hope that everybody can find a spiritual home and a place where they can encounter the love of Jesus Christ that I have come to know," she said.

The Queen approved the nomination of the 55-year-old to succeed the Rt Rev Richard Chartres in the Church's third most senior position behind the Archbishops of Canterbury and York, Downing Street announced.

As she outlined her vision for the role, Ms Mullally also said she wishes to work with survivors of abuse in the Church to ensure that they "not only survive, but flourish".

"I will not only take my responsibility of safeguarding seriously, but I will continue to see that we have a culture which is safe, where there is no place for abuse," she added.

The former civil servant also acknowledged the frustration felt among communities following the Grenfell Tower tragedy, as well as the "deprivation and inequality" which divides the capital.

"People feel marginalised, they feel voiceless and they feel angry, and some of those emotions were seen here last week in St Paul's Cathedral as people gathered for the Grenfell national memorial service," she said.

"People of faith and no faith stood with those who were bereaved and hoped to find some new future."

Ms Mullally started the press conference with a prayer and admitted she was "delighted but slightly terrified" to be appointed to her new role.

The Londoner said there was a sense that she was returning, and that is was a "great joy".

Ms Mullally said she felt she has had "one vocation, to follow Christ and make him known", and joked that similarities between her two careers included "starched collars and hats", but were both about people.

She is the 133rd person to be appointed to the role, and takes the reins from the Right Reverend Lord Richard Chartres, who retired in February.