Presentation High Failed to Report Alleged Abuse, Victims Claim
By Sharon Nogushi
Mercury News
December 19, 2017

https://www.mercurynews.com/2017/12/19/presentation-high-failed-to-report-alleged-abuse-victims-claim/

Over three decades, Presentation High School administrators repeatedly violated state law and failed to report sexual abuse claims to police and the county's child protection agency, according to allegations in two cases made public Tuesday.

In one case, an alleged victim's mother said her daughter was sexually assaulted by an instructor in 2013-'14. Classmates reported to administrators the teacher's troubling behavior — touching, sending multiple daily texts and sexual SnapChat photos — Dina Leonis said. The school, however, did not report the matter to police, she said.

"My daughter suffered extreme emotional distress," said Leonis, who notified police.

The latest sexual abuse claims follow previous allegations by other alumnae, who contended they and classmates were groped and sexually victimized by a teacher in 1990 at the prestigious Catholic girls school. After those students came forward, the school placed two teachers on leave as it looked into two separate incidents, one of which they reported to police.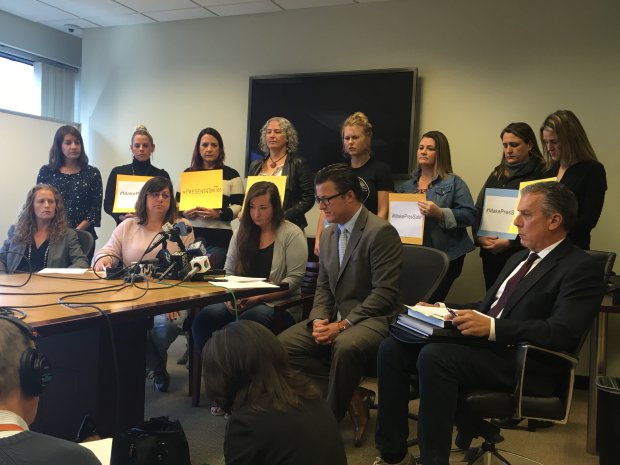 Alumnae of Presentation High School, standing, support one victim and the mother of another victim, seated, at a news conference Tuesday held by San Jose attorney Robert Allard, seated, center. (Sharon Noguchi/Bay Area News Group)



"All reports of sexual harassment that have come to Presentation High School have been handled properly by the school administration," said Principal Mary Miller in a prepared statement. "Some of the other claims made today we are hearing for the first time."

That statement contrasts with the claim of San Jose attorney Robert Allard, who on Tuesday orchestrated a news conference of alleged victims and their supporters. Allard claimed he has sought to engage the school, as he turned up reports of abuse against 17 victims by several teachers over a 30-year period. In addition, he said, students, parents and teachers reported improper behavior, but Presentation officials failed to respond appropriately.

Start your day with the news you need from the Bay Area and beyond.

Sign up for our new Morning Report newsletter.

One case was reported by Mary Jane Perryman, who taught at Presentation from 1994 to 2015. During that time, she heard of allegations of sexual misconduct by three school employees, including at least one sexual relationship between a teacher and a student. None of those was reported to the police or Child Protective Services, Perryman wrote in a statement presented Tuesday.

"The Presentation administration has not followed mandated reporting laws," Perryman wrote. The school generally responded "by placing a higher priority on the school's reputation."

Presentation emphatically disputes that view. "It is an egregious falsehood to state that PHS cares more about its reputation than the safety of its students," the board of directors wrote in a letter to Presentation alumnae last week.

Failure to properly report suspicions of abuse is a crime in California. In 2012, then-Principal Lyn Vijayendran of O.B. Whaley Elementary in San Jose was convicted of not relaying to law enforcement a student's explicit report of her teacher performing a possible sexual act when they were alone in a classroom. The assistant principal and human resources director also failed to report suspicions about teacher Craig Chandler, who was convicted of molesting five children.

California law requires "mandated reporters" — including teachers and other school employees, doctors, therapists, coaches, clergy and others — to report suspicions of child abuse to police or Child Protective Services. Reporters are not supposed to conduct their own investigations, which Vijayendran did at O.B. Whaley. Critics accuse Presentation administrators of doing the same thing.

At Presentation, students also complained about a former teacher whose lectures included sexual innuendo aimed at particular students, former student Shelby Rusconi wrote in a letter provided by Allard. She transferred out of Presentation after her freshman year because of the teacher's behavior and the school's refusal to stop him, she explained. Her classmate, Katherine Magana, a 2010 Presentation graduate, said the teacher would call her to his desk, where he would grope her as she sat next to him.

When she reported the teacher, she characterized a counselor's attitude as "flippant, unsupportive and unconcerned."

No lawsuit has been filed in any of the alleged sexual misconduct cases at Presentation. Allard claims that he is simply seeking to protect students from potential pedophiles, and wants an audience with the board of directors. He is leading a fight to replace the Presentation leadership.

The school has remained unmoved. In fact, the board praised Miller and elevated her to the role of president, the school's first. In its letter, the board wrote, "Mary's dedicated leadership at PHS has been essential to the school's growth and success. In the role of president, Mary will continue to direct the vision and mission of Presentation into the future."