Let's salute the true heroes of 2017
By Julia Baird
Brisbane Times
December 30, 2017

https://www.brisbanetimes.com.au/opinion/lets-salute-the-true-heroes-of-2017-20171229-h0b5k9.html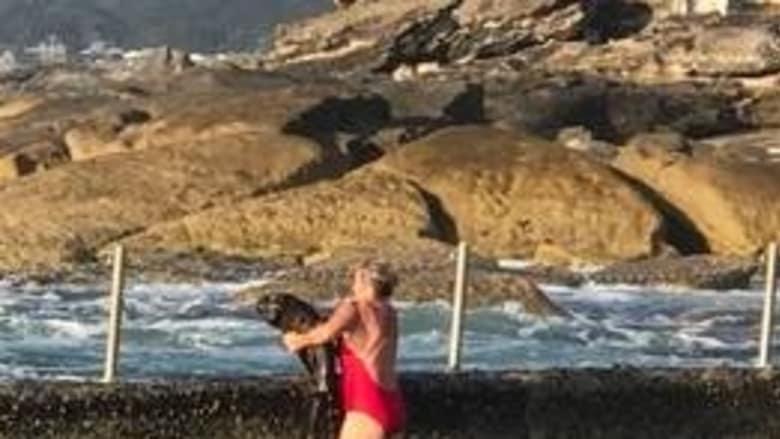 Melissa Hatheier throws the shark out of the Oak Park rock pool.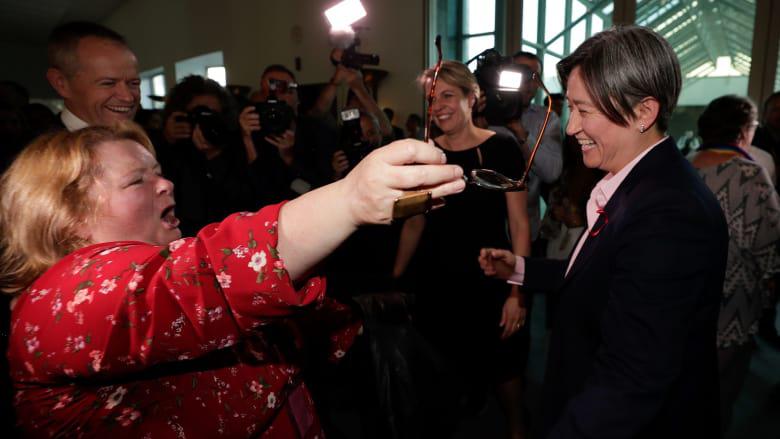 Magda Szubanski embraces Senator Penny Wong after the vote on the Marriage Amendment Bill at Parliament House.
Photo by Alex Ellinghausen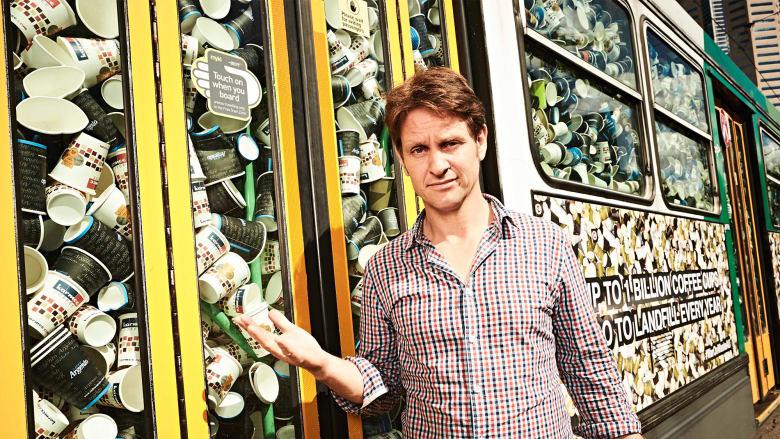 Craig Reucassel deserves a gong for highlighting our wasteful ways.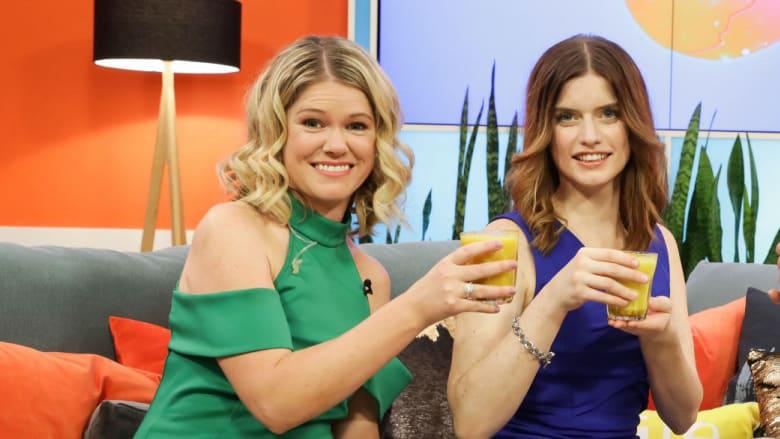 Get Krackin revealed the farce in the flesh of our public figures.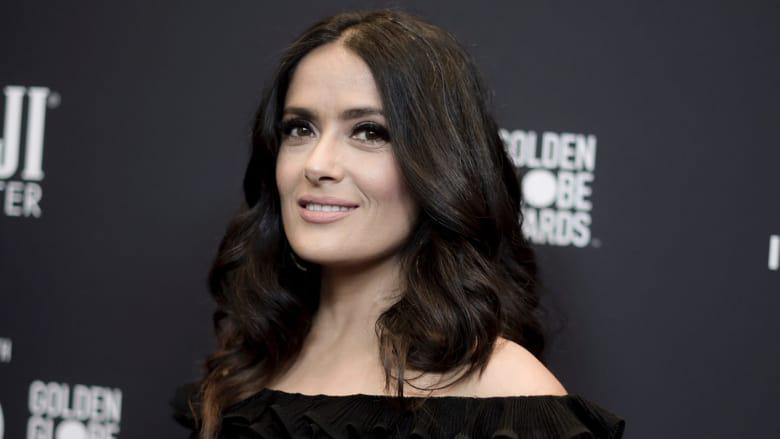 Actor Salma Hayek was one of many to speak out against the institutional abuse of women in the film industry.
Photo by Richard Shotwell
[Note: For more on Joanne McCarthy, see From Darkness, a Light Starts to Shine, by Ian Kirkwood, Newcastle Herald, December 14, 2017 and There Will Be a Royal Commission Because There Must Be, by Joanne McCarthy, Newcastle Herald, August 3, 2012. See also the Newcastle Herald's coverage of the abuse crisis.]
A century ago, gaslight was not a technique used by jerks but a revolution that allowed people to gather in the streets at night. Incandescent lighting enabled the first formally recognised New Year's Eve in Australia in 1896.
It quickly became a ritual, a night of bonfires, rockets, "larrikinism", obscenities and sexual harassment. (In 1908, reporters said they were so shocked by what they saw male "revellers" do to women that they could not bring themselves to put it in print).
As documented by Hannah Forsyth, journalists have delighted in documenting gleeful, disreputable behaviour of the last night of the year, such as this from 1950:
"One girl stripped off her frock and began dancing in a French bathing suit. A 16-stone woman turned Catherine wheels until the police stopped her. At Manly, a middle-aged man stood near the bow of the ferry, a bottle in one hand and a paper cup on his head and a white handkerchief in his other hand, singing out: 'The name's Columbus'."
This year, when cart-wheeling down streets to usher in the new year, take a moment to hat-tip the legends of the one ending.
Here's my list of some icons of 2017, each a reminder of the change that a determined individual can make.
1. The first is the shark-bearing woman, Melissa Hatheier, who was lapping in Cronulla pool when she spied a shark and did what any sensible person would do: picked it up and threw it into the ocean. She told reporters: "If it had big teeth I wouldn't have done it". This will take top place in the lexicon of Things to Tell Foreigners about Australia, along with Mick Fanning punching a shark on the nose in South Africa and the Gold Coast blokes who stopped a robbery with a broken thong on their way back from a "Stubbies 'n' Singlets party". Heroes.
2. The second is actor and author Magda Szubanski who brought poetry to the marriage equality saga, a vulnerable and potent eloquence that ended with: "I bloody love you Australia". The cost for many of this debate was enormous, but the role of the woman who has charmed and amused us for decades, in roles including a pig farmer and spotty netball player, was one of a galvanising leader. Afterwards she called on supporters to "find ways to reach out our hands across the divide that's been created by this unfortunate survey, and go forward with a deep and good faith understanding of one another".
3. The third is the long banana. A banana that is perfectly formed, delicious, has been carefully grown for nine months – but is discarded because it is a tiny bit longer than the strict supermarket specifications. Some farmers lose as much as 40 per cent of their produce because of this. Craig Reucassel's work on the multi-platform War on Waste was superb, watched by millions, and stirred a national conversation about changing habits. The demand for reusable coffee cups soared, and Coles and Woolworths promised to phase out single use plastic bags (choking our sealife and bulking out landfill) by July 2018. This was for stores where the government has not banned these bags – the only remaining state is NSW – can we make this happen now?
4. The fourth is the humble satirists who, like X-rays, revealed the farce in the flesh of our public figures. I am thinking particularly here of "conservatively dressed, comedic angry man" Mark Humphries from SBS and Kate McCartney and Kate McLennan from Get Krackin. I'd also like to give honorable mentions to the self-deprecating women who skewered the Instagram-fuelled myths of female perfection in both body and baking ability. Celeste Barber's instagram feed, featuring her lampooning celebrity imagery with shots of herself dancing in granny underpants, necking bottles of wine, and catching a plane with kids (instead of, say, dancing on a private jet in a fur coat like Iggy Azalea) has been one of the delights of 2017. And for wrestling the domestic goddess ideal to the ground with her "crap housewife" posts featuring charred, often processed and unimaginative dinners, Jess Rowe I salute you. On Boxing Day she featured burnt toast.
5. The fifth is investigative journalists. We can all thank scammer Jaime Phillips, who tried to get the Washington Post to run a false story, only to have them challenge her inconsistencies, thereby underlining how rigorous and scrupulous reporters have to be in breaking the kinds of stories that have roiled 2017 and toppled the likes of Harvey Weinstein. Another mention must go to Joanne McCarthy, whose relentless reporting for the Newcastle Herald about sex abuse of children in the church promoted a royal commission. The fruits of this reporting were seen in the stunning, wide-ranging report handed down by Justice Peter McClellan a few weeks ago. Based on five years of intense, rigorous research and harrowing interviews, this is a massive achievement. And none of these reports could ever be printed without the courage of the victims. Which is why we also need to honour all those women who told their stories this year, of sexual assault, domestic violence, rape, harassment, bullying. It was a year of actresses raging. Of beauties, usually snapped in ballgowns, looking into cameras, jaws taut with fury. No longer just being looked at, but speaking. Others followed.
As Bob Katter so silkily uttered this year: "let there be a thousand blossoms bloom".