Waterford Bishop Warns Local Schools of Paedophile Ex-priest's "Recent Activities"
The Journal
January 5, 2018

http://www.thejournal.ie/waterford-bishop-oliver-ogrady-3779455-Jan2018/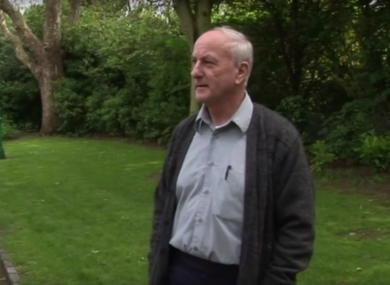 Oliver O'Grady is interviewed during the 2006 documentary Deliver Us From Evil



THE BISHOP OF Waterford and Lismore has sent a letter to local primary schools and teachers warning them about a convicted paedophile ex-priest who is living in the Waterford city area.

The letter concerned Oliver O'Grady, who admitted to sexually abusing children while serving as a parish priest in California from 1973 onwards.

In 1993 he was convicted for molesting two brothers over a 10-year period while in the US, and served a seven-year sentence before being deported back to Ireland.

On 21 December last year, Bishop Alphonsus Cullinan sent a letter out in which he advised priests and teachers in the area, "especially those working in any way with children", to be on the lookout for O'Grady, whom he describes as an "extremely dangerous paedophile".

The letter, seen by TheJournal.ie, said that O'Grady was "actively seeking victims in our midst".

The Bishop said that he had been updated that day on the "recent activities" of O'Grady and that it was important "to be aware that this man continues to be an evil menace to innocent children".

Please advise your safeguarding representatives and all your parish groups, especially those working in any way with children, to be aware that this man continues to be an evil menace to innocent children.

"If this man is seen in your parish please notify [the] Bishop's House as soon as possible."

The letter also includes a photograph of O'Grady.

The Bishop added in the letter that he has informed gardai of O'Grady's recent activities, but does not specify what those activities are.

When asked by TheJournal.ie why the Bishop advised priests to get in contact with the Waterford Bishop's House rather than An Garda Siochana, TheJournal.ie was told that our inquiries should be directed to the Gardai and Tusla.

The House would not comment any further on the letter. Representatives of both An Garda Siochana and Tusla also said they do not comment on individual cases.

In 2005, O'Grady was interviewed in the documentary Deliver Us from Evil. He openly discussed his feelings towards children, comparing them to his feelings for adults.

In one extract, filmed in a Dublin playground, O'Grady says:

"If they said to me 'Do you feel aroused when you see women?' I'd say no. 'Do you feel aroused when you see men?' I'd say no.

"'Do you feel aroused when you see children?' Well, maybe. 'How about children who are in swimsuits?' I'd say yes."

In the documentary, he also admitted to molesting as many as 25 children while in the US.

After the documentary was aired in the Netherlands in 2010, the Sunday Tribune reported that O'Grady had volunteered at a shelter for women and children in Rotterdam since 2008. This was discovered after local parishioners recognised O'Grady in the documentary; they had previously been unaware of his past crimes.

After travelling to Ireland on an Aer Lingus flight later that year, O'Grady left behind his laptop, where a large amount of images were found of children as young as two years of age being abused. He was convicted of possessing those images, and sentenced to three years in prison in January 2011.

Years after his release, O'Grady told The Sun newspaper in 2016 that he wants his history of abusing children removed from the internet.

"I am trying to see if I can get a lot of that downplayed or taken off if I can because all you have to do is give people my name, they look at the internet and they react," he said to the paper.

O'Grady is on the Sex Offenders Register, which means that he must inform gardai of where he resides, or if he moves house. If a person on the sex offenders list fails to comply with these rules, they could face up to five years in prison or a fine of up to ˆ10,000.