Retired teacher is jailed for indecent assaults
By Roger Williams
Kingsbridge and Salcombe Gazette
January 08, 2018

http://www.kingsbridge-today.co.uk/article.cfm?id=110832&headline=Retired%20teacher%20is%20jailed%20for%20indecent%20assaults&sectionIs=news&searchyear=2018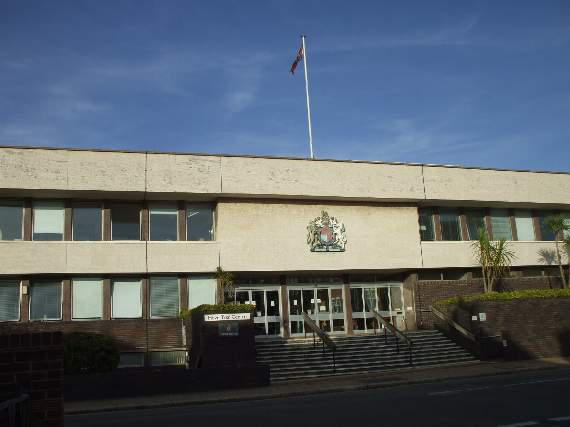 Hove Crown Court
Villagers have spoken of their shock after a retired teacher was jailed for four years for indecently assaulting boys in his charge at a school in West Sussex.
Peter Burr, 73, of The Square, Kingswear, admitted nine counts of indecent assault between 1969 and 1973 on young boys at Christ's Hospital School, a boarding school in Horsham, West Sussex.
Burr was well-known in the area. He could often be found at the Ship Inn in Kingswear or the Windjammer in Dartmouth.
Jan Henshall, chairman of Kingswear Parish Council, said: "I believe he was a member of Royal Dart Yacht Club. In the past, he attended the senior citizens lunch at Christmas in the village. He had a social life here and was well-known. From what I can gather from his friends, they are in total shock."
Jason Byrne, of Kingswear Post Office, said: "He was a good customer and a very nice man. I'm surprised and shocked like everyone else. He's done wrong and will now have to pay for it.
"He always kept himself to himself. If he was going away, he would not give any details. He would just say I'm going to see some friends, whereas as other people might say where they are going or have been.
"Every Saturday evening, he went to church."
Burr attended St John the Baptist Roman Catholic Church in Dartmouth.
Richard Rendle said: "I am disappointed because I thought he was a gentleman. I know he helped at the Regatta with classic craft and was a member of the Probus Club in Dartmouth."
A physics teacher and deputy housemaster at the school, he was sentenced to four years in prison by judge Christine Henson QC, at Hove Crown Court on Friday, January 5, and was given concurrent sentences for each of the victims and a Sexual Harm Prevention Order.
DC Rebecca Wilde, of Sussex Police, said; "He clearly focused his sexual attentions on boys between and 11 and 13 in his house, leaving older boys alone.
"Some of the offences took place in his study during informal Wednesday and Sunday afternoon gatherings to watch TV, with tea, biscuits and cake on offer. To be invited was regarded as a great privilege and he took advantage of this, and his status, to systematically touch and molest three of the victims.
"The fourth victim was assaulted in the dormitory area and at the school swimming pool.
"The four boys kept these traumatic experiences largely to themselves for up to 48 years and moved on with their lives.
"We were first told about Burr in February last year, when one of the victims came forward, triggered by hearing a local radio debate in London on the recently publicised football sex abuse scandal, and believing that insufficient attention was given to cases in which offenders were not public celebrities.
"One of the others later came forward after the school advised ex-pupils of the ongoing investigation.
"This is an important reminder that such reports will always be taken seriously, however long ago they are said to have happened."
Burr was the second teacher from the school to be convicted of sexual offences against boys
In December last year, Peter Webb, a housemaster was jailed for four years having been admitted of 11 counts of indecent assault. He had been jailed in 2015 for similar offences against a pupil at the school and the publicity surrounding his crime prompted more former pupils to come forward and report him.
Police say that the two cases are not linked.
Sussex Police said they had full co-operation from management at the school throughout the investigations.
Simon Reid, the current headmaster wrote to the school's old boys' association, the Old Blues, saying: "My thoughts are with those who suffered at the hands of adults who, to commit these offences, took advantage of the trust placed in them. I have no doubt that it has taken great courage for survivors to come forward and, by assisting the police, bring to justice those who made them suffer.
"We are committed to ensuring that the experience of every pupil at Christ's Hospital is positive, a safe and happy one. While I have absolute confidence that the processes and procedures we have in place today are effective and were deemed as such by the Independent Schools Inspectorate, I recognise that there is no room for complacency where safeguarding is concerned. It remains a priority for the school and we will continue to challenge ourselves to ensure that Christ's Hospital provides the safest and happiest possible environment for our students."
An NSPCC spokesman said: "Burr betrayed his position of trust in the worst possible way, when he should have been looking out for the welfare of children at the school.
"The victims in this case have shown enormous courage in coming forward to speak about what happened to them and it's important they receive any support that is needed to help them move forward with their lives.
"This case shows once again that victims of sexual abuse will be listened to and justice can be achieved no matter how long ago the offences took place."
Christ's Hospital School is a charity school whose fees are calculated by a means test. Founded in 1552, students wear a Tudor-style uniform, high yellow socks and a long blue coat.