Pope Francis Shocks Chile by Accusing Sex Abuse Victims of Slander
By Jane Onyanga-Omara
USA Today
January 18, 2018

https://www.usatoday.com/story/news/world/2018/01/19/pope-shocks-chile-accusing-sex-abuse-victims-slander/1047179001/

Pope Francis has accused victims of a pedophile priest of slandering a bishop by accusing him of a cover-up of the priest's actions.

The pope's remarks in Chile Thursday marked a shocking end to a trip aimed at healing historic wounds from sexual abuse by priests in the country.

Francis said that until he sees proof that Bishop Juan Barros was complicit in covering up the sex crimes of the Rev. Fernando Karadima, such accusations against Barros were defamatory.

"The day they bring me proof against Bishop Barros, I'll speak," Francis said after a Chilean journalist asked him about Barros. "There is not one shred of proof against him. It's all calumny. Is that clear?"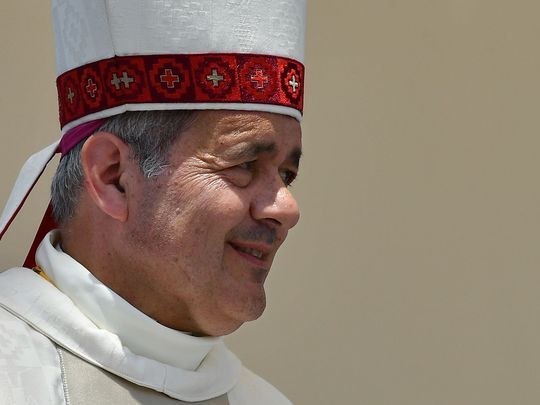 The bishop of Osorno, Juan Barros, takes part in an open-air mass celebrated by Pope Francis at Lobitos Beach, near the Chilean northern city of Iquique, on January 18, 2018. (Photo: VINCENZO PINTO, AFP/Getty Images)



The pope's remarks drew shock from Chileans and immediate rebuke from victims and their supporters. They said the accusers were deemed credible enough by the Vatican that it sentenced Karadima to a lifetime of "penance and prayer" for his crimes in 2011.

A Chilean judge also found the victims to be credible, saying that while she had to drop criminal charges against Karadima because too much time had passed, proof of his crimes wasn't lacking.

Francis had earlier met a group of victims of sexual abuse by priests in the Chilean capital Santiago in private. Before that meeting, he said he felt "pain and shame" over sex abuse by clergy and asked the victims for forgiveness, the BBC reported.

During a Mass in Santiago on Tuesday attended by 400,000 people, the pope said: "I know the pain of these cases of child abuse and I am following how much is needed to overcome this serious and painful evil."

He gave his sympathy to "victims and their families, who have seen their trust in ministers of the Church betrayed," according to the BBC.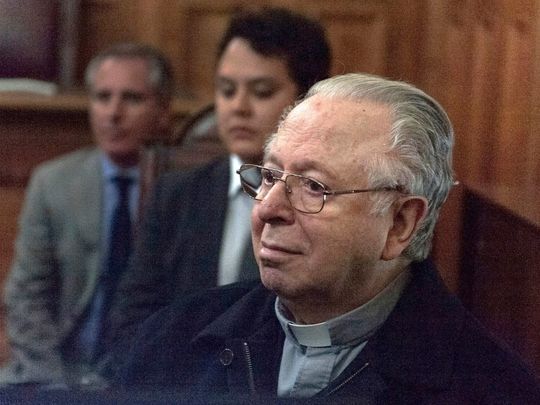 This file photo taken on Nov. 11, 2015 shows Chilean priest Fernando Karadima appearing in court in Santiago, to testify in a civil lawsuit against the Archdiocese of Santiago for allegedly sexual abuse cover up. (Photo: VLADIMIR RODAS, AFP/Getty Images)



"As if I could have taken a selfie or a photo while Karadima abused me and others and Juan Barros stood by watching it all," tweeted Barros' most vocal accuser, Juan Carlos Cruz. "These people are truly crazy, and the pontiff talks about atonement to the victims. Nothing has changed, and his plea for forgiveness is empty."

The Karadima scandal dominated Francis' visit to Chile and the overall issue of sex abuse and church cover-up was likely to factor into his three-day trip to Peru that began late Thursday.

Karadima's victims reported to church authorities as early as 2002 that he would kiss and fondle them in the Santiago parish he ran. Officials refused to believe them. Only when the victims went public with their accusations in 2010 did the Vatican launch an investigation that led to Karadima being removed from ministry.

The emeritus archbishop of Santiago subsequently apologized for having refused to believe the victims from the start.

Francis reopened the wounds of the scandal in 2015 when he named Barros, a protege of Karadima, as bishop of the southern diocese of Osorno. Karadima's victims say Barros knew of the abuse, having seen it, but did nothing. Barros has denied the allegations.

His appointment outraged Chileans, badly divided the Osorno diocese and further undermined the church's already shaky credibility in the country.

Juan Carlos Claret, spokesman for a group of Osorno lay Catholics who have mounted a three-year campaign against Barros, questioned why Francis was now accusing the victims of slandering Barros when the Vatican was so convinced of their claims that it planned to remove him in 2014.

"Isn't the pastoral problem that we're living (in Osorno) enough to get rid of him?" Claret asked.

The reference was to the fact that — guilty or not — Barros has been unable to do his job because so many Osorno Catholics and priests don't recognize him as their bishop. They staged an unprecedented protest during his 2015 installation ceremony and have protested his presence ever since.