After Pope Francis outrages sex abuse victims, top adviser questions pope's words
By Michael J. O'loughlin
America Magazine
January 20, 2018

https://www.americamagazine.org/politics-society/2018/01/20/after-pope-francis-outrages-sex-abuse-victims-top-adviser-questions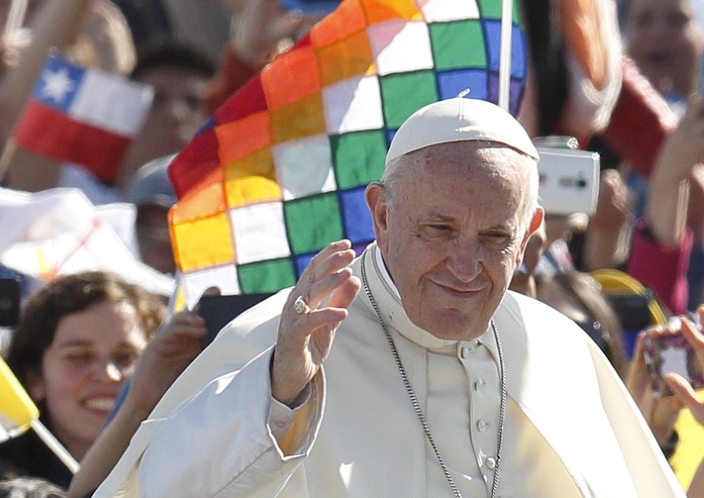 Pope Francis greets the crowd before celebrating Mass at the Maquehue Airport near Temuco, Chile, Jan. 17.
Photo by Paul Haring
Seán O'Malley, the top adviser to Pope Francis on issues of clerical sexual abuse, weighed in on remarks made by the pope this week defending a controversial Chilean bishop that caused outrage to victims of sexual abuse. The Boston archbishop expressed support for victims and warned against using language that casts doubt on their stories.
"It is understandable that Pope Francis' statements yesterday in Santiago, Chile were a source of great pain for survivors of sexual abuse by clergy or any other perpetrator," the Boston archbishop said in a statement released Saturday morning. "Words that convey the message 'if you cannot prove your claims then you will not be believed' abandon those who have suffered reprehensible criminal violations of their human dignity and relegate survivors to discredited exile."
Cardinal O'Malley said his "prayers and concern will always be with the survivors and their loved ones."
After Chile, the pope headed to Peru.
A spokesman for Cardinal O'Malley told America that the cardinal is headed to Peru, a "previously scheduled" trip "not related" to the statement he released Saturday. Still, he said the cardinal will "likely be with the Holy Father at some point as he normally is when he accompanies him on a Papal trip."
Earlier this week, Pope Francis accused victims of Chile's most notorious pedophile of slander, ending a visit meant to help heal the wounds of a sex abuse scandal that has cost the Catholic Church its credibility in the country.
Francis said that until he sees proof that Bishop Juan Barros was complicit in covering up the sex crimes of the Rev. Fernando Karadima, such accusations against Bishop Barros are "all calumny."
The pope's remarks shocked Chileans and drew an immediate rebuke from victims and their advocates. They noted the accusers were deemed credible enough by the Vatican that it sentenced Karadima to a lifetime of "penance and prayer" for his crimes in 2011. A Chilean judge also found the victims to be credible, saying that while she had to drop criminal charges against Father Karadima because too much time had passed, proof of his crimes was not lacking.
"As if I could have taken a selfie or a photo while Karadima abused me and others and Juan Barros stood by watching it all," tweeted Bishop Barros's most vocal accuser, Juan Carlos Cruz. "These people are truly crazy, and the pontiff talks about atonement to the victims. Nothing has changed, and his plea for forgiveness is empty."
Cardinal O'Malley, who led a now-lapsed Vatican commission charged with understanding how the church can better protect children, which the Vatican says will be re-launched this year, said that because he does not know the specifics of the case involving Bishop Barros, he "cannot address why the Holy Father chose the particular words he used at that time."
But he defended Francis' approach to sex abuse more broadly.
"What I do know, however, is that Pope Francis fully recognizes the egregious failures of the Church and its clergy who abused children and the devastating impact those crimes have had on survivors and their loved ones," the cardinal said.
The Boston archbishop said he has witnessed firsthand how Pope Francis interacts with victims of sexual abuse and he highlighted the pope's call that the church "must adhere to zero tolerance for these crimes are genuine and they are his commitment."
Speaking about victims of sexual abuse, Cardinal O'Malley said: "We can never undo the suffering they experienced or fully heal their pain. In some cases we must accept that even our efforts to offer assistance can be a source of distress for survivors and that we must quietly pray for them while providing support in fulfillment of our moral obligation."
"I remain dedicated to work for the healing of all who have been so harmed and for vigilance in doing all that is possible to ensure the safety of children in the community of the Church so that these crimes never happen again," he said.