Priest's Petition Calls for Cardinal Barbarin to Resign
By Tom Heneghan
The Tablet
August 30, 2018

https://www.thetablet.co.uk/news/9675/priest-s-petition-calls-for-cardinal-barbarin-to-resign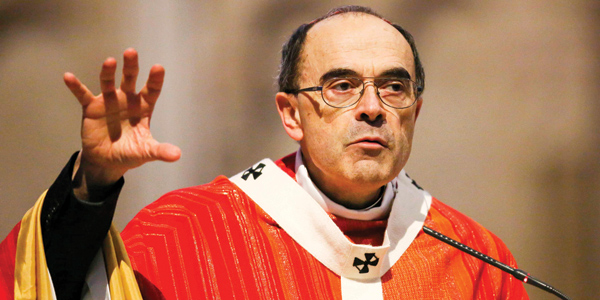 Cardinal Barbarin



A French priest and canon law judge has publicly urged Cardinal Philippe Barbarin to step down as the Archbishop of Lyon over the sexual abuse scandal, saying that Francis' "Letter to the People of God" had inspired him to speak out.

Within a week of the open letter by Fr Pierre Vignon, a judge of the Lyon ecclesiastical court since 1993, a petition supporting his call, which two victims' rights activists had launched, had gathered more than 90,000 signatures.

Asked about the petition, Church spokesman Mgr Olivier Ribadeau Dumas said that all Catholics should combat sexual abuse, not just the bishops.

Fr Vignon was free to express his opinion, he added. "A cardinal has been dismissed in the United States. Should France dismiss cardinals? That is a valid question," he told French radio.

In the papal letter, released by the Vatican on 20 August, Francis invited the "entire People of God" to do penance with prayer and fasting. "The only way that we have to respond to this evil [of clerical sex abuse] that has darkened so many lives," he declared, "is to experience it as a task regarding all of us as the People of God."

However, during his inflight meeting with journalists while returning from Dublin on Sunday, he was more cautious.

"If there are suspicions ... I don't see anything bad in having an investigation, if it is done always on the fundamental principle that no one is bad if it is not proven," the Pope said.

Fr Vignon, 64, said his reading of the Pope's appeal was that prayer and fasting had to be followed by concrete acts. "So I ask you publicly and clearly to resign ... as soon as possible," he wrote to Barbarin.

The cardinal is accused of delaying action against a confessed serial abuser, Fr Bernard Preynat. He has denied wrongdoing but has admitted his reaction to the abuse accusations was "belated".

"You have admitted your mistakes in management. Why should you remain after committing them?" Fr Vignon asked in his letter.

Responding for the Lyon archdiocese to the petition, Auxiliary Bishop Emmanuel Gobilliard said he understood people's anger at "the horror of crimes committed" but said the justice system must be allowed to do its job.

Barbarin faces a civil trial along with Cardinal Luis Ladaria Ferrer, the Spanish-born Prefect of the Congregation for the Doctrine of the Faith (CDF), two French bishops and a priest for failing to denounce Preynat to the police.

The trial, which has been postponed twice, should take place next year. "Cardinal Barbarin is so marked by this affair that we no longer speak of the Preynat case but of the Barbarin case ... he is no longer able to fulfil his ministry," Fr Vignon, who specialises in sexual abuse cases, told the Paris daily La Croix.

Preynat is due to face a canonical trial, but the Church will only hold it after the pending civil trial is complete. Although removed from ministry, he remains a priest, a situation that is often criticised by victims.