Aymond, Other Louisiana Bishops May Release Names of Pedophile Priests: Exclusive Interview
The Advocate
September 20, 2018

https://www.nola.com/religion/index.ssf/2018/09/aymond_other_bishops_discuss_r.html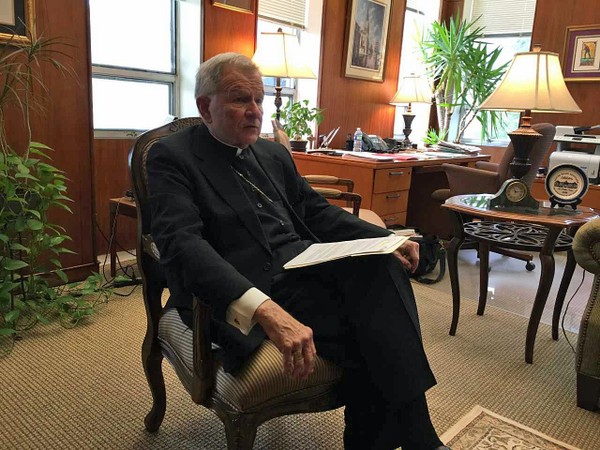 New Orleans Archbishop Gregory Aymond discusses the clergy abuse scandal and steps that have been taken during an interview in his office on Thursday, Sept. 20, 2018. (Kim Chatelain, NOLA.com | The Times-Picayune)



Against the backdrop of a raging national clergy abuse scandal rooted in south Louisiana, New Orleans Archbishop Gregory Aymond said Thursday (Sept. 20) he and other state bishops are in discussions over whether to release the names of clergy members against whom credible accusations of abuse have been made.

In an exclusive interview with NOLA.com | The Times-Picayune, Aymond said while he believes transparency is key to helping the church through the crises, releasing the names of clergy members who were accused of abuse decades ago is "riddled with problems" and "messy," particularly in cases where the abuser is deceased. But he said those issues are being discussed among the state's bishops and a decision is expected soon.

"This has been heart-wrenching, painful," Aymond said. He characterized the last several weeks as the most difficult in his nine years at the helm of the archdiocese, as he hears stories of victims and the damage abusive clergy members have done to them and their families.

"I go to bed thinking about it. I wake up thinking about it," he said.

Aymond stressed that there have been no credible reports of clergy abuse occurring in the Archdiocese of New Orleans in more than a decade, and that the vast majority of cases occurred before preventative measures were put in place by the U.S. Conference of Bishops in 2002.

He credits that track record to what he characterized as the local archdiocese's strict adherence to the guidelines the bishops set forth 16 years ago in the "Charter for the Protection of Children and Young People." That landmark document responded to the crisis by establishing accountability for, and prevention of, future acts of abuse. It was revised in 2005, 2011 and 2018.

Under archdiocese policy, anyone who claims to have been abused by a clergy member is put in contact with a victim's assistance coordinator, Aymond said. If the case involved a minor, police are immediately notified. If an adult reports abuse, that victim is given the option of going to police.

Any priest against whom a charge is made is "immediately taken out of the ministry" while both police and the archdiocese conduct investigations, Aymond said. The results of the investigations are turned over to a lay review board chaired by a psychiatrist.

If the review board determines that the complaint is credible, Aymond said, the priest is immediately defrocked and the parishes in which he worked are notified.

"There is no secret list," Aymond said. "When an accusation is found to be credible, it is made public."

Aymond said the Catholic hierarchy's history of shielding pedophile priests amounts to "terrible, terrible, terrible" sins. But he said the practice of trying to rehabilitate abusers must be viewed in the context of the era in which many of the offenses took place.

Decades ago, the archbishop said, the "world of psychology" believed that pedophilia was curable. As a result, priests accused of sexual abuse of children were often sent to rehabilitation and later returned to ministries.

"It was determined years later that it was not treatable," Aymond said. "We're now dealing with cases that are 30, 40 or 50 years old. But clearly one case is one case too many."

Sister Mary Ellen Wheelahan, the archdiocese's safe environment coordinator, said programs have been put in place in Catholic churches, schools, and in various situations in which adults work with children to deal with the issue. Background checks are required for anyone working with children and a private outside auditing firm evaluates the archdiocese for compliance to the guidelines.

Catholic schools also have implemented programs that teach children what to look for in cases where an adult may be grooming them for abuse, Wheelahan said.

"I am convinced we have a safe environment," Aymond said.

Although the issue of clergy abuse in the Catholic Church has percolated for decades, it was reignited in August when a Pennsylvania grand jury's report, citing internal documents from six Catholic dioceses in that state, identified more than 300 priests credibly accused of sexually abusing more than 1,000 child victims.

The explosive report described the church's earlier response to the accusations as "a playbook for concealing the truth."

Since then, about 40 of the nearly 200 dioceses in the U.S. have released lists of priests accused of abusing children in past decades. There have also been nearly a dozen investigations by a prosecutor or grand jury of a Catholic diocese or archdiocese in the U.S., according to BishopAccountability.org.

No such formal investigations have been announced in Louisiana to date. But Aymond was nevertheless joined at the interview by Wendy Vitter, general counsel for the archdiocese, pointing up the potentially serious legal ramifications that may follow any action the archdiocese takes.

The archbishop said of hundreds of credible cases of child abuse outlined in the Pennsylvania report, only two occurred after the Conference of Bishops' charter was enacted in 2002.

The clergy abuse scandal that some fear could cause long-term damage to the Catholic church, which has approximately 1.3 billion worldwide followers, has its origins in the Diocese of Lafayette. In 1985, the Rev. Gilbert Gauthe was convicted of sexually abusing as many as 39 young children between 1972 and 1983.

The issue continues to raise the ire of local Catholics as the media spotlight turns to reports of abuse over the years. On Wednesday, the New Orleans Advocate and WVUE Fox 8 News detailed a case in which Jesuit High School paid $450,000 to settle claims from a man, who is now 53, that he was abused by a school janitor in the 1970s. The newspaper said Jesuit also settled claims involving two clergy members.

While Jesuit High School technically is a school within the framework of the Archdiocese of New Orleans, Aymond said it is run by the Jesuit order. He said he had no knowledge of the incident other than what was reported.

Earlier this month, it was reported that several men have come forward with claims that they were sexually abused as children by George Brignac, a defrocked Roman Catholic deacon who worked as a teacher at St. Matthew the Apostle School in River Ridge in the mid-1970s.

The Advocate reported Brignac, 83, continued to serve as a lay minister at St. Mary Magdalen Catholic Church in Metairie despite an archdiocese settlement over claims he repeatedly raped an 8-year-old altar boy at Holy Rosary School in New Orleans. The New Orleans Police Department is now investigating the Holy Rosary allegations, according to news reports. The archdiocese said it was not aware that Brignac was involved in ministry.

Aymond said he has talked to many disillusioned Catholics since the recent revelations became public. "They say, 'I'm angry.' And I say, 'I'm angry, too.'"

Most have told the archbishop that they plan to stick with the church, but some say they plan to leave. An informal survey of local pastors indicates that church attendance has not declined significantly since the Pennsylvania grand jury report, Aymond said.