MAN Claiming Rape at Jesuit High Asks Ag, State Police for Help
By Julia O'Donoghue
NOLA.com
September 24, 2018

https://www.nola.com/politics/index.ssf/2018/09/jeff_landry_catholic_sex_abuse.html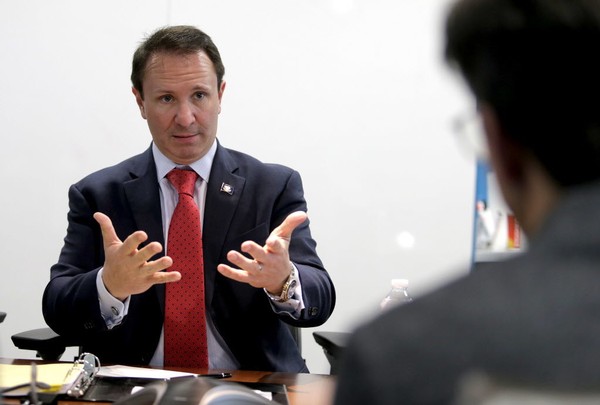 Louisiana Attorney General Jeff Landry speaks with the editorial board of The Times-Picayune February 1, 2017. (Photo by G. Andrew Boyd, NOLA.com | The Times-Picayune)



A man who says he was raped by a janitor at Jesuit High School in New Orleans while a priest watched has asked state officials to look into sexual abuse within Catholic institutions in Louisiana.

Richard Windmann received a nearly half-million-dollar settlement from the Catholic Church in New Orleans because of sexual abuse he alleges took place at Jesuit in the late 1970s. This week, he asked Attorney General Jeff Landry and Louisiana State Police to investigate the church further and to put pressure on the Catholic hierarchy in Louisiana to release a list of priests who have been credibly accused of sexual misconduct.

"In my opinion, you should get on the right side of this, do your job, the job we pay you to do," Windmann wrote in an email to Landry and, a day later, to the state police. He said if no one acted on his complaint within five days, he would take it to federal authorities.

Windmann's request for help from the attorney general was first reported by WVUE Fox 8 Monday (Sept. 24).

On Sunday night, Windmann, who lives in Texas, sent an email to Landry's office asking him to seek out a warrant from a judge to force the Archdiocese of New Orleans and the Diocese of Lafayette to release the names of priests who are credibly accused of sexual abuse. After receiving no response from Landry's office, he sent the same email Monday night to the state police, which is under the control of Gov. John Bel Edwards.

It's not clear whether Landry or the state police have the authority to go to a judge and ask for the type of warrant that Windmann is requesting. But both agencies have the ability to investigate sexual abuse crimes if they receive a case referral from a law enforcement agency or district attorney.

"Why is it so hard to get people behind the idea that we need to protect our children?" Windmann said in a phone interview Monday night. "It's ridiculous. I want people to protect our children."

On Monday night, Landry responded to a reporter's question about Windmann's complaint with this written statement: "As a father, I'm very concerned about any allegations against children. And as we always have, my office will do everything within our jurisdiction to assist victims."

Archbishop Gregory Aymond of New Orleans and Bishop Douglas Deshotel in Lafayette have said they are considering releasing the names of priests who have been credibly accused of sexual abuse. The church has paid cash settlements in Louisiana to alleged victims of clergy sexual abuse, but the names of the priests involved in those cases have not been revealed.

Windmann said he sent the complaint Sunday initially to Landry after an investigator from the attorney general's office reached out to him last week -- the day after The New Orleans Advocate and WVUE Fox 8 reported Windmann's allegations of rape and abuse at Jesuit's campus.

Windmann said Landry's investigator, who he identified as Ike Vavasseuer, said the attorney general had not received any official complaint about sexual abuse in the Catholic Church since Landry took office in early 2016. Over the weekend, Windmann decided the investigator might have been hinting that he should file such a complaint himself, so he did.

After sending the complaint Sunday night, Windmann called Landry's office twice Monday. He said he didn't get a response to his phone calls or his email.

"It's like they are passing the buck, passing the buck, passing the buck," Windmann said. "Why can't I get law enforcement on the side of protecting our children?'

Earlier this month, Landry said he wouldn't launch a broad investigation into Catholic Church sex abuse allegations -- despite new accusations against clergy becoming public in Louisiana -- because the attorney general doesn't have the authority to prosecute in those cases.

On Sept. 7, Landry said his office had not received any complaints regarding sexual abuse involving the Catholic Church since he became attorney general in early 2016. If his office did receive a complaint, Landry said he would work with a local district attorney to address the individual allegation.

At least 10 other states attorneys general are attempting to launch widespread investigations into Catholic Church sexual abuse after an alarming report out of Pennsylvania in August found about 1,000 victims had been abused by 300 priests over 70 years in that state.

While Landry cannot prosecute sexual abuse cases -- or call a grand jury, as was done in Pennsylvania -- he does have the ability to launch a state probe into such matters if he receives a complaint about it. So does Edwards, through the state police.

Landry's office has suggested multiple times that the state police should look into sex abuse in the church. In the 10 other states that have already committed to investigating Catholic clergy, attorneys general -- not governors -- are leading the investigations.

Edwards has said that the state police will deal with individual complaints. But like Landry, he has made no moves toward a broader probe. The state police typically only investigate such cases if they are referred from local police or a district attorney, or when a case crosses jurisdictions and is considered unusually complicated.

"The governor said that if he gets an official complaint, it will be investigated. Well, you have your official complaint now," Windmann said in his interview Monday night.